PCL uses Microsoft Azure technology to gain insight on the jobsite
PCL's Job Site Insights system monitors conditions on major projects to help improve productivity, reduce costs and ensure the safety of its employees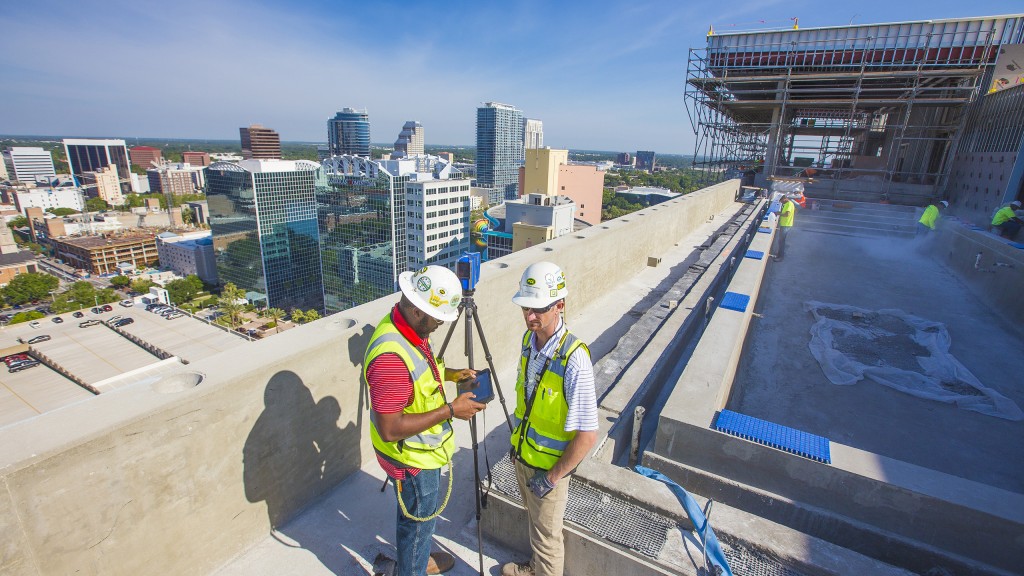 Construction companies are beginning to adopt technology of various kinds as growth continues in 3D modelling, machine control and other sectors, but there is more to the jobsite than just that. In many cases, contractors need to track other conditions that can have an effect on the success of a contract.
One of Canada's largest building contractors is using Microsoft cloud, Internet of Things (IoT) technology and its own expertise to manage and monitor a wide spectrum of conditions on major projects that can improve productivity, reduce costs and ensure the safety of its employees.

PCL was recently recognized by Microsoft for its Job Site Insights (JSI) development program, which takes advantage of IoT, the cloud and mobile computing to provide a single-pane view of a jobsite and the conditions experienced there. Job Site Insights is an in-house project for PCL, which has been focused on embracing technology for some time.

"We actively encourage innovation from our different districts and operating units in order for them to find ways to use technology and drive business value back to our clients and customers, increase productivity, decrease cost and improve worker safety, among other things," explained Chris Palmer, senior manager of advanced technology services for PCL.

Cloud computing has been part of PCL's technology development for several years, Palmer noted, as the company sought to take advantage of data collection as a way to expand its knowledge base on jobsites of all kinds. From there, the ability to leverage that data and break it down into information that can be used by individual staff both in the office and on the ground was the next step.

"We started to look at the Internet of Things concept, which is a way to capture meaningful data, data that you don't have today, so you can use the power of artificial intelligence, machine learning and advanced analytics to find insights that might not normally be readily apparent or obvious," he said.

With more than a century of experience in construction, PCL has no shortage of staff with knowledge of jobsite conditions, many that can't quite be defined, Palmer said. When someone on a site defines certain conditions combining to cause a problematic result but can't point to the exact cause, that's where IoT and AI systems can come in to play.

"A lot of our IoT initiatives are showing that we can make inroads there, make those correlations and in turn make changes that can dramatically affect productivity, reduce our rework and warranty claims, and improve our quality," Palmer said.

Managing variables and monitoring conditions
There are plenty of variables on jobsites, so PCL has started its data collection and analysis with JSI with a focus on two of those: temperature and humidity.

"It doesn't sound sexy but whether it's buildings, civil infrastructure or industrial work, temperature and humidity are measured every day, multiple times a day, and they have a direct impact on a lot of things," Palmer said. "They can really affect things like millwork, drywall and wooden structures. If you have significant changes in temperature, for example, you can get cracking in plaster, and changes in humidity can cause millwork to dry out or warp."

For example, if a building under construction has had a heater placed to keep a room warm but the heater fails, there are plenty of problems that could happen, Palmer noted.

"If someone isn't there to catch it, that can end up resulting in some significant issues, such as water damage if pipes freeze," he said. "All of that potential rework affects quality and also affects schedule. Schedule and productivity go hand-in-hand in allowing PCL to reduce our costs, be more competitive and offer a better rate to our clients."

Monitoring those simple conditions are a first step for PCL and the JSI platform, which Palmer said can do much more as it grows.

"We're continuing to build out the Job Site Insights platform to where now we have a backlog of additional functionality we're going to deliver in the future," he said. "That includes everything from other environmental conditions such as sound metering and air quality to tracking assets and people, so we can get better measurement around things like labour productivity or optimized use of equipment."

Equipment tracking and improving efficiency
One idea involves tracking the use of scissor lifts on a jobsite, both to ensure that the company has enough equipment for jobsites of specific sizes but also to ensure that they are being used as efficiently as possible.

"It's not just to reduce cost in terms of a scissor lift, it's to reduce the opportunity loss that you have from labour walking the site trying to find a lift, for example, or trying to track down a particular tool," Palmer said. "Being able to map those things against the space on the jobsite is really a key feature."

Palmer's team is leveraging Microsoft Azure products to build the JSI solution, taking advantage of cloud computing, Internet of Things and mapping technologies as the heart of the programs being developed in-house. In fact, that partnership was recognized at Microsoft's Inspire conference earlier in 2018 as a prime example of how businesses can transform themselves using advanced technology.

For PCL, the Azure platform provides a launching point that the company can use to move forward with additional development as it continues to digitize the jobsite.

"We're getting a digital representation of that jobsite and the conditions on it at any one time. Then, using the Azure technologies, we are able to ingest that data through the lifetime of the project. We end up with a digital copy at any one point that we can apply various analytics on to produce actionable insights for the project staff," Palmer said.

While still in the early stages of development and implementation, JSI has proven popular with PCL's various district offices and several pilot sites are in place. Palmer suggested that the JCI solutions could be a standard part of a PCL project within the next two years.

"A lot of our different districts have looked at standalone solutions. When they find out what we're developing, they immediately put in a request for their project to be the next one to get it," he said. "In construction, it can be a challenge to change processes, so for us the burden is on us to show the value in this system. I think we're doing that."