New version of Trimble Earthworks Grade Control Platform includes support for motor graders and automatic guidance for tiltrotators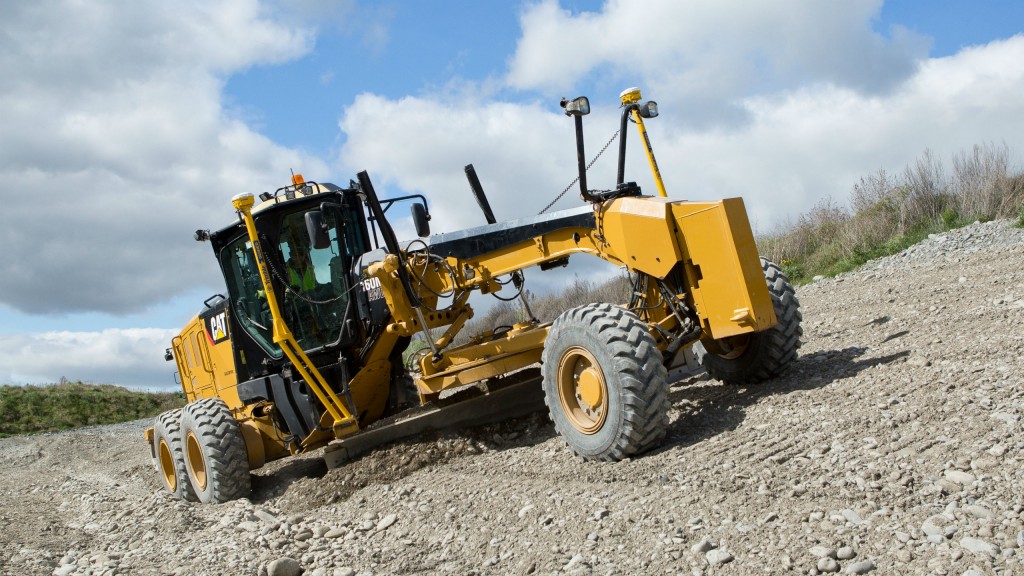 Trimble has released Earthworks Grade Control Platform version 1.7 with support for motor graders and automatic guidance for tiltrotator attachments. Trimble Earthworks for Motor Graders is a GNSS-based, 3D grade control solution designed to make fine grading more accurate, faster and easier than ever before. In addition, Trimble Earthworks now gives excavator operators using tiltrotators the advantage of automatic machine control, which can result in increased productivity.
The announcement was made at Trimble Dimensions.
"The introduction of the motor grader into the Trimble Earthworks platform completes the family of earthmoving machines," said Scott Crozier, general manager of Trimble Civil Engineering and Construction. "Now contractors can realize even faster ROI, more uptime and increased portability across their fleet of heavy equipment."
Trimble Earthworks for Motor Graders
Trimble Earthworks for Motor Graders leverages Inertial Measurement Unit (IMU) sensor technology in combination with GNSS, resulting in increased accuracy and stability in fine grading applications. Operators will enjoy the same intuitive, easy-to-use and learn Trimble Earthworks software available for excavators and dozers. Contractors can take advantage of the increased hardware portability available across their fleet for an even quicker return on their machine control investment.
Automatic Guidance for Tiltrotator Attachments
When tiltrotators are used with Trimble Earthworks for Excavators, the bucket position and orientation are always visible regardless of bucket rotation. The operator can see the height and the rotation relative to the design, so the attachment can be more efficient. Now, Trimble Earthworks can automate the tilt functions of a tiltrotator to enable operators of all skill levels to be significantly more productive when using these attachments.
More from Earthmoving
A bottleneck of haulers waiting to be loaded is inefficient. Idle machines burn unnecessary fuel, increase maintenance costs and decrease resale values when you're ready to trade them in.
When you pair the new Volvo EC950F crawler excavator and A60H articulated hauler, you can load trucks faster. The EC950F can utilize a 10-yard bucket to fill a 60-ton capacity A60H in only four passes — reducing passes lowers fuel consumption and drastically speeds up cycle times to keep your haulers moving. See how the massive EC950F and A60H improve cycle times and more to boost your profitability.