Strongco reports strong sales and revenue improvements in Q3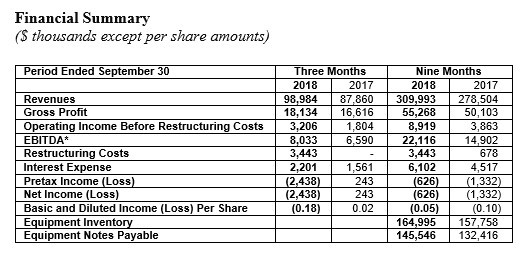 Strongco Corporation has reported financial results for the third quarter ended September 30, 2018 that indicate improved sales and gains in year-over-year revenues for the company.
"Sales improvements, together with market share gains, particularly in Ontario, resulted in increased year-over-year revenues. Higher revenues coupled with higher margins and lower expenses had a favourable impact on operating income," said Robert Beutel, Executive Chairman of Strongco. "With the exception of the restructuring charges related to the termination of our Fort McMurray lease, previously reported, earnings improved substantially for the period. Our organization has a heightened focus on inventory and cost controls, which we continue to manage diligently to best align with market demand. Despite continuing macro uncertainties, we are optimistic that these positive results are indicative of more stable profitability for Strongco over the long term."
Highlights (Third Quarter 2018 and Third Quarter 2017)
Lease Termination
Effective July 1, Strongco terminated the lease of its Fort McMurray branch at 205 McAlpine Crescent, and entered into a new lease agreement to sublet a smaller facility at 310 MacKenzie Boulevard as its new location, resulting in restructuring costs of approximately $3.4 million.
The estimated net savings, after lease termination costs, are expected to exceed $5.6 million over the remaining 11 years of the terminated lease. After the initial cash payments on closing, management anticipates the impact on the Company's cash flow from this transaction to be relatively neutral for the next 22 months, after which the cash flow impact will be positive.
Income Statement
Revenues of $99.0 million for the quarter, compared to $87.9 million in 2017, the result of:

Equipment sales up $9.2 million, or 19%. Sales of cranes up $5.5 million, or 94%, with strong increases in the Central and Eastern regions of the country; construction equipment sales up $3.7 million, due to stronger sales in Ontario.
Rental revenues up slightly over last year with increases in Ontario.
Product support revenues up 5% with increases in Ontario and Quebec.

Gross profit of $18.1 million (18.3% of revenues), up from $16.6 million (18.9% of revenues).
Operating income of $3.2 million, before lease termination costs, compared to $1.8 million, from higher revenues and margins.
EBITDA of $8.0 million, up from $6.6 million.
Interest expense of $2.2 million, up from $1.6 million, due primarily to increased equipment inventories and the associated interest-bearing debt.
Pre-tax earnings, before lease termination costs, of $1.0 million, up from pre-tax earnings of $0.2 million.
Net loss, after lease termination costs, of $2.4 million, or ($0.18) per share, compared to net income of $0.2 million, or $0.02 per share, in last year's third quarter.
Balance Sheet
Equipment inventory of $165.0 million, up from $153.3 million at December 31, 2017 and $157.8 million at September 30, 2017. The increase is to support projected sales and increased rental activity.
Equipment notes payable of $145.5 million, compared to $131.0 million at December 31, 2017 and $132.4 million at September 30, 2017.
Related Articles
As one of the latest models in the R2-Series excavator lineup, the Bobcat® E88 delivers durability, performance and quality for more productivity. Technically speaking, it's a compact machine, but it brings big performance with its redesigned engine and optimized lift performance, plus undercarriage and counterweight improvements. All these enhancements make this excavator one of the highest-performing models in its size class. With impressive over-the-side lift capacity, you can dig with greater confidence over the side of the machine. Put it to the test against similar models from other manufacturers. You'll see that the E88 can outwork the competition.