E-series knuckleboom loaders from John Deere get update for 2019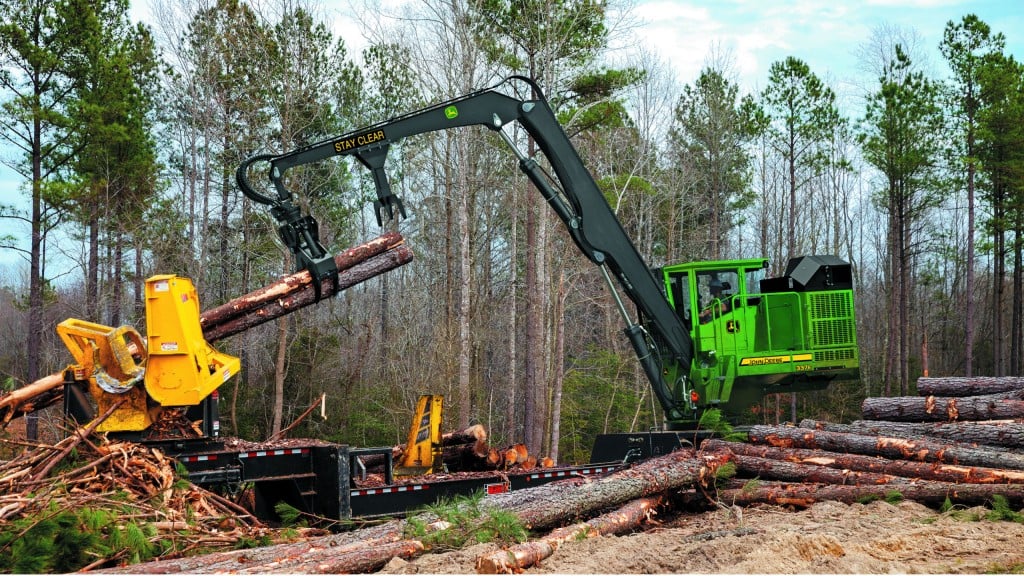 To better meet customer needs, John Deere is introducing its updated E-Series Knuckleboom Loaders. Already known for superior torque and durability, the updated 2019 337E and 437E models feature up to an eight percent boost in fuel economy, ensuring output is maximized and power is not sacrificed.
"This update to our E-Series machines allows us to provide an even better solution to our customers, combining power with fuel economy, positively impacting their bottom lines," said Brandon O'Neal, product marketing manager, John Deere Construction and Forestry. "We understand that in the challenging forestry industry, every dollar and minute matters. With this update, we are able to reduce fuel costs while still providing the productivity customers expect from a John Deere machine."
The updated 337E and 437E Knuckleboom Loaders still retain all of the acclaimed features from the original product launch. Each E-Series machine is equipped with a powerful and proven Final Tier 4 engine. Additionally, the E-Series models offer increased swing torque and boom lift compared to the previous series. Other features improve serviceability, including a ground-level oil drain and filter change, optional electric refill pump and a smaller, 35-gallon hydraulic oil reservoir.
All John Deere knuckleboom loaders come standard with JDLink telematics five years in base, offering owners and operators remote diagnostics and streamlined connectivity.
Company info
Related products
More from Forestry
A bottleneck of haulers waiting to be loaded is inefficient. Idle machines burn unnecessary fuel, increase maintenance costs and decrease resale values when you're ready to trade them in.
When you pair the new Volvo EC950F crawler excavator and A60H articulated hauler, you can load trucks faster. The EC950F can utilize a 10-yard bucket to fill a 60-ton capacity A60H in only four passes — reducing passes lowers fuel consumption and drastically speeds up cycle times to keep your haulers moving. See how the massive EC950F and A60H improve cycle times and more to boost your profitability.