Caterpillar offers six new Next Generation compact excavators in the 7- to 10-ton range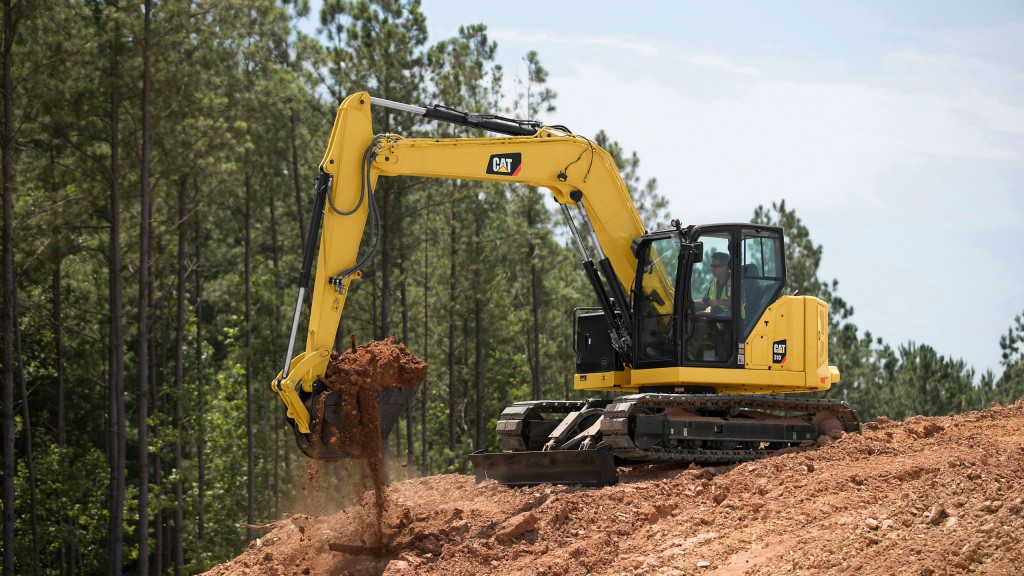 Caterpillar's range of Next Generation mini hydraulic excavators has been expanded with the addition of six new models in the 7-to-10-ton category. The new models provide a selection of basic configurations, allowing customers to choose the machine that works most efficiently in applications routinely encountered. As with all Cat Next Generation mini excavators, the new models feature heavy-duty main structures, fuel-efficient engines, load sensing hydraulics, spacious cabs, and the exclusive Cat Stick-Steer system. The overall design goal for Next Generation models is to ensure optimum value for the customer in terms of performance, operator experience, serviceability and affordability.
The new-model lineup includes the 307.5, a standard tail swing model with a fixed boom; 308 CR, a compact radius model with a swing boom; 308 CR VAB, featuring a variable angle (two-piece) swing boom; 309 CR, a new model in the mini range featuring a compact radius, swing boom, and high flow auxiliary hydraulics; 309 CR VAB, which expands the 309 CR's capability with a variable angle boom; and 310, also new to the range, featuring a fixed boom, standard tail swing, and twin blade cylinders for handling heavy-duty dozing chores.
The new models range in maximum operating weight from 18,152 to 22,447 pounds (8,233 to 10,182 kg) and in standard dig depths from 13 feet 5 inches to 17 feet (4,107 to 5,174 mm). Three models – 307.5, 308 CR, and 309 CR – are available with a long-stick option that increases dig depth by approximately 22 inches (560 mm). The variable angle boom, available with the 308 CR VAB and 309 CR VAB, enhances digging capability in congested work areas. Powering the 307.5 is the Cat C2.4 turbo diesel engine rated at 55.9 net horsepower (41.7 kW); the five larger models use the Cat C3.3 diesel engine rated at 70.3 net horsepower (52.4 kW).
Operator environment
The design of Cat Next Generation mini excavators emphasizes operator comfort, convenience and safety. The six new models are fitted with cabs, sealed and pressurized to ensure a clean environment, and featuring a redesigned heating/ventilating/air conditioning system that ensures all-weather climate control. Suspension seats, with a retractable three-inch-wide belt, are standard, and the operating consoles feature adjustable wrist rests. In-cab sound levels are a quiet 72 dB(A).
Intuitive controls include the Next Generation LCD monitor that provides easy-to-read machine information and features a jog-dial for easy navigation, including setting personal operating preferences. For added convenience, a standard control-pattern changer allows operators to quickly adapt the machine to favored joystick movement. A machine-security system is standard – numeric code – as is a radio with Bluetooth capability. The large front window slides upward and stores conveniently overhead, and expansive glass areas on the sides and rear of the cab, plus a skylight, provide all-around visibility. A rear camera is integrated into the monitor.
An exclusive feature for new Next Generation models is the standard Cat Stick Steer system, which allows the operator to switch (with the touch of a button) from conventional lever/foot-pedal steering controls to low-effort joystick control. Automatic two-speed travel is standard, as is a cruise control system that further simplifies machine travel.
The cab's protective structures – ROPS (ISO 12117-2:2008); TOPS (ISO 12117:1997); and top guard (ISO 10262:1998 Level II) – are designed to promote a safe working environment for the operator, and controls are protected via a hydraulic lock-out. Halogen boom lights help illuminate the work area, and optional LED lights, front and rear, help to further enhance visibility. The easy-to-transport Next Generation models also feature tie-down points on the track frames to facilitate securing the machine.
Premium performance
The new Next Generation mini excavators use an efficient, fuel-saving, load-sensing hydraulic system with an electronically controlled variable-displacement piston pump capable of oil flows to 44 gpm (167 L/min) in the 307.5 and 308 models and 62 gpm (233 L/min.) in the 309 and 310 models. Generous flow rates, coupled with high main-relief pressures, provide the new models with the hydraulic capacity to generate increased travel performance, and higher digging and lifting forces, as well as to handle powered attachments. High Flow on the 309 model provides dedicated flow to the auxiliary circuit for operating the most demanding hydromechanical attachments.
For added versatility, the standard auxiliary hydraulic system (complete with quick-disconnect lines) provides one-way, two-way and continuous flow. Manual and hydraulic couplers are available, and the new models are available with a thumb-ready package and a certified lifting eye. Front-shovel operation, a capability that lends an extra measure of precision when digging around utilities, can be accomplished with both pin-on and coupler-mounted buckets.
The 307.5, 308 CR, and 309 CR come equipped with a standard undercarriage length, while the 309 has the option for a long undercarriage. The 310 is available with a long undercarriage only, which is designed for added stability.
A dozer blade further expands the capability of the new models, allowing the machine to handle backfilling and grading tasks. The blade features ample travel, above and below grade, and has a float function. Major structures for the Next Generation mini machines – upper and lower frames, track frames, boom and stick – are patterned after their larger Cat excavator counterparts and designed for long-term durability.
Routine maintenance check points are accessible at ground level through the side doors, and the battery is maintenance-free. Side panels are flat and recessed to protect them from damage, and have been designed for easy replacement.
Company info
Related products