Caterpillar side discharge and skeleton buckets for compact equipment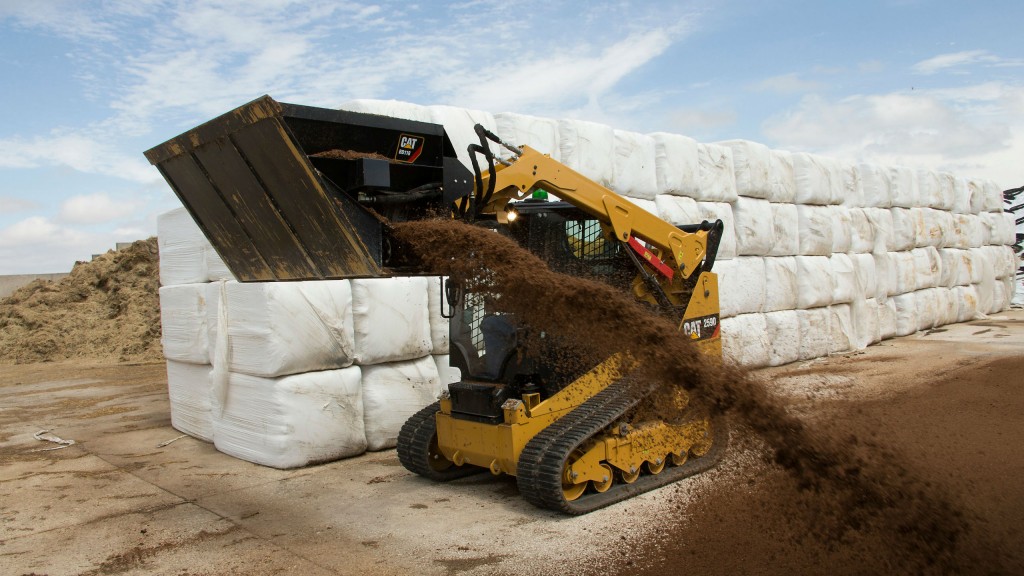 Skeleton Buckets
Used primarily to separate rocks and large debris from soil and sand, Cat Skeleton Buckets feature heavy-duty construction and find application in a number of industries, including agriculture, construction, land clearing, demolition, landscaping, and scrap handling. Designed for use with skid-steer loaders, multi-terrain loaders, compact track loaders, and compact wheel loaders, Cat Skeleton Buckets incorporate a number of structural elements that ensure efficient operation and long-term durability.
In basic construction, Cat Skeleton Buckets use heavy steel rods, 1.25 inches (31.75 mm) in diameter on 3.75-inch (95-mm) centres, to form the floor and back of the bucket. Thick plates with rectangular openings form the sides of the bucket, and a rectangular frame, fabricated of heavy duty steel and incorporating two steel plate rock dams, strengthens the back of the bucket. The rock dams serve to retain material, reducing spillage and increasing production.
For added durability, steel gussets are welded between the outermost rods in the bucket floor and the sides of the bucket. The forward ends of the rods in the bucket floor are secured in a heavy-duty support beam positioned between (and welded to) the bucket sides. This beam not only provides support, but allows the bucket to also be used for grading. Welded to the forward tips of the rods and support beam are heavy steel tines that enhance breakout force by initially separating rock and debris from soil more effectively than could a solid cutting edge.
Side Discharge Buckets
Cat Side Discharge Buckets – designed for use with skid-steer loaders, multi-terrain loaders, compact track loaders and compact wheel loaders – collect and transport loose materials such as sawdust, sand, mulch, and topsoil and then discharge these materials via a belt-type conveyor from adjustable openings (doors) on either side of the bucket. A rotating agitator works to keep material flowing to the conveyor. Adjusting conveyor speed and door openings controls the volume of material discharged and the area covered. Features of the Cat Side Discharge Bucket suit this attachment for varied application, including agriculture, construction, landscaping, road maintenance and material handling.
Conveyor
The rubber conveyor belt – featuring a heavy-duty, raised chevron tread design and equipped with an adjustable tensioning device – is engineered for long-term durability and functions efficiently whether discharging material left or right. Two externally mounted, reversible, hydraulic motors power the conveyor directly, eliminating any intermediate drive mechanisms. Specially designed openings in the bucket floor allow any material remaining in the bucket to escape, preventing material build-up beneath the conveyor. Side Discharge Buckets designed for consistent use in sand, or other heavier materials, feature an internal baffle to reduce belt strain.
Agitator
The agitator assembly, directly powered via a third, high-torque hydraulic motor, functions to reduce material bridging in the bucket to ensure consistent material flow to the conveyor. Agitator paddles are available in sand and sawdust configurations, the sand style featuring a straight design that exerts added force to push through dense material, and the sawdust type featuring an aggressive design that uses prongs to assist in breaking up material and reducing weight on the conveyor.
Discharge doors
The manually adjustable discharge doors, one on each side of the bucket, regulate the volume of material discharged. The doors are built with thick-plate reinforcing for durability. As an added safety feature for Cat Side Discharge Buckets, a welded, serrated step facilitates entering and exiting the cab.
Company info
Related products
Related Articles
Searching for the best-performing excavator? Your search ends here. We tested the Volvo EC350E and EC380E against a leading competitor in three different tests: trenching, truck loading and lifting capacity at reach. The results show a 20% difference in cost-per-ton, a 15% difference in tons-per-hour and a 12% difference in both operating costs and lifting capacity. See the results and put an end to your search for the best excavator.