TimberMatic maps and technology released for John Deere forestry equipment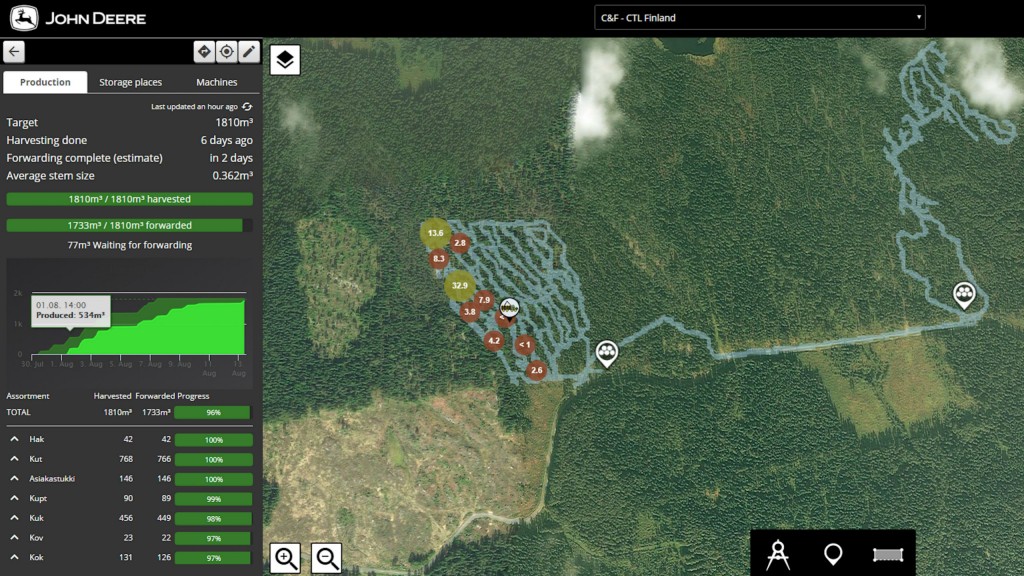 John Deere is excited to announce the release of its TimberMatic Maps and TimberManager technology offerings, new streamlined software solutions for loggers designed to enhance machine connectivity and communication. Available for John Deere wheeled-cut-to-length equipment, the revolutionary TimberMatic Maps and TimberManager software is another way John Deere is continuing to help customers optimize machines, increasing productivity.
"Understanding that our customers need access to real-time data to help increase production and accurately manage their business, we developed a streamlined, integrated solution: TimberMatic Maps for operations on-board the machines and TimberManager as an Off-Board, management solution," said Matt Flood ForestSight product manager, John Deere. "In today's challenging applications and environments, loggers need the right tools to maximize their visibility to machines, jobsites and their businesses to increase profitability."
The TimberMatic Maps system is used in G-Series Harvesters and Forwarders, utilizing a mobile network to share real-time production information between harvester and the forwarder, as well back to managers in the office. Managers can access the data using TimberManager, a web-based solution for a PC, tablet or mobile phone, allowing loggers to follow progress of the work site. Combined, the software provides complete visibility to the operation from land harvested to the machines at work, streamlining communication and increasing efficiency when shift planning.
The data shared is collected by the sensors on the harvester, while the location of the production is collected through the GPS technology. Information is automatically transmitted to the TimberMatic Maps and TimberManager systems, providing real-time updates to operators and managers both on and off the jobsite.
One of the key benefits of TimberMatic Maps and TimberManager is the ability to plan work that needs to get done in a day. The map provides the precise location, volume and species of timber with the network of logging routes, allowing operators to efficiently work. As timber is transported, the operator can mark the map to indicate it has occurred, providing an exact volume count of the timber taken to the storage area. This helps the manager track the volume of timber at the storage area, simplifying planning for trailer transports and the onward transportation of timber. Additionally, the map allows all operators to add markings, pointing out other challenging terrain factors such as an area with soft ground, making it easier to plan routes. The real-time updates provide on demand visibility to the entire crew.
More from Forestry
The all-new CASE TR340B compact track loader — operating at 90 horsepower with a 3,400-pound rated operating capacity — is the most powerful radial-lift CTL in the CASE lineup. Its all-new 8-inch LCD display improves on industry-leading CASE visibility with a new backup camera that is viewable in both forward and reverse operation. The display also showcases critical operating information and "trip" details. All-new electro-hydraulic controls, managed through the display, make it easier than ever for operators to dial CASE CTLs into specific application demands. All new cab controls and joysticks make the new TR340B easy to own and operate.
Industries such as construction, mining, energy, utilities and forestry, face many challenges when it comes to tracking assets and employees. Equipment often has to be transferred between locations, or monitored while it is dormant during off seasons. Lone workers may have to travel long distances or visit multiple sites during the course of their activities. And, all of this is further complicated today with shifting supply chains and economic realities putting further strain on the bottom line.