Tigercat street trencher cuts, pulverizes and fills in one pass
Prepares roads for sewer, water and other underground utilities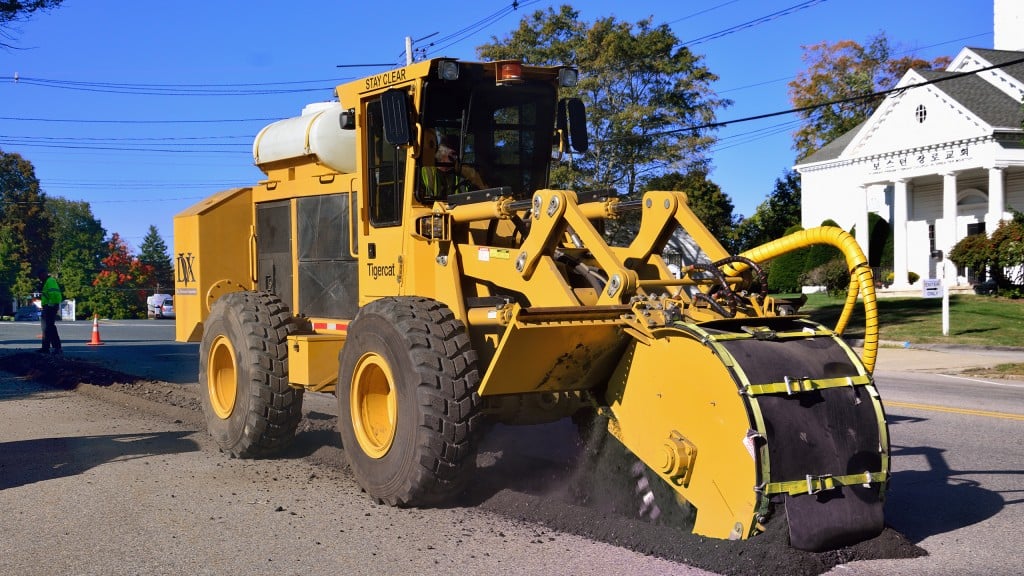 Traditional methods for trenching on asphalt or concrete roads require trucking away chunks of asphalt and concrete after it has been cut, and then obtaining additional material to backfill the trench to complete the work. The Tigercat T726G street trencher is an ingenious machine that eliminates those steps.

The T726G has been specifically designed to cut asphalt and steel-reinforced concrete road surfaces without the mess and expense of traditional methods. It quickly trenches below grade, pulverizes the material and backfills – all in one pass using one operator.

The cutting and pulverizing is done using a drum fitted with carbide bits that is rotated at a relatively slow speed. The cut material is mixed together as it is cut, so dust is drastically reduced and water is usually not required.

For trenching concrete or thick asphalt where heat and dust are a concern, the street trencher carries a 1,155-litre (305-gallon) water tank and supply system. This system allows the operator to add water when needed for dust control or cooling the cutting bits. The water is delivered within the drum housing and mixed with the cut material. Water never comes in contact with the road, so there is no resulting mud or slurry, and no cleanup required.

On average, the trencher can produce approximately 76 metres (250 feet) of trench in half an hour at widths from 46 to 61 cm (18 to 24 inches) and up to 51 cm (20 inches) deep.

The beauty of this system is that the backfilled material can be compacted immediately, allowing construction equipment and/or traffic to cross the jobsite sooner without the need for any additional material, such as steel plating or additional backfill.

Alternatively, an excavator can follow the street trencher and begin working right away. There is no need to deal with disposing of large pieces of asphalt or concrete, as the material has been pulverized into backfill.

The power behind the trencher is the Tigercat T726G carrier. Specifically designed for the task, it provides a generous 275 kW (370 hp) at 1,800 rpm using an FPT C87 Tier 4 Final engine. The heavy-duty boom and chassis are built to withstand the forces and vibration produced by the trenching attachment. The centre section uses thick steel plate, large pins and tapered roller bearings for longevity. The engine and hydraulics are cooled by a large, hydraulically driven, auto-reversing fan. The fan speed is controlled automatically, as is the reversing phase to purge dust and debris from the fan screens.

The T726G features Tigercat's new cab with a comfortable heated and ventilated seat, ergonomic armrest-mounted joysticks and refined climate-control system. The pressurized cab is well insulated to cut down on outside noise and well sealed to prevent dust exposure. Isolation mounts eliminate vibration when working and ROPS/FOPS certification means there is no need for the operator to wear a hard hat.

The thoughtfully laid out controls make the street trencher simple to operate. Once the drum has started cutting, the operator can set the cruise control to match the cutting speed. The drum can be offset to either side for cutting flush along curbs or other obstructions. Any difficult cutting conditions are overcome by backing up slightly, then proceeding forward, as there is no blade to bind. Replacing cutting bits, though infrequent, is done by removing one bolt per bit. Cutting bit wear is dependent on the silica content and the psi strength of the material being cut.

Other features include AM/FM radio with CD player and Bluetooth, tinted windows and sun visor, tilt steering wheel and cruise control.

The T726G street trencher can be found working on projects in the water, sewer, gas and hydro sectors by national contractors in the U.S., some for as long as 20 years. The North American distributor, Street Works, provides lease, sales and contracted services. The Tigercat T726G is now available in Canada.
Company info
Related products
More from Underground Construction
The all-new CASE TR340B compact track loader — operating at 90 horsepower with a 3,400-pound rated operating capacity — is the most powerful radial-lift CTL in the CASE lineup. Its all-new 8-inch LCD display improves on industry-leading CASE visibility with a new backup camera that is viewable in both forward and reverse operation. The display also showcases critical operating information and "trip" details. All-new electro-hydraulic controls, managed through the display, make it easier than ever for operators to dial CASE CTLs into specific application demands. All new cab controls and joysticks make the new TR340B easy to own and operate.
Industries such as construction, mining, energy, utilities and forestry, face many challenges when it comes to tracking assets and employees. Equipment often has to be transferred between locations, or monitored while it is dormant during off seasons. Lone workers may have to travel long distances or visit multiple sites during the course of their activities. And, all of this is further complicated today with shifting supply chains and economic realities putting further strain on the bottom line.