Amico purchased more than 50 pieces of John Deere equipment to move 5,000,000 cubic yards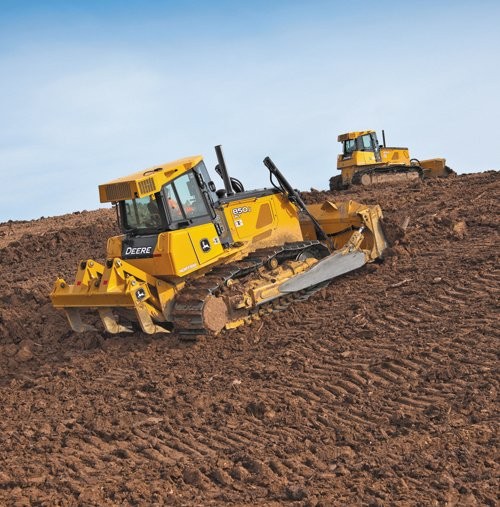 The Windsor-Essex Parkway Project may only be 12 kilometres long, but its significance is huge. The international border crossing between Windsor and Detroit is the busiest in North America: over six million vehicles cross the Ambassador Bridge each year and more than 25 percent of all merchandise trade between the United States and Canada flows through here.
The new parkway will be designed to handle today's traffic, which has doubled since 1990, to ensure the smooth flow of trade, goods and people across the border.
"In recent years, the crossing has gotten really backed up," explained Jamie DiLaudo, vice president of Amico Infrastructures Inc. "It was never designed to handle the amount of traffic we're experiencing today. The project will bring the expressway up to today's standards."
Moving five-million cubic yards
Amico will handle most of the heavy civil construction for the $1.1-billion project, including all of the excavation, granular and asphalt placement, and storm-sewer and water-main work. The company will move almost four-million cubic metres (five-million cubic yards) of soil and materials. To get it done, Amico recently purchased more than 50 pieces of John Deere equipment, including 350G LC and 470G LC excavators and 624K wheel loaders, as well as numerous dozers, graders, articulated dump trucks (ADTs), and backhoes.
The project poses a number of challenges. Windsor has a very soft clay-type soil that is mostly sediment. Plus Amico is working within an existing road corridor very close to homes, so they need to use extra care and precision.
"We find that with its optimum ground pressure, exceptional power, and superb maneuverability and control, John Deere equipment is the perfect match for the project," said DiLaudo.
Machines that make operators happy
Amico Infrastructures has been in business since 1987 and serves most of the Ontario market. The company has been buying John Deere machines for 25 years, and many of their operators have been with the company almost as long.
"We take their recommendations very seriously," said DiLaudo. "If a guy is working 12-hour days, that's a lot of stress on his body. The more we can make him comfortable, the more we can keep him at the highest level of productivity."
Amico's operators love the exceptional power, smoothness and ease of operation of the new 350G LC and 470G LC excavators. Some customer-inspired refinements include a more comfortable and spacious cab. And the LCD monitor with simplified navigation lets them easily dial-in a wealth of machine information and functionality.
Amico's operators also like the Total Machine Control (TMC) on Deere dozers, which allows them to easily customize operating characteristics and machine response, and the Grade Pro systems on the graders, with state-of-the-art fingertip armrest controls for greater productivity with Amico's preferred grade-control system. "Operator strain is greatly reduced, which has really helped improve productivity," said DiLaudo.
Amico appreciates that John Deere listens and responds to customer needs by getting extensive input through Customer Advocate Groups (CAGs), social media and comments to dealers. "We really play a vital role in the evolution of Deere equipment," said DiLaudo. "They take our comments and give them to engineers, so they can build better machines."
DiLaudo also identified other customer-inspired innovations, such as the standard onboard weighing system on Deere ADTs, which displays the payload while loading. Mirror-mounted load indicators alert the operator and job superintendent when the ADT is nearing capacity, helping to minimize overloading.
Another Deere innovation is the full-featured hydrostatic drivetrain on crawlers, which ensures predictable response at all times in all conditions.
"The hydrostatic gives you the pushing power you need to move large amounts of soil, but you can still fine-grade with it," said DiLaudo. "Plus with its wider tracks, our 750J LGP (Low Ground Pressure) provides the stability and flotation we need on soft clay. Yet, it's very maneuverable and has the extra horsepower under the hood, giving us an advantage on productivity."
Amico's loaders also feature John Deere innovations. The 624K loaders have automatic front and rear differential lock, which engages as soon as a tire begins to slip, to help improve traction in the soft clay. The Hi-Vis coupler on Amico's 644K tool carrier allows it to easily change attachments from the cab for maximum versatility. It also keeps the attachment close to the machine for better stability, breakout performance and safety.
DiLaudo acknowledged the importance of dealer support. "We've had a great relationship with our dealer for 25 years. And they know this is not just a 9-to-5 business. We can call them any time. They really understand our key goals and provide solutions that help us be successful."