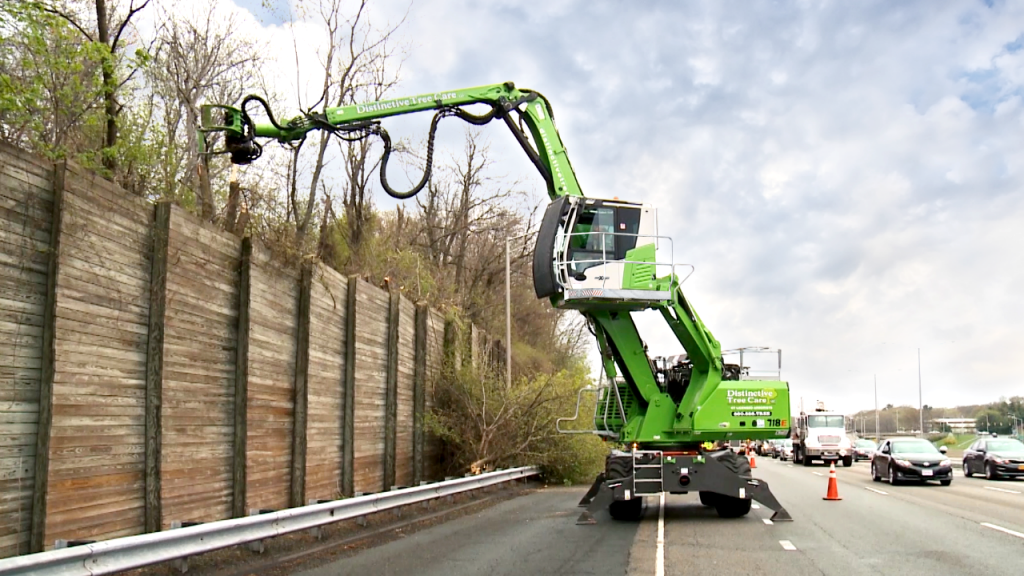 Hurricanes, nor'easters, snow storms and infestations of emerald ash borer have been taking a toll on trees in Massachusetts for several years. For arbourists like Jason Yerke, of Distinctive Tree Care, it has been a challenge to keep up with demand for clearing roads and power lines. But with the arrival of his new Sennebogen 718 M "E" tree care handler, Yerke feels he now has the right tool for the job. "It's like, year after year, you go off to war with a musket," he says, "and then one day you show up with a machine gun!"
Adapted from Sennebogen's extensive line of log-handling equipment, the 718 is a 21-ton rubber-tired machine equipped with a telescoping stick and a grapple saw attachment. The machine has a maximum reach of up to 43 feet (13 m), with powerful hydraulics tuned for delicate tree surgery. With a lifting capacity of up to 3,700 pounds (1,700 kg) and a hydraulic tree saw, Yerke's machine easily grasps, cuts, moves and stacks tree limbs at an astonishing rate. The operator works from Sennebogen's enclosed Maxcab, that can be hydraulically elevated to an eye-level of 18 feet (5.5 m). The cab also comes with a tilting mechanism to improve the operator's visibility while operating the machine.
10 times faster
Yerke says that the 718 is simply doing traditional tree-trimming and removal, but doing it better. "It's not what we can do with it, it's how fast we can do it now, with one person instead of three. Until now, we'd have one guy up in a bucket, and one with a rope, and another one handling the limb either by hand or with a mini-excavator. Now a single operator in the 718 can handle, or dismantle, trees safely, under control, in a climate-controlled cab. And he's increasing production by – no joke – ten times!"
After another season of heavy storms, on the heels of Hurricane Sandy and Storm Alfred a few years ago, Yerke was on the hunt for a new solution last year. He considered equipping an excavator for the job, but had doubts that he could achieve the capability he wanted. This past October, however, he attended the TCIA show in Columbus and discovered the 718.
Doing more with less
A fellow arbourist, Dan Mayer of Mayer Tree Service, was at the show as a Sennebogen spokesperson. Mayer purchased the first 718 in North America, and has become a vocal fan of the machine. Yerke recalls, "Dan was there kind of explaining the benefits of the 718. We hit it off, and I hired him to work at a site in Connecticut. I've been doing this for 25 years and I know, that job would have been 20 days with our usual bucket truck and crews. He completed it in three days!"
"Once I saw it, I thought sold. I drank the Kool-Aid! It just arrived here two weeks ago, we'll have it working at three or four locations." Speaking to his operator, Troy, on his morning rounds, Yerke found that the 718 had already dismantled seven trees in the first hour of the day: "cut, stacked and ready to chip."
A big step forward for safety
Troy agrees that the 718 is a big step forward. "The visibility is great – with the cameras I can see forward to the stick, to the side or behind, or all three views at once. I'm really comfortable in it. The cutting feels a lot safer. I can sit 40 feet away from the cut point; the chances of anyone getting hurt are slim to none."
Yerke is also impressed with the safety aspect of 718. "Nobody is in harm's way here. It really eliminates the hands-on cutting and hands-on handling of the branches. It's so methodical; it's like a robot with the right operator. It's such a great way to 'dismantle' a tree."
"You can't touch it"
The crew is quickly getting a sense of how to make best use of the unique capabilities of the 718. "It's not perfect for every job," Yerke admits. "But, when you do the right stuff with it, you can't touch it. It's ideal for the urban environment. You just set up at the edge of the pavement or on a nice piece of flat ground. You get the rubber tires, outriggers and crazy reach! You're not going to put metal tracks in a shopping mall, or on a curb, or next to a guard rail."

"Once you see it, it all makes sense. With its strength, you can move and stack larger pieces, too – there's also less handling to do, and cleanup is easier. Then when you're done, often, you can simply drive it right to the next job!"
Company info
Related products