Demo of Cat material handler provides SA Recycling with opportunity to make the right equipment investment for feeder yards
Beyond specs: the power of a machine demo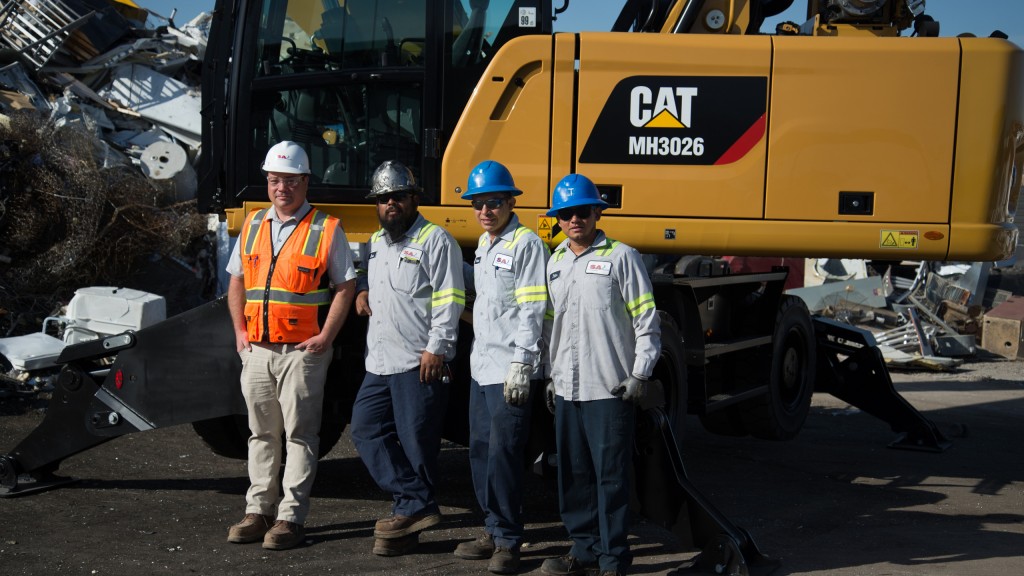 SA Recycling operates over 70 scrap metal recycling yards in the U.S., including close to two dozen ferrous shredder operations. The company, started in Orange, California, has since grown as far north as Fresno, and east to Arizona and Texas. More recently, the company expanded to the U.S. southeast, into Alabama, Georgia and Tennessee. Originally, SA Recycling was Adams Steel; they merged with Sims about ten years ago to form "SA," which stands for Sims-Adams.
Directly following its display at ISRI 2018, held in Las Vegas in April, Caterpillar transferred their new MH3026 material handler directly from the show floor, at the Mandalay Bay Resort, to SA Recycling's Western Yard, located in Las Vegas. The machine was there as a demo unit for one week and then moved to another SA Recycling yard in Decatur, Alabama. The company has since purchased the MH3026.
While demos of this kind of heavy-duty machinery at scrapyards prior to purchase are not a common practice in the scrap recycling industry, it does happen from time to time and can be a very beneficial part of the process for buyers. Firstly, for this to happen local dealers need to have a machine available for demo purposes, which is generally not the case.
Vincent Migeotte, Caterpillar's global product marketing and application consultant for specialty hydraulic excavators, agrees that with respect to demo units, it's not normally common practice for dealers to have them available. But, he says this year is an exception for Caterpillar as the company realigns their line of material handlers for scrap and waste applications - specifically the models MH3024 and MH3026.
"It's important to demonstrate and document the right machine for the right application," says Migeotte. "This is the reason why we purposely have MH3026 and MH3024 demonstration units in North America - for internal training, but also for on-site demonstration.
"It helps us to document true performance of the unit at the scrapyard and in transfer stations, and have solid customer references and data from the field."
According to Frank J. Arriaga, account manager at Caterpillar, the MH3026 machine is a relatively new size for SA Recycling.
"Historically, they have utilized slightly larger track machines," says Arriaga. "After having experience with Cat's line of MH3037, MH3049 and MH3059 material handling machines, and after learning about the specs of this new machine - the capacity of the grapple, its reach, and features including the cab riser and the fact that it's on wheels - SA determined this model would be an excellent match for their feeder yards."
Arriaga says this is what "drove the demo" of the MH3026 for SA Recycling in Las Vegas, along with the fact that they had the unit available directly following ISRI 2018.

The purpose-built MH3026 material handler features a 25,220- to 26,150-kg (55,601- to 57,651-pound) operating weight, depending on the configuration, and provides 126 kW (169 hp) net power, using a Cat C7.1 ACERT engine.
"What they did in April with the demo of the MH3026, was to validate the machine for their operations," continues Arriaga. "It is one thing to verify that all the specs look right, but it's another thing to gauge operators in the seat and in the application, put it to work, and confirm that it will do what it needs to do."
He adds that SA Recycling is definitely no stranger to Caterpillar equipment. The two companies have a long-term relationship, built over the last decade, through Caterpillar dealers around North America, including Cashman Equipment, Quinn Company and Empire.
Currently, SA Recycling operates a large number of Cat wheel loaders and skid steers, as well as material handlers using grapples, and excavators fitted with mobile shears.
"SA uses our 349 or 336 model excavators, mounted with Cat shears, to cut scrap," explains Arriaga. "They also use Cat loaders, ranging from the 938 model all the way up to the 988, a fleet of series 262 and 246 skid steers, and they have experience with our material handling machines at their different yards."
According to Arriaga, even though SA Recycling knows Caterpillar equipment very well, any time a demo of new equipment is possible, it can be critical for the customer to have complete confidence that the specific machine is capable of completing the required tasks for their specific sites.
"They can get a good understanding of the machine's capabilities from our specifications," he continues, "but nothing is better than actually having their operators and technicians on the machine at their site.
"The demo at SA Recycling, Las Vegas, allowed them to feel comfortable with the capabilities and features of the machine before making the final purchase decision."
Test results tell the tale
David Brown, regional manager (Nevada) for S.A. Recycling, was the company's lead on the April demo.
In the Las Vegas region, Brown says they handle about 20,000 tons of ferrous and nonferrous scrap (including scrap autos) per month and operate one shredder.
At the company's Western Yard, on Western Avenue, Las Vegas, where they tested out the new Cat MH3026 material handler, they process about 1,500 tonnes of scrap per month.
"It's only about a four-acre yard, so we don't need a larger machine," says Brown. "The size of this one is perfect for that size yard. The mobility with its rubber tires, for getting around the yard, and around the pile, is great.
"We had a Cat 330 excavator that had more than 30,000 hours on it," he continues. "We needed a new machine for loading and unloading. The MH3026 is much quicker, more fuel-efficient and includes more safety features. It's night and day compared to our old machine."
During the test demo at their Western Yard, the new MH3026, fitted with a one-yard Caterpillar four-tine grapple, was used primarily to unload trucks, move end-of-life vehicles, stockpile ferrous materials, and then sort and load materials for transfer to the shredder yard.
"The MH3026 basically needed to handle loading and unloading for the entire ferrous side of the business at our Western Yard," explains Brown, who adds that it did the job very smoothly.
"We also use a 1-1/2-yard grapple on the older 330 excavator," (which is still very much in use) "but because of the way the new grapple is designed, our operators say they can grab more with the one-yard unit," he said.
Feedback received from operators during the demo was focused around the speed of the machine, as well as the safety features and comfort of the cab. According to Migeotte, top speed on the MH3026 is 12.4 mph, when the unit is fitted with solid tires for scrap or waste applications, and 15.5 mph when fitted with standard tires.
"Our operators love the speed of it, because of its rubber tires," says Brown. "Our previous material handler was a crawler. Our operators appreciate the way this new machine travels around the yard, and the hydraulic system is quicker as well."
In addition, Brown says SA operators mentioned their appreciation for the MH3026 cab which, from an ergonomic perspective, is designed to be much more comfortable than cabs on previous Caterpillar machines.
"Our operators also appreciated the custom-moulded seats and the joysticks, during the demo," he says. "They liked the riser cab, and not having to climb up the crane. They were also impressed with all the MH3026 safety features, such as the extra camera on the operator's right side. Previously, the operator's view would be obstructed by the boom," he said. Now, there's a split-screen camera there so operators can see what's on the other side of the boom.
"Previously, this was a blind spot."
Safety and efficiency as standard
According to Migeotte, as with all Caterpillar machines, "Safety is not optional." He says there are many safety features and devices embedded into the MH3026 to help enforce safe behaviour, in addition to the dual camera with standard split-screen.
Another key safety feature, for example, is a seatbelt that has an indicator on the monitor as well as an audible alarm so that machine operation without a fastened safety belt can be reported via Product Link, Cat's standard telematics system.
"The cab will not move up or down unless the cab door is properly closed, and all our material handlers are fitted with boom and stick lowering check valves to prevent sudden front-end movement in case of hydraulic hose issues," continues Migeotte. "Cab ingress also has been specifically well thought out on the MH3026, with three long access steps aligned with the cab entry and an additional integrated step directly below the cab door.
"Also concerning cab ingress," Migeotte continues, "new with the 2018 edition is direct access when the upper carriage is not aligned with the chassis, through optional steps on the front and rear of the undercarriage."
With respect to safety features on the new generation of Caterpillar material handlers, Migeotte also points to anti-skid plates on all walkways and steps, reducing slipping hazards, with handrails designed for three points of contact in any location on the machine, and a standard auto-lubrification system, ex-factory, which also reduces the need for operators and mechanics to climb on the machine or reach to the end of the MH boom for proper lubrification.
"For operator comfort, and for safety, sound levels (inside the cab and outside) have been drastically reduced on the MH3026 so that the operator can stay alert," adds Migeotte.
He additionally notes that Cat's Product Link telematics is deeply integrated into their latest generation's monitoring system and is specifically designed to take the guesswork out of managing the equipment.
"The system tracks location, hours, fuel usage, idle time, and diagnostic codes and shares it with the site supervisor and the local dealership through VisionLink," he says. "It helps users maximize efficiency, improve productivity, and lower operating costs, and it helps supervise safety procedures."
By having the chance to test the MH3026 material handler, before bringing it online at their Alabama yard, SA Recycling was provided with the opportunity to be confident that their investment would provide all of the safety and performance features they require. In Las Vegas, it very quickly proved to be the right fit for their feeder yards.
"Demoing the latest edition of our product line allows not only the customer and operator to benefit from the latest development in production and safety features but also allows them to ensure the right size machine for the job is selected," concludes Migeotte. "This is critical as quite often it means a reduction in ownership cost as we find out that a new model edition can do the job of a previous larger, heavier model." RPN
This article was originally published in Recycling Product News, July/August 2018, Volume 26, Number 5.
Company info
Related products
Related Articles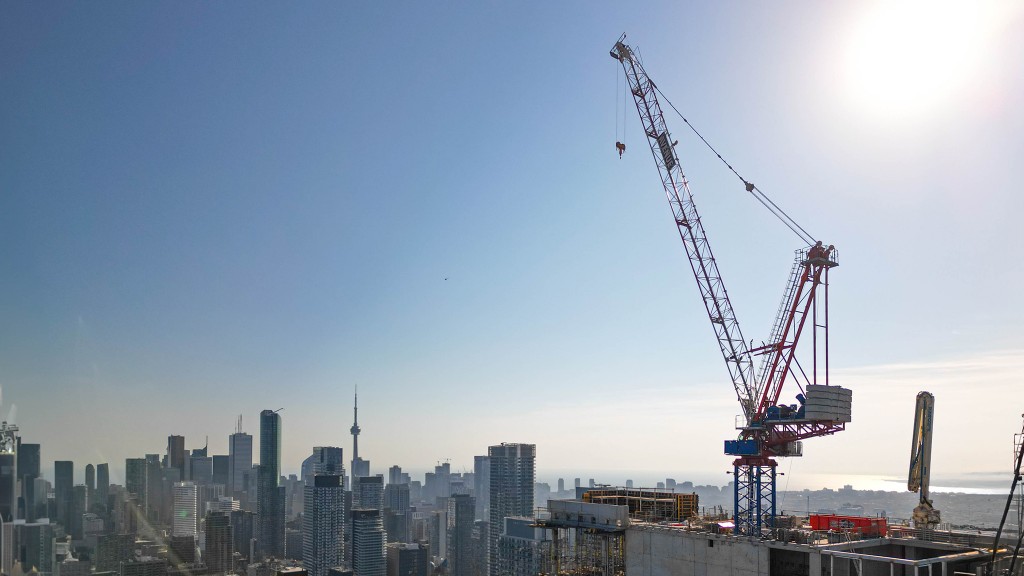 Tight squeeze in Toronto skyline is the right fit for Raimondi luffing jib crane