Welcome celebration held at American Augers facilities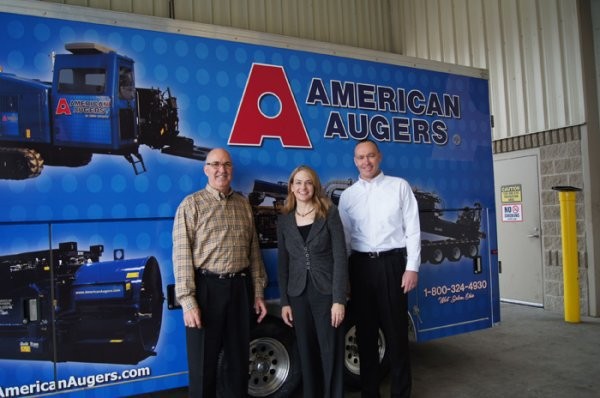 The Charles Machine Works, Inc. formally welcomed American Augers' employees into the CMW family of companies at the celebration held December 3, at the West Salem, Ohio facilities. Rick Johnson, CMW's Chief Operating Officer, presented the opening remarks and introduced Tiffany Sewell-Howard, CMW's Chief Executive Officer. Sewell-Howard shared CMW's excitement at this most recent addition to the CMW family and announced David Hammond, formerly VP of Operations, would lead American Augers as General Manager.

On November 1, it was announced that CMW entered into a formal agreement with Astec Industries Inc. to purchase American Augers and certain Trencor products for a cash purchase price of $55 million.
"For the past several years, we've focused on our vision of becoming the CMW family of companies, the authority in the underground construction business. This addition is a great step toward that vision," explains Sewell-Howard.
Sewell-Howard continues, "The strength of the American Augers team was a determining factor in our decision to acquire the company. Going forward, we will look at how we can leverage the entire CMW family of companies to help these brands be even more successful."
"The addition of American Augers and Trencor product lines," Sewell-Howard explained, "expands CMW's presence in the underground construction industry by providing additional capabilities for installing underground pipe and cable and entry into new markets."
The American Augers product line includes seven horizontal directional drilling models ranging from 60,000 to 1.1 million pounds of pullback, seven sizes of auger boring machines, five fluid mixing systems, and downhole tools and accessories. Trencor products include six heavy-duty rock trenchers ranging from 250 to 1,600 horsepower with trenching capabilities to depths from eight to 35 feet. American Augers vertical drills (GEFCO) and Trencor road milling equipment were not part of the CMW acquisition.

American Augers and Trencor will operate as a separate entity, yet leverage the synergies of the entire CMW family of companies. The full American Augers product line will continue to be produced in Ohio, and production of the Trencor products will eventually transition from Louden, Tennessee to this facility.
This Welcome Celebration marks a significant day in CMW history and we look forward to expanding our underground presence and allowing CMW to better serve all customers.