Michelin launches aggressive underground mining tires for extreme conditions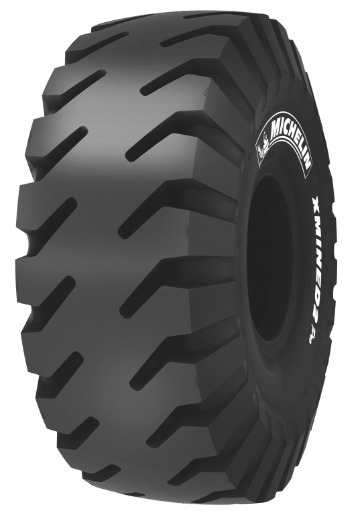 Michelin North America, Inc. is launching its most aggressive answer for underground mining (UGM) tires, specifically made for loaders and transport machines operating in extreme conditions.
Available immediately, the MICHELIN X Mine D2 Pro and the XSM D2+ Pro Line of tires is designed with three key benefits: increased load capacity, improved tire life and improved aggression resistance.
"Underground mining managers demand products that reduce downtime while keeping their operators safe. They do not want underground equipment to stop working due to tire limitations," said Jake Thompson, Michelin marketing manager - mining. "The Pro Line is specifically designed to address the tough conditions found in underground mines and reduce downtime."
The MICHELIN X Mine Pro series has an increased load capacity of up to 18 percent(1) engineered into the L5 UGM tire through a reinforced 3-star *** casing and two extra plies which contain crossed-nylon cords encased in rubber for greater resistance and toughness.
Underground mining conditions can bring a premature end to a tire as it encounters sharp rocks, standing water and narrow tunnels. End users highly value a tire which can reach end of life without having to scrap prematurely. To improve tire life, Michelin has incorporated NRF technology(2) that reinforces the sidewalls and resists sidewall injuries from migrating. By significantly improving overall tire life, mines may have to purchase fewer tires and allow them to improve profitability.
Improved aggression resistance in the MICHELIN X Mine Pro series is made possible through significant improvements to the cables and tread compounds. The encapsulated cables, found in the working plies, provide better protection against aggressions and oxidation. To endure the harshest of conditions, the tire contains optimized tread compounds(3).
The MICHELIN X Mine D2 Pro tire is available in the United States and Canada in 17.5R25, 18.00R25, 20.5R25, 23.5R25, 26.5R25, 29.5R25, and 29.5R29 sizes. The XSM D2+ Pro is available in 17.5R25, 18.00R25, 26.5R25, and 29.5R29 sizes. To learn more about earthmover tires and services, visit MichelinEarthmover.com.
Based on comparisons of the MICHELIN XSM D2+ PRO and X MINE D2 PRO to the MICHELIN XSM D2+ and MICHELIN X MINE D2, as set forth in the 2018 Michelin Data Book. Actual results may vary.

Based on computer modeling comparisons of the MICHELIN XSM D2+ PRO and X MINE D2 PRO tires compared to MICHELIN XSM D2+ and MICHELIN X MINE D2 tires. Actual results may vary.

Based upon improved aggression resistance and on computer modeling comparing the tread compounds included in the MICHELIN XSM D2+ PRO to the MICHELIN XSM D2+. Actual results may vary.
Company info
Related products
More from Industry News
The all-new CASE TR340B compact track loader — operating at 90 horsepower with a 3,400-pound rated operating capacity — is the most powerful radial-lift CTL in the CASE lineup. Its all-new 8-inch LCD display improves on industry-leading CASE visibility with a new backup camera that is viewable in both forward and reverse operation. The display also showcases critical operating information and "trip" details. All-new electro-hydraulic controls, managed through the display, make it easier than ever for operators to dial CASE CTLs into specific application demands. All new cab controls and joysticks make the new TR340B easy to own and operate.
Industries such as construction, mining, energy, utilities and forestry, face many challenges when it comes to tracking assets and employees. Equipment often has to be transferred between locations, or monitored while it is dormant during off seasons. Lone workers may have to travel long distances or visit multiple sites during the course of their activities. And, all of this is further complicated today with shifting supply chains and economic realities putting further strain on the bottom line.