AEMP members set to "Accelerate, Aggregate, Elevate" during 2013 Spring Conference and Annual Meeting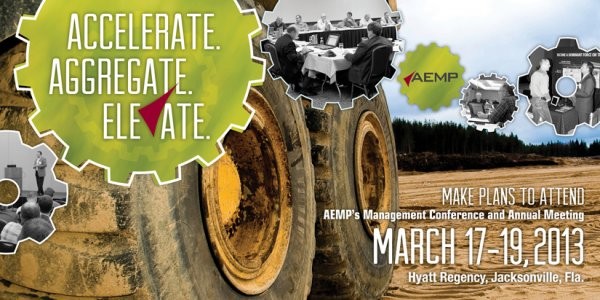 Fast tracking professional growth, getting together with the best and brightest in the profession and rising to new levels of knowledge and expertise. This and more awaits asset managers and their counterparts in heavy equipment manufacturing during the Association of Equipment Management Professionals (AEMP) Management Conference and Annual Meeting March 17-19, 2013.
The Management Conference and Annual Meeting, which will be held at the Hyatt Regency in Jacksonville, Fla., is now in its 31st year. It is AEMP's largest event, one that brings together the industry's leaders and practitioners with those who design and manufacture the equipment they oversee. In addition to networking opportunities, the 2013 event will allow those professionals to share ideas, participate in educational and issue-related seminars and visit the extensive exhibit hall to gain practical knowledge on the latest topics in fleet management.
Highlighting the conference will be a Mini Management Seminar presented by C.E.M.P.'s Mike Vorster, Ph.D. and John Hildreth, Ph.D., titled "Adding Value in Equipment Management." Vorster, owner of C.E.M.P., is a Virginia Tech professor emeritus of civil and environmental engineering. Hildreth is an assistant professor of construction management at UNC Charlotte. During their half-day program, Vorster and Hildreth will discuss critical skills in three areas: how to add value through a full understanding of the equipment management function; how to add value through effective cost management; and how to add value through data analysis and fleet age planning. This memorable, half-day seminar is designed for equipment managers, financial managers and operations specialists who seek tools and ideas to improve their fleet management and increase their return on investment.
Greg Bennick, award-winning producer and writer, will kick off events and sessions on the first day of the conference and will emcee the recognition of AEMP's latest certified professionals. Bennick blends laugh-out-loud comedy with audience participation to deliver a powerful message about how to turn you into a leader.
Also appearing will be Parker Schnabel, "the Young Master" on the Discovery Channel's hit series "Gold Rush." Hailing from Haines, Alaska, Schnabel has worked in his grandpa's Big Nugget mine since his feet could touch the pedals of mining equipment. End users and Strategic Alliance Partners are invited to join Schnabel for humorous outtakes and questions during the 2013 Fleet Master's ceremony.
In all, the conference will include 36 educational sessions with crucial topics that include essential fleet metrics, equipment ownership cost, understanding customers, cutting fuel costs with telematics and elevating the asset manager role. In addition, the exhibit hall will be open March 17-18 with industry exhibits and demonstrations.
Conference and meeting attendees also have the opportunity to attend Professional Development Institute (PDI) sessions March 17-19. PDI sessions help industry professionals prepare for either the Certified Equipment Manager (CEM) or Certified Equipment Support Professional (CESP) exam. The sessions cover a range of topics under the five core standards of professional asset management: finance, information, controls, policies and customer service. Certification exams will be administered on Wednesday, March 20 from 8 a.m. to noon. Applications for either exam are required by February 25 so that AEMP can determine eligibility.
Beyond the seminars and the PDI, the conference and meeting will feature several annual events. Opening day will begin with the keynote address and recognition of newly certified professionals, continue with the AEMP Foundation 2013 Technician of the Year Luncheon sponsored by John Deere and the AEMP Foundation, and close with the evening gala. Day two will feature the Fleet Masters Award Ceremony and Dinner sponsored by AEMP's Strategic Alliance Partners. Kicking off the third day of events will be the Inauguration Awards Breakfast, where AEMP recognizes its top members and new AEMP board members and board president will take the oath.
Management Conference and Annual Meeting registration fees cover meals, seminars and all events. For more information about the event, including sessions and schedules, visit AEMP.org or contact Client Services Manager Claudine Wheeler at 970-384-0510 or [email protected]. For more information on certifications and the PDI, contact Vice President of Educational Services Jim Phillips at 970-384-0510 ext. 202 or [email protected], or visit the website.