5 reasons to use an ejector body on an articulated truck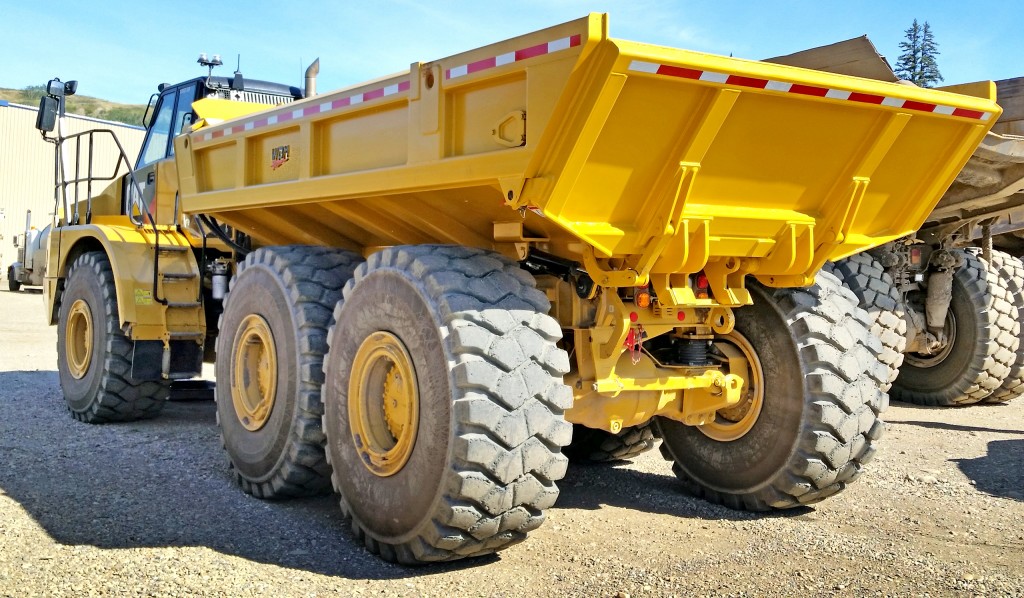 Most articulated trucks are made to dump material but there are some good reasons to consider an ejector body which pushes material out, according to Weldco-Beales Manufacturing, a company that designs and manufactures specialized heavy equipment attachments for OEMs. In fact, after many years of providing ejector bodies for underground applications, they recently added models for above ground use as a result of market demand.
WBM says there are five reasons to consider ejector bodies.

1. Safety and stability
By eliminating the need to raise the body, the risk of hitting overhead obstacles is reduced. The risk of the machine tipping is also lowered due to enhanced stability. As a result, the operator is able to dump more safely in height-restricted areas and on uneven/sloped or softened grounds.

2. Control
The operator is better able to control the dump speed and the spread of material by adjusting both the ejection speed and driving speed. The material can therefore be spread more evenly and over a larger distance.

3. Dumping in height-restricted areas
Dumping does not require additional height clearance, making it easier to dump under bridges, power lines, or even underground. If the machine fits, it can dump.

4. Minimized material retention
Since the material is physically pushed out, retained material in the body after dumping is nearly eliminated. This leaves more room in the body for the next load.

5. Productivity
Enhanced productivity is the result of the combined previous four benefits. With fewer height and ground obstacles, the material can be dumped where it needs to be without involving other machines. With enhanced control, the material can be spread in the first pass without the need to slow down between dump and return. Minimized material retention increases the size of each dump for faster cycle times.

WBM Ejector Bodies are available in various models for all articulated dump truck brands and sizes. Each is designed to use the original manufacturers' components including cylinders, sequencing valve, pins and bushings where applicable. This makes installation easy; after the original dump bed is removed, the WBM Ejector Body is put into place and connected using those factory components, and then some cab wiring is involved. Although in-house installation by WBM is available, it is usually done by the dealer or end user.
Related Articles
As one of the latest models in the R2-Series excavator lineup, the Bobcat® E88 delivers durability, performance and quality for more productivity. Technically speaking, it's a compact machine, but it brings big performance with its redesigned engine and optimized lift performance, plus undercarriage and counterweight improvements. All these enhancements make this excavator one of the highest-performing models in its size class. With impressive over-the-side lift capacity, you can dig with greater confidence over the side of the machine. Put it to the test against similar models from other manufacturers. You'll see that the E88 can outwork the competition.