From ultra-short to amphibious, six versatile excavators from Volvo CE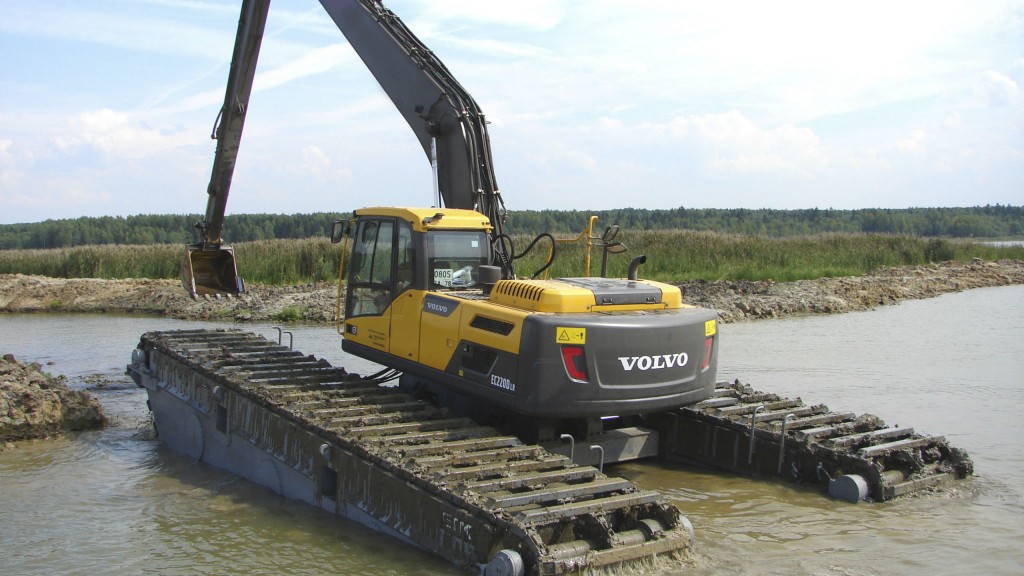 Was there ever a machine more adaptable, scalable, or shape-shifting than the excavator? Here we look at the versatility behind a selection of Volvo Construction Equipment's mighty machines.
1. The one with a small bum
The ECR18E is a 1.8 tonne class machine that can squeeze into the tightest of spaces, and thanks to its ultra-short tail design – the shortest radius in the Volvo range – it can work close to obstacles without colliding with them. Despite its short-tail design, the ECR18E remains highly stable all round – its variable undercarriage can retract to less than 1 metre wide to enter confined areas – or expand to a more surefooted 1.35 metres.
2. The one with a higher purpose
To provide the most versatile machine possible on demolition jobsites, EC700CHR reaches a lofty 32 metres but it can also be fitted with both high-reach equipment and a standard boom-and-arm. The ability to switch from one type of boom-arm configuration to another with ease offers a higher return on investment. And a hydraulic modular joint enables a fast and safe change from demolition to standard attachment, boosting machine utilization when not required for high-reach projects. An even bigger demolition excavator is coming soon from Volvo CE.
3. The wheely long-necked one
It's not only its wheels that makes this excavator special. Designed for the waste and recycling industries, the new EW240E material handler weighs in at 26 tonnes, and with its 6.5-metre straight boom and 5-metre gooseneck arm, the machine has an impressive forward reach of more than 11 metres.
Operators can work in comfort in the spacious cab, which can be raised up to 5 metres above the ground for an eye-level view. To enhance safety, the Volvo EW240E material handler is equipped with a limited arm that avoids collision between the cab and the grapple.
4. The One with a sharp brain
Levelling sites, digging trenches, grading slopes – or creating complex, multi-dimensional site profiles – all have never been easier, thanks to Dig Assist, Volvo's machine control system for excavators.
Powered by the award-winning Volvo Co-Pilot in-cab console and incorporating sensors and the latest location technology, Dig Assist delivers incredible excavation accuracy in a fraction of the time normally taken using conventional methods. Simple and intuitive, the operator can set up projects in just a few touches by selecting the required job parameters. The operator can then monitor progress of the job as it gets underway and on-screen alerts indicate when pre-set parameters are met.
5. The heavyweight one
With a knockout bucket breakout force of 478 kN and an arm tearout force of 420 kN, the 90 tonne class EC950E is the Muhammad Ali of excavators, offering superior digging force, particularly when working with hard and heavy materials. Constant high hydraulic pressure delivers power to the machine when needed. Built with protected components, including a heavy-duty boom and arm, a strong frame structure, and a heavy-duty plate, the EC950E is no pushover, and can be relied on for longevity and sustained uptime in demanding applications.
6. The quirky ones
Need to convert your excavator into a rock drill – no problem! Or how about transforming your Volvo excavator into a prehistoric-looking amphibious dredger with super long tracks, boom and arm? Step right in, because Volvo has a long history of adapting excavators for a whole world of strange and wonderful specialized applications.
Company info
Related products
More from Earthmoving
The all-new CASE TR340B compact track loader — operating at 90 horsepower with a 3,400-pound rated operating capacity — is the most powerful radial-lift CTL in the CASE lineup. Its all-new 8-inch LCD display improves on industry-leading CASE visibility with a new backup camera that is viewable in both forward and reverse operation. The display also showcases critical operating information and "trip" details. All-new electro-hydraulic controls, managed through the display, make it easier than ever for operators to dial CASE CTLs into specific application demands. All new cab controls and joysticks make the new TR340B easy to own and operate.
Industries such as construction, mining, energy, utilities and forestry, face many challenges when it comes to tracking assets and employees. Equipment often has to be transferred between locations, or monitored while it is dormant during off seasons. Lone workers may have to travel long distances or visit multiple sites during the course of their activities. And, all of this is further complicated today with shifting supply chains and economic realities putting further strain on the bottom line.