Volvo CE tests safety concepts with Colas as part of "[email protected]" research project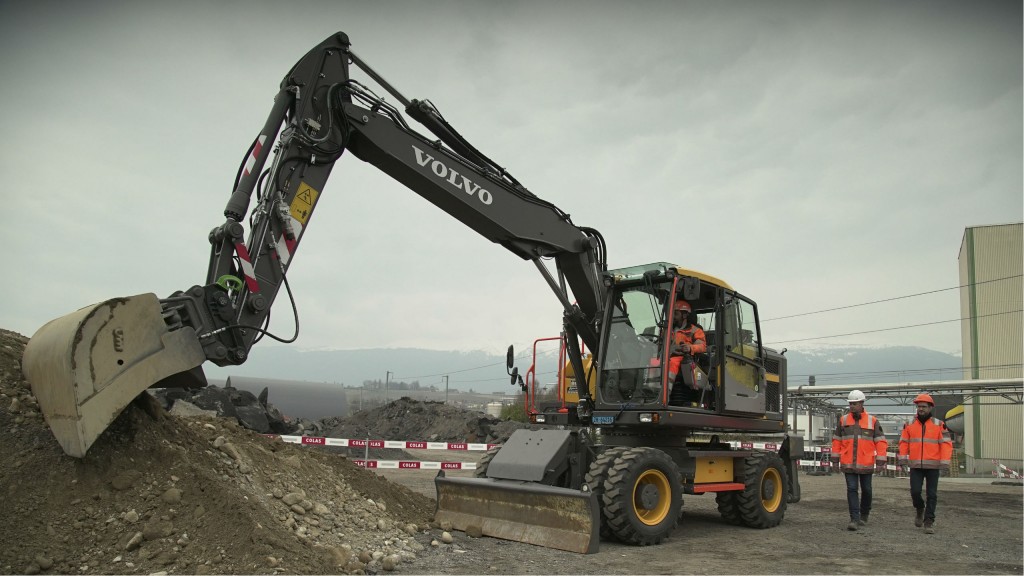 Volvo Construction Equipment is working on a research project to improve work site safety in collaboration with its customer Colas – a world leader in the construction and maintenance of transport infrastructure.
Volvo Construction Equipment (Volvo CE) is collaborating with its customer Colas on a research project that has seen the company develop and test a range of concepts and prototypes that contribute towards improved work site safety. As part of the "[email protected]" research project, Volvo CE recently tested a people detection system at two Colas sites: an asphalt plant and a quarry in Switzerland. The concept uses Artificial Intelligence (AI) to alert the operator when a person is detected in the vicinity of the machine. It incorporates different warning systems, both for the operator and for people in the area surrounding the machine. Volvo CE engineers were already developing the integrated AI algorithm and it was further improved during the [email protected] project.

The prototype is one of three operator assist concepts that Volvo CE has been collaborating on with Colas since 2016. Currently this work is part of a research project to prove the technology is viable for the industry. Plans for industrialization are under investigation.
Thinking outside the box
"Safety is one of Volvo CE's core values and we are actively working to create even safer work sites for employees, customers and anyone in the vicinity of our machines," says Veit Kleeberg, Chief Project Manager for [email protected] at Volvo CE. "When Colas approached us to partner on this research project we were keen to get involved. We used the 'Design Thinking' methodology – which involves putting the user first and finding out their needs before generating ideas – and came up with 27 concepts that could contribute to reducing the number of accidents involving employees and members of the public on construction sites. Together with Colas, we picked the three preferred concepts and we started to design and test them."
The latest tests in Switzerland, on March 27th, marked the third round of testing and demonstrations that Volvo CE has carried out on excavators, wheel loaders and articulated haulers at Colas jobsites. The people detection concept was tested on a EW160E excavator and a L220H wheel loader.
"The testing was a great success and the operator feedback was very encouraging," says Veit. "This time we were focusing on the accuracy of the concept, after we'd made some improvements following tests with Colas in January. Being able to test the technology in a real-world environment and getting instant customer feedback is invaluable. This partnership has enabled us to investigate new technologies and explore concepts that add value for our customers and address our ambitions such as zero accidents."
Working together
"We wanted to partner with a construction equipment manufacturer and create an innovative safety system that would reduce the number of accidents involving people on construction sites," says Philippe Simarik, Prevention, Health and Safety Director at Colas. "Given that we share core values, especially safety, Volvo CE was the ideal choice. We are working together to develop and test various new ideas. The most mature of those ideas is the people detection concept, and we hope to equip our machines with this system in the future. Our collaboration with Volvo CE has been extremely positive, together we have come up with a solution that will improve work site safety."
Company info
Related products
More from Aggregates & Quarries
The all-new CASE TR340B compact track loader — operating at 90 horsepower with a 3,400-pound rated operating capacity — is the most powerful radial-lift CTL in the CASE lineup. Its all-new 8-inch LCD display improves on industry-leading CASE visibility with a new backup camera that is viewable in both forward and reverse operation. The display also showcases critical operating information and "trip" details. All-new electro-hydraulic controls, managed through the display, make it easier than ever for operators to dial CASE CTLs into specific application demands. All new cab controls and joysticks make the new TR340B easy to own and operate.
Industries such as construction, mining, energy, utilities and forestry, face many challenges when it comes to tracking assets and employees. Equipment often has to be transferred between locations, or monitored while it is dormant during off seasons. Lone workers may have to travel long distances or visit multiple sites during the course of their activities. And, all of this is further complicated today with shifting supply chains and economic realities putting further strain on the bottom line.