Drones, machine control and telematics key themes in jobsite technology
Heavy equipment owners and operators benefit from new introductions that bring technological advances to the construction industry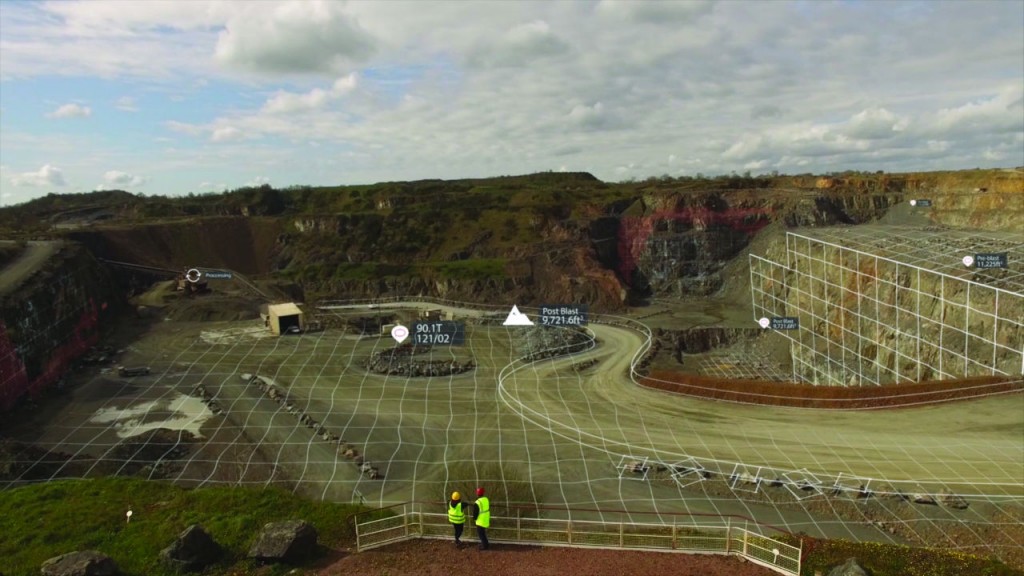 Drones continue to be a growing part of the construction industry, and efforts to collect and process the data collected by unmanned aerial vehicles have expanded with the release of new tools by solutions provider Airware. Designed around a secure, cloud-based platform, Airware leverages machine learning and artificial intelligence to help quarries digitize their business and improve operations with visualization, collaboration, analysis and reporting on drone-captured data.
"Our enterprise platform and advanced Mining and Quarrying solution has delivered proven competitive advantage to our customers," described Airware CEO Yvonne Wassenaar.
This latest release of the Airware Mining and Quarrying solution provides enhanced capabilities for teams to collaborate in real time to manage, process, view and analyze site data. It offers flexible data collection, including support for a number of industrial-quality drones from popular manufacturer DJI that are intended to provide faster, more accurate data acquisition for users on various budgets.

It's important to ensure that field staff is using the latest information on any particular project. That's where HCSS Plans can come in – connecting the office to the field to avoid costly mistakes and rework. Built specifically for heavy civil construction, HCSS Plans allows superintendents and project managers to efficiently manage changes and markups to project drawings and plans.

From the office, the digital plan management program allows managers and estimators to upload project documentation and make annotations, link to callouts, add notes and photos, and mark revisions and versions using the HCSS Plans website. The program's Quick Publish feature offers fast, one-step PDF document uploading to create seamless communication with the field. HCSS Plans features dual scaling – vertical and horizontal – plus offers a host of calculators for jobsite items ranging from asphalt, concrete and concrete yield to rebar, trenching and trucking.

HCSS Plans gives field crews instant access to any document revisions or new versions to ensure they are working off of the most recent information.
Optimized for iOS mobile devices, drawings stay crisp and fluid as workers pan and zoom plan sheets. Crew leaders can annotate plans from mobile devices to show changes in the field and communicate back to the office.

Topcon Positioning Group has introduced a new 3D machine control system, the X-53x, which the company states is designed to be a faster, modular and easily upgradeable aftermarket solution for excavation.

This unit features fully integrated GR-i3 receivers for precise positioning of the boom, stick and bucket at all times, as well as the MC-X1 controller, which offers compatibility with all brands and models of excavators and provides a customizable machine control platform.

The GR-i3 is designed as an integrated GNSS receiver and antenna all in one, providing powerful performance in harsh environmental conditions. The system is engineered to be easily upgradeable for future excavation demands.

Smartphones are becoming more effective as tools for business and industry as they evolve. While the Cat S61 might be called a smartphone, this new unit – an upgrade to the Cat S60 – has a variety of features that simply can't be found on a phone from the local mall kiosk.

The Cat Phones S61 features an integrated FLIR thermal imaging camera with enhanced software for greater image contrast, expanded temperature range to 400 degrees Celsius, and an upgrade from VGA to High-Definition detail from the visible camera. Vehicle diagnostics, asphalt monitoring, and higher temperature equipment monitoring are now possible.

It also includes an indoor air quality sensor from Sensirion to alert users to high levels of indoor air pollutants (Volatile Organic Compounds or VOCs) in their working environment. Common sources of VOCs include paints, solvents, carpets, furniture and cleaning products, all common in the environments typical to Cat phone users. The S61 will keep watch over indoor air quality levels and inform users when an unhealthy environment is detected.

This phone also comes with laser assisted distance measurement which can measure point-to-point distances up to 10 metres, then calculate area, and switch between Metric and Imperial measurement.

Earthworks Grade Control System is Trimble's next-generation grade control platform for excavators and dozers. Re-engineered from the ground up, this system features intuitive, easy-to-learn software that runs on an Android operating system. State-of-the-art software and hardware gives operators of all skill levels the ability to work faster and more productively than ever before.

The new Trimble Earthworks for Dozers Grade Control configuration mounts dual GNSS receivers on top of the cab to eliminate masts and cables traditionally located on the blade. The dual GNSS receivers are ideal for steep slope work and complex designs with tight tolerances.

The Trimble Earthworks grade control application runs on a 10-inch (25.7-centimetre) Trimble TD520 touchscreen display.

The Trimble T10 Tablet is a rugged, high-performance data processing platform that brings the advantages of fast computing power and a large screen to the field. The 10.1-inch tablet is designed with military-grade ruggedness to withstand harsh jobsite conditions.

Linamar Corporation's Skyjack division has launched Elevate, a fully customized solution designed specifically for off-highway rental fleets that leaves behind the legacy of on-road telematics.

Elevate follows a mobile-first philosophy. In a fast moving environment with a wide variety of roles any solution needs to go beyond just telematics. Skyjack has embraced mobile applications that help elevate safety, productivity and utilization for rental companies. Through the use of the Elevate ON and Elevate GO apps, powered by Trackunit, Elevate provides an integrated solution for entire fleets and it's a solution that follows Skyjack's philosophy of being simply reliable.

Excavators equipped with 2D or 3D excavator guidance solutions from Leica Geosystems and tiltrotators supported by SVAB Quantum can now use a new functionality, iXE CoPilot, that enables the tilt function on a tilt-rotator to be handled automatically. The tilt will automatically be adjusted so it is held parallel to the surface as the operator pulls in the excavator arm.

"We have developed this new function for three reasons," said Marcus Grevelshøj, product specialist for excavating and wheel loader solutions at Leica Geosystems. "First, to improve the productivity of experienced excavator operators using tiltrotator attachments; next, to decrease the learning curve of less experienced operators; and finally, to decrease fatigue and stress for all operators as they operate a large machine like an excavator."

The automatic tilt function for SVAB Quantum is now available on all Quantum platforms, and former versions of Machine Control System (MACS) platforms can be updated to support the functionality. Tiltrotator brands supported by Quantum and the Leica iCON iXE2 2D solution and the Leica iCON iXE3 3D solution will have the possibility to connect to the function.

Mobile field management platform Fieldwire has announced a strategic partnership with the Hilti Group. "Fieldwire's approach to jobsite productivity stands out in the construction tech scene and aligns very well with Hilti's mission," said Joerg Kampmeyer, Member of the Executive Board and CFO at Hilti. "We were impressed by Fieldwire's leadership, and our investment in the company is a first step in establishing a long-standing strategic partnership."

In recent years, Hilti has made major efforts to digitize the construction industry with software solutions, for example by planning and designing fastening and firestop solutions, bringing BIM to the field or for asset management. While digital has already revolutionized construction planning and design, the focus is now shifting towards disrupting the way people work on jobsites. Fieldwire's partnership with Hilti will further shift focus to workers in the field with the goal of empowering them to do their best work.

The typical construction worker spends only 30 percent of their time on actual construction work, with the other 70 percent spent on coordination and communication. Fieldwire's construction management software gives that time back to those in the field by enabling them to capture, organize and access information such as up-to-date drawings and files using a mobile device.
Company info
Related products
Related Articles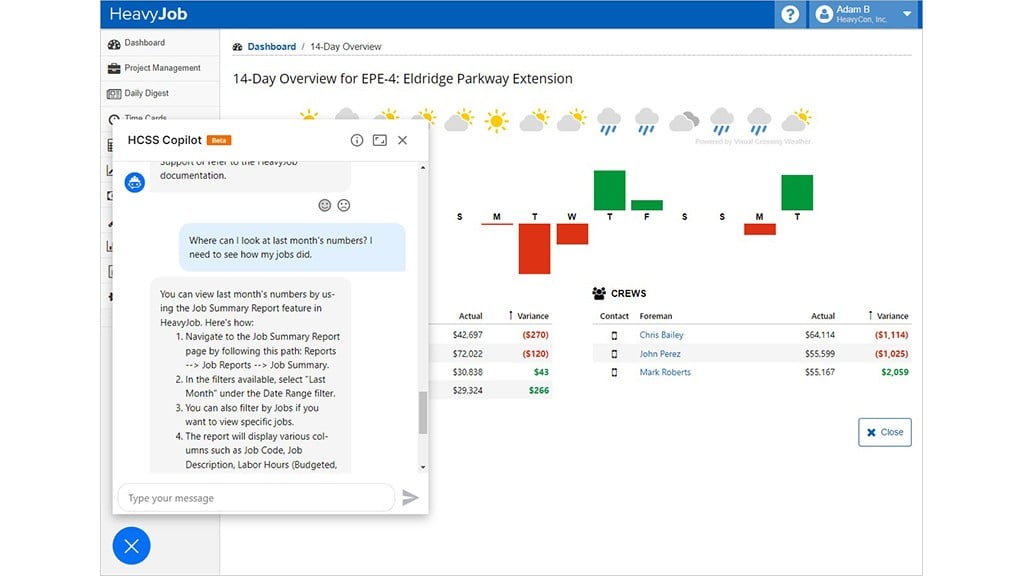 HCSS brings AI to construction technology with Copilot assistant for HeavyJob platform