Xcentric Ripper Mining Series for high-volume excavation and demolition is designed for operator comfort and continuous work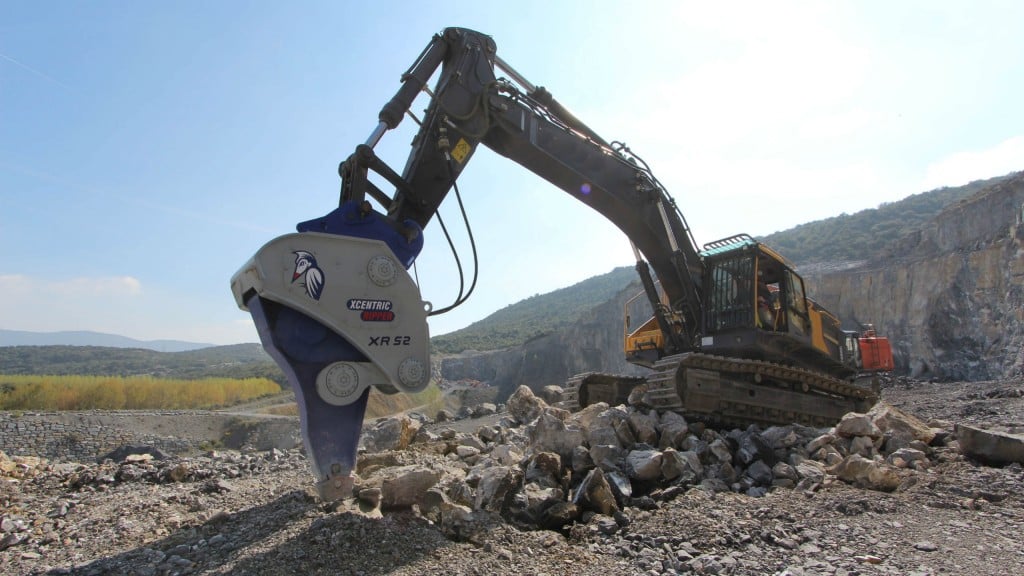 Xcentric Ripper International has taken the Xcentric Ripper range to a whole new level with the release of the all new Mining Series.
The company says that the Xcentric Ripper outperforms traditional hydraulic hammers and static rippers in nearly every type of material, particularly in medium hardness rock with natural fracturing and layers. Using patented Impact Vibration Accumulation Technology, the hydraulic ripper attachment works with the natural rigidity of the rock, and the vibrations that are produced shake the material to deepen cracks for easier breakup.

The all new Xcentric Ripper Mining Series is specifically designed for frequent use where the highest production values are required, as well as continuous work shifts where reliability and excavator operator comfort are paramount.
Mining Series design improvements
While the working technology is based on the standard series, the new Mining Series has been reinforced with a remodelled working platform which delivers a much higher energy impact force to the work tool with a lower frequency. Larger and heavier eccentric gears are now machined from a single billet of steel and precisely designed to allow for equal weight distribution side-to-side and direct impact energy vertically. The lower pivot arm and housing is reinforced to limit wear where the ripper typically encounters material, and the ripper arm or beak has been remodelled and reinforced with Hardox steel. The XR Mining Series also has a narrower body profile, making it ideal for tunnelling or operating in confined areas.
Initial impressions – the XR82 at work
A customer in the pile and dredging industry was searching for an excavation tool that could be deployed for a three-month project which included the removal of more than 40,000 yards of basalt from a shoreline to make way for a new harbour and breakwater for incoming marine traffic. The superintendent saw video of the new XR Mining Series working online and decided to give the new, more powerful version of the hydraulic ripper a chance to prove it belonged in their arsenal of excavation tools. "We have the XR82 model working on one machine and a clamshell bucket for dredging on the other," he said. "We needed a tool that would work well under water and the XR82 has performed to our expectations so far. I see it proving valuable as an asset in our equipment fleet and working really well on some of our more specialty projects."
Designed to increase production at lower operating costs and reduced noise levels, the all new XR Mining Series is a revolution for high volume rock excavation. Like the regular series that came before it, the Mining Series will be an invaluable tool for frozen ground excavation, rock excavation, quarrying, surface and underground mining, oil sands excavation, utility project installations, pipeline trenching, demolition, slag recycling, dredging, and even underwater applications.
Company info
Related products
More from Attachments
The all-new CASE TR340B compact track loader — operating at 90 horsepower with a 3,400-pound rated operating capacity — is the most powerful radial-lift CTL in the CASE lineup. Its all-new 8-inch LCD display improves on industry-leading CASE visibility with a new backup camera that is viewable in both forward and reverse operation. The display also showcases critical operating information and "trip" details. All-new electro-hydraulic controls, managed through the display, make it easier than ever for operators to dial CASE CTLs into specific application demands. All new cab controls and joysticks make the new TR340B easy to own and operate.
Industries such as construction, mining, energy, utilities and forestry, face many challenges when it comes to tracking assets and employees. Equipment often has to be transferred between locations, or monitored while it is dormant during off seasons. Lone workers may have to travel long distances or visit multiple sites during the course of their activities. And, all of this is further complicated today with shifting supply chains and economic realities putting further strain on the bottom line.