Netarus camera systems go international at major equipment shows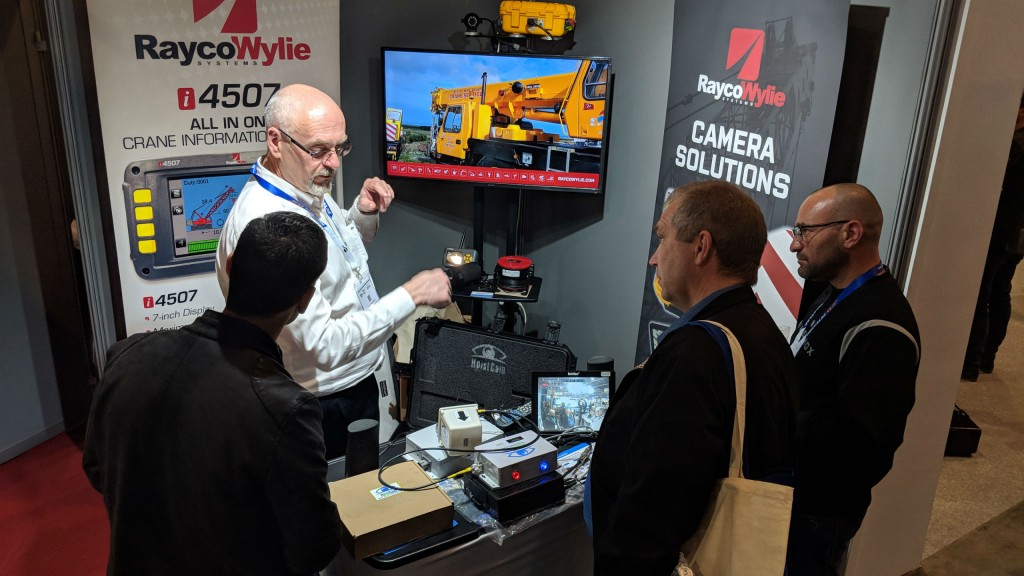 HoistCam cameras from Netarus were recently featured at two international construction equipment shows, where show attendees were particularly interested in HoistCam Director enterprise fleet monitoring software. HoistCam Director enables construction owners and managers to remotely monitor an entire job site. By capturing data from integrated sensors, the software provides GPS recording, geofencing, and searchable archives of recordings.
FLG Services, a specialist division of A-Plant and a leading lifting equipment rental company operating in the UK, showed HC140, HC180, and HC190 cameras at Vertikal Days, held May 16-17, 2018 in Donington Park, UK. FLG Services represents HoistCam in the UK.
Recently FLG Services provided a HoistCam to VINCI Construction UK for use in conjunction with tower cranes on a highly congested construction project at the University of Bath's main Claverton Down campus. "The HoistCam has proved to be a valuable piece of kit on this site due to the fact that space is so limited and the buildings have a complex shape with a restricted view for tower crane operators. It has given our crane operators clear vision of the blind loads being slung, thus enhancing safety," said Alex Clements of VINCI Construction UK.
Rayco-Wylie Systems, based in Quebec City, Canada, is a world leader in crane monitoring systems, including load indicators, range limiting devices, and weighing systems. The French and Canadian dealer for HoistCam showed the HC140 and HC180 cameras at Intermat, the international exhibition for construction and infrastructure, held in Paris, France in April. "Attendees were interested in the ability to record lifting activities with HoistCam Director, which can be referred to later if there is a problem during the lift," said Jean Pierre Thomas of Rayco-Wylie.
Providing a centralized monitoring point, HoistCam Director is more than just a one-way camera system. A fully integrated system allows construction owners and general contractors to view and manage hundreds of job sites or equipment operations, improving productivity and safety. space is severely restricted.
HoistCam Director includes one mobile digital video recorder (MDVR) with 4 channel video input. Customizable alarms include geo-fencing, Shock/G-Sensor, temperature sensor, voltage output triggers, and RS485/RS232 monitoring. Two licensing options provide users with flexibility depending on the size and scope of the project. A Basic License allows for one concurrent user and MDVR at no additional cost. An Enterprise License supports multiple concurrent users, MDVRs and remote access to recordings.
Among the benefits for project managers is the ability to align written assignments with current real-time visual comparisons of the job progression, manage work flow and share information within the organization or with various sub-contractors. Operations managers or CEOs can increase productivity and profits by deploying or re-deploying personnel or equipment assets based on real-time needs. Risk managers can quickly assess operations to reduce opportunities for accidents or retrieve archived data following an accident for efficient incident investigation.
More from Equipment Maintenance
The all-new CASE TR340B compact track loader — operating at 90 horsepower with a 3,400-pound rated operating capacity — is the most powerful radial-lift CTL in the CASE lineup. Its all-new 8-inch LCD display improves on industry-leading CASE visibility with a new backup camera that is viewable in both forward and reverse operation. The display also showcases critical operating information and "trip" details. All-new electro-hydraulic controls, managed through the display, make it easier than ever for operators to dial CASE CTLs into specific application demands. All new cab controls and joysticks make the new TR340B easy to own and operate.
Industries such as construction, mining, energy, utilities and forestry, face many challenges when it comes to tracking assets and employees. Equipment often has to be transferred between locations, or monitored while it is dormant during off seasons. Lone workers may have to travel long distances or visit multiple sites during the course of their activities. And, all of this is further complicated today with shifting supply chains and economic realities putting further strain on the bottom line.