Maclean invests in technology & people to deliver innovative products & services for the mines of the future, today
Company's participation at the CIM 2018 convention to focus on expanding capabilities in remote control, shotcrete, vehicle monitoring, ongoing build-out of battery electric fleet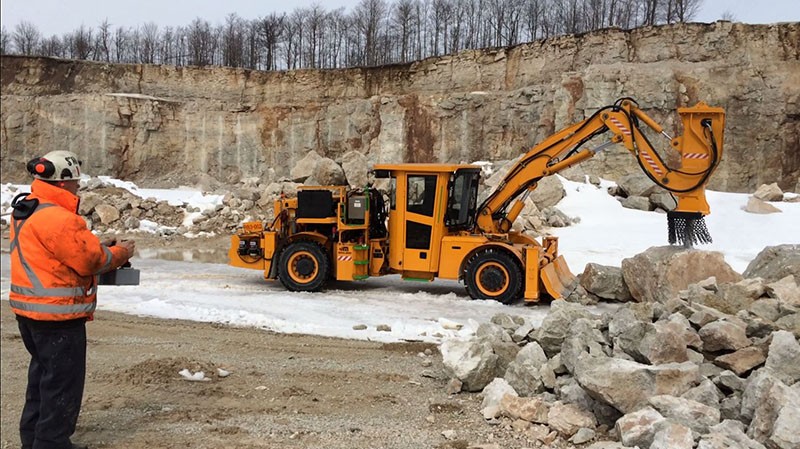 MacLean Engineering a global leader in underground mining mobile equipment innovation, improving safety and productivity and reducing costs for mining companies and contractors. MacLean recently made notable acquisitions in remote control technology as well as shotcrete expertise that will allow the company to remain at the forefront of change in a rapidly evolving industry.
The MacLean acquisition of Anchises Equipment and the hiring of Anchises' design team delivers to MacLean a proven remote-control technology, along with in-house R&D and remote-control circuit board manufacturing capacity. This means MacLean customers will soon have an additional option for remote-control technology on their units to support overall operator safety, as well as increase production by opening up access to previously inaccessible areas of mines. In addition to the acquired capabilities in tele-remote technology and support, MacLean customers will also soon have an additional option for real-time vehicle monitoring and predictive maintenance analytics technology designed, manufactured and supported in-house by MacLean.
The second notable enhancement of MacLean capabilities comes from hiring Dan Millette as product manager for the company's shotcrete line. Millette is a globally acknowledged expert in the field of shotcrete equipment and chemicals, as well as operator training. He delivers a unique skillset to MacLean customers looking to optimize their current shotcrete practices and training programs, and/or rethink their approach to ground support in the context of increasingly automated and autonomous underground mining operations. In addition to shotcrete sprayer manufacturing and technical support, the MacLean shotcrete offer now includes consulting on mix design, auditing shotcrete quality assurance and quality control standards, and delivering ACI and EFNARC sprayer operator certification.
"These recent additions to our remote control and shotcrete capabilities mean that we can now provide an even wider range of products and services that help solve our customers' problems," notes Kevin MacLean, President, MacLean Engineering. "Electrification, automation and digitalization continue to recast the global mining industry, and so we know as a company that we need to remain focused on equipment solutions that support these broad, long-term imperatives to drive cleaner, greener and more sustainable operations. Our rapid development of battery electric technology starting in 2015 is case in point, with six units currently working underground and another 11 units already set to be commissioned over the coming 12 months."
"The automated and electric mine of the future presents a wide range of opportunities for mining companies along with just as many potential hurdles when it comes to reducing cost per tonne mined and improving equipment productivity," remarks Don MacLean, Chairman and Founder, MacLean Engineering. "This space between possibility and reality is where MacLean Engineering has been active as a mobile equipment manufacturer and solutions provider for the past almost half century, and we are now in an active phase of investment in people and technologies to reinforce the foundation of the MacLean value proposition for the mining industry in the 21st century."