Survey eye in the sky: drone popularity for construction applications takes off
Automated drone surveys provide highly detailed view from above for site construction projects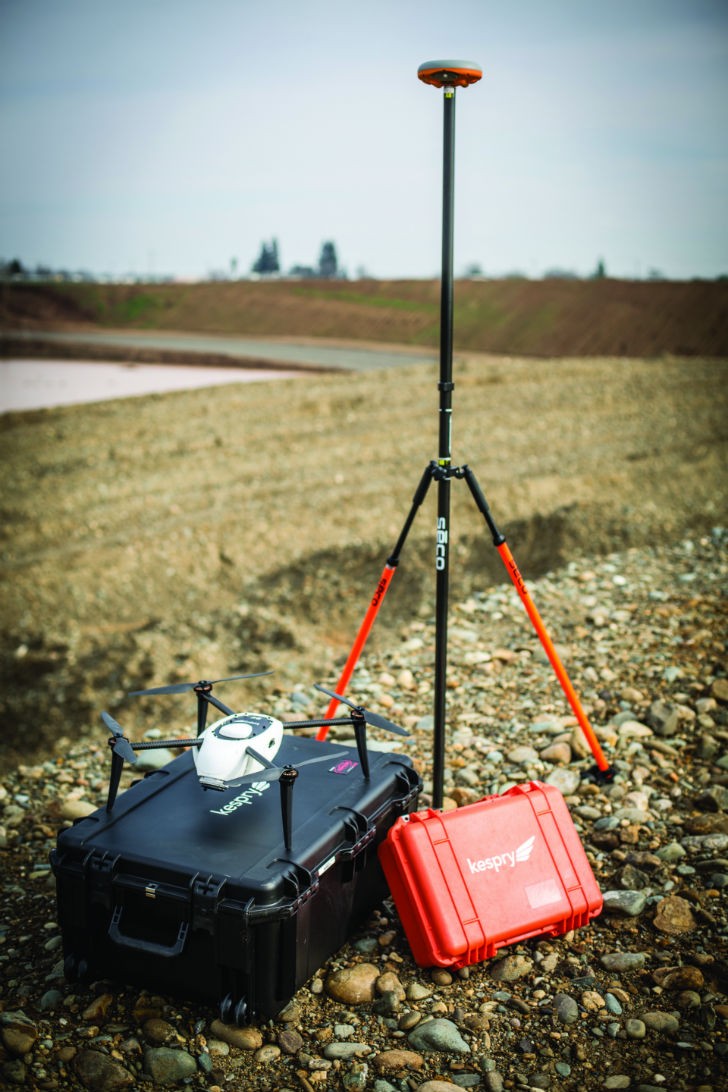 It has been a relatively short few years since unmanned aerial vehicles – better known as drones – have moved out of the domain of the military and government, and down to the everyday consumer. In that time, one of the most enthusiastic industries in the adoption of this technology has been construction, which came to an early realization that aerial surveys of everything from buildings to gravel stockpiles could improve the way in which pit operators and contractors managed their businesses.

Today, drone manufacturers are recognizing the importance of that industry as the technology is improved and designed for uses in construction. One company, Kespry, has taken a broad leap into site construction with several moves that have paired it with a venerable equipment manufacturer while also adding solutions to help gather and process information quickly and accurately.

Today's drones have come a long way from the first of these remote-controlled vehicles that were intended for recreation but quickly found their way into commercial use, according to Kespry product marketing manager Jason Nichols.

"A lot of commercial-based drones at the time were military-specific and had a lot of depth and detail in the resulting product that couldn't scale to a commercial application," Nichols said. "So, when the first consumer-grade drone came out . . . everyday users looked at the drone as a tool to capture imagery."

People in the construction industry looked at the ability to fly the drone over an area and take pictures in the process, and realized that there were potential business uses for the imagery they gathered.

"They may have gotten this drone for Christmas, and would bring it to the construction site and fly it. Then they'd realize while flying it that 'hey, we can actually take progress photos, because this is great to document,'" Nichols said.
Construction companies found that useful for tracking the progress on a construction site, in case of situations like litigation and liability concerns, and equipment rental companies that wanted to track fleet usage and maintenance were also interested early on. That launched the aerial drone imagery wave in construction, and from there usage has expanded into a number of different applications.

Kespry got involved several years ago on the aggregates and mining side of the industry, Nichols said, using overhead imagery to measure stockpiles and help work out volumes of aggregate on site. Sensors installed on drones were being improved constantly to expand beyond imagery and into providing a view of topography and volumetrics; that allows for the drone to essentially capture 3D models of a work site.

"We came to the market with a really strong offering that provided a solution with a high-quality sensor allowing the data to basically extrapolate a complete 3D model of the site," Nichols said. "Going into the aggregates and mining industry allowed us to further refine our product . . . which meant we were increasing our positional accuracy, and that's where the real benefit comes in for the construction environment."

Kespry's newest drone technology incorporates post-processing kinematic (PPK) technology, which uses GNSS point data to help refine the information it gathers during flight. That provides what Nichols said is a highly accurate product once processed.

"We have a high-resolution GNSS module on the drone itself, but to refine the accuracy down to 2 to 10 centimetres, you have to add another control, which is a base station on the ground," he explained. "That fixed base station collects GNSS data while the drone is taking images with its GNSS-known data. At the end of the flight, both data sets are combined, and we use PPK, which allows you to really increase your accuracy at every point."

Drone surveys generate a lot of material for companies to work with; the latest effort by Kespry has been the introduction of solutions to help process and make use of that information, especially when it comes to earthworks projects. The goal is to provide contractors with all the information they need to bid on projects, as well as to help track and document the progress of their jobs.

"With the Earthworks solution, we're setting a standard for companies to accurately plan, bid and manage their earthworks projects," Nichols said. "That enables the construction companies to think differently about how they can collect survey information, which empowers them to make decisions or collect the necessary information to get the project off on the right foot through the planning and bidding process with a survey-grade accurate solution."

Kespry has developed a wide range of tools that have been introduced into the Kespry Cloud; as information is gathered by the drone on site, that data is input to the cloud for processing, then made easily accessible to the customer afterwards. The results are detailed site plans that can be used for everything from haul road design to grade planning.

Autonomous drone flights
One benefit of modern commercial drones is their ease of operation. Unlike those that require an operator to fly the vehicle using joysticks and a video screen, Kespry's drone essentially flies itself. The operator indicates a section of the jobsite for the drone to survey using a tablet, and then it's a matter of pressing a couple of buttons to get the process underway.

"We provide a quick and easy way for any person, from an experienced surveyor down to the project manager, to fly the drone – it's simple point and click mission planning on an iPad," Nichols said. "You hit 'start propellers,' then you hit a button on the iPad that says 'launch,' and the drone takes off. There's no interaction from the operator, though they have a couple of fail-safes on a separate control box to return the drone home or emergency land. Once the drone completes the mission it lands, shuts off and automatically uploads the data to the iPad. Once it's on the iPad, it's automatically uploaded to the Kespry Cloud."

The goal is to keep potential user error out of the process and to gather as much data in as little time as possible, making the survey results usable by the customer immediately.
"Let's say you fly a 30-acre site in about 15 minutes. You quickly export that data and can look at it within a few hours," Nichols said.

Survey data can be used in a number of ways through the new Earthworks solutions, Nichols noted, from general site data down to grades on certain locations.

One tool can provide change detection information, for example, providing a snapshot of the changes in a certain site, or portion of a site, between flights.

"You can see the cut and fill change from the day they started grading to halfway through the project, or from one week to the next, or day to day," Nichols said. "They can see the change through a red and blue cut and fill map, along with quantities for the identified region or across the entire site."

A spot elevation tool allows for identification of heights of certain locations – if a customer is working on a building pad and needs to check on whether the elevation has reached grade, they can check that in the drone data. Alternatively, the 3D polyline tool provides a snapshot of details along specific lines, Nichols described.

"It allows you to basically draw a polyline along any portion of the flight area; you can extrapolate the grade of that line, or the different slopes or segments; you can get the total elevation change throughout and verify against your design plan, or check to see if that particular cut slope is at the design plan grade."

Other tools look at volumetrics, allowing for analysis of stockpiles, trench excavation and other features of a site, Nichols said. A vectorized PDF overlay can be used to compare against the design plans and ensure that the job is on track.

Interest in the use of drones on earthworks projects has been high, and the addition of the new Earthworks tools is likely to grow it even more, Nichols felt.

The company formed a strategic alliance with John Deere in early 2017 and has had strong interest from Deere dealers that have signed up as resellers. More customers have come aboard because of that agreement, and with the added Earthworks solutions that is likely to grow, Nichols said.

"The feedback from our construction customers has been pretty amazing, and we've gotten some good stories from customers," he said. "We did a webinar with customers recently, and they were talking about the different ways they're improving their workflow through flying the drone – saving weeks of time."
Related Articles
As one of the latest models in the R2-Series excavator lineup, the Bobcat® E88 delivers durability, performance and quality for more productivity. Technically speaking, it's a compact machine, but it brings big performance with its redesigned engine and optimized lift performance, plus undercarriage and counterweight improvements. All these enhancements make this excavator one of the highest-performing models in its size class. With impressive over-the-side lift capacity, you can dig with greater confidence over the side of the machine. Put it to the test against similar models from other manufacturers. You'll see that the E88 can outwork the competition.