Bell Equipment to show 4x4 articulated hauler at Intermat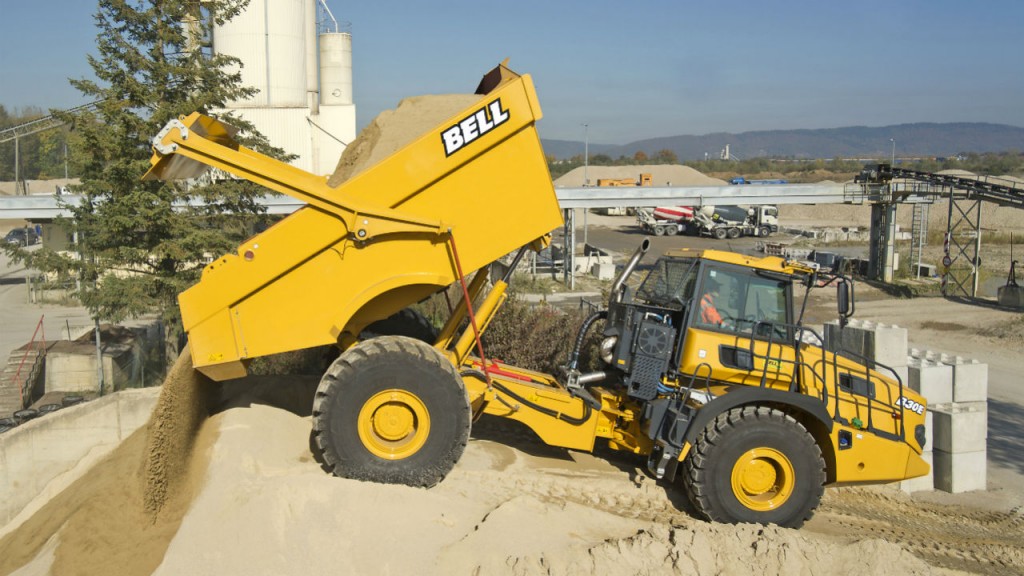 ADT specialist, Bell Equipment, is showing their four-wheel-drive concept, the Bell B30E 4x4, at Intermat. Suited to small to medium-sized quarries with integrated aggregate production facilities, this truck offers customers distinct advantages over more traditional haulage solutions. The Bell stand (Hall 6A, 104) will also feature the Bell B40E earthmover, a popular model in the company's extensive 6x6 range.
A new alternative
According to Bell Equipment Product Marketing Manager, Tristan du Pisanie, the Bell B30E 4x4 is a supplement to the company's traditional 6x6 ADT range by providing a practical alternative to those customers who have had to choose between tipper trucks, rigid dump trucks and 6x6 ADTs. In addition to smaller quarry operations, the truck will also target specific markets, such as tunnelling.
While not possessing the extreme off-road capabilities of a 6x6, the B30E 4x4 still offers sound all-weather characteristics on undulating haulage roads and light terrain, and provides better maneuvrability in confined material handling areas or stockyards. Having one less axle means no tire scuffing which results in significantly reduced tire wear compared to 6x6 applications on hard ground. The front tires are typical 23.5R25 tires whereas the heavier loaded rear axle uses 29.5R25 tires, commonly found on 40t ADTs. With its oscillation joint providing permanent contact of all wheels, and a well-balanced load distribution (empty: 50/50, laden: 33/66), the 21.5-tonne Bell B30E 4x4 proves itself far superior to rigid tippers or tractor-trailers at load and dump areas, or in wet conditions.
The new two-axle truck is based on the 6x6 model Bell B30E and shares the front chassis and oscillation/articulation joint. This means that Bell customers benefit from the 246 kW Mercedes-Benz engine, six-gear Allison automatic transmission with integrated automatic retarder and a comprehensive package of productivity, safety and ease of operation features. These features are based on real-time data collection by the truck's sensors (onboard weighing, pitch/roll sensor, etc.) and are controlled by embedded software in the truck controller. The wet brake system is the same as the B30E on the front axle while the rear axle has a larger set of brakes from Bell's 6x6 B40E.

With an identical payload to the B30E 6x6 of 28 000 kg, the major differences are the shorter rear chassis with a solidly mounted Bell 36-t axle and the newly designed 18.6-cubic-metre bin. Compared to the three-axle ADT, the B30E 4x4's outer turning circle diameter is 1.3 metres smaller (14.6 m), which makes maneuvring in narrow loading or tipping spaces easier and faster. The short bin allows optimal loading times for silo discharge or with wheel loaders, and is also compatible with the more typical excavator loading method.
The Bell B30E 4x4 combines the long-standing experience the company has with creating solutions for specific customer requirements with the knowledge that Bell engineers gained through the development of the company's 60-ton flagship B60E. Managing Director of Bell France, Céline Guttierrez, comments, "Bell has been offering the 30t 4x4 concept to certain niche applications for a number of years as there have been customers who have recognized the distinct benefits that this configuration has to offer. The market acceptance of the B60E 4x4 has exceeded our expectations and the wider market now sees the benefits of this configuration, and we look forward to this model and the B30E 4x4 growing from niche products into well-recognized haulage solutions."
Du Pisanie adds, "Looking to the future, we clearly see the potential to grow the 4x4 concept in different size classes. We believe that the economic benefits of the 4x4 combined with its all-round weather ability will provide a worthy challenger for the rigid dump truck technology currently dominating the transport segment in smaller to medium-sized quarries."
Proven solutions
Notwithstanding its 4x4 initiative, Bell Equipment still offers a comprehensive 6x6 ADT program, with seven models ranging from 18.0 to 45.4 tonnes payload.
In Paris, Bell will present the B40E 6x6 ADT (PL: 39.0 t; 24.0 cubic metres). Sharing a common base with the larger B45E (PL: 41.0 t; 25.0 cubic metres), this model sets today's standards for the classic 'earthmoving' dump trucks in the key areas of durability, safety and comfort. The 380-kW Mercedes-Benz engine and 7-gear Allison transmission provide the foundation for the superior fuel consumption of the 40-tonner. The truck, as with all Bell ADTs, is equipped with a comprehensive standard package of features which improve productivity, safety and ease of operation.
All Bell ADTs include the company's satellite-based fleet management system, [email protected], which provides customers with detailed information which assist them to improve production, maximize utilization and safeguard machine condition.
Company info
Related products