Volvo CE to showcase 100 percent electric compact excavator prototype at Intermat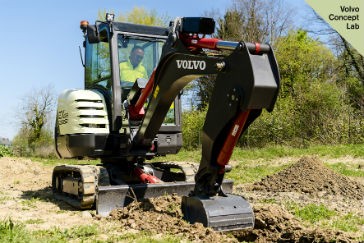 Volvo Construction Equipment will present the EX2 fully electric compact excavator at Intermat 2018. The prototype machine delivers zero emissions, 10 times higher efficiency, 10 times lower noise levels and reduced total cost of ownership.
At this stage, the EX2 is still part of a research project and it is not commercially available.
"The electrification of construction equipment will produce cleaner, quieter and more efficient machines – this represents the future of our industry," says Ahcène Nedjimi, Electromobility Specialist and EX2 Project Leader at Volvo CE. "The EX2 is a revolutionary machine. With its zero emissions and ten times lower noise levels, it could easily be used in densely populated areas without disturbing people – even at night. Ten times higher machine efficiency, together with maintenance-free systems, means that operating costs and total cost of ownership would be significantly reduced."
Electrifying innovation
The Volvo Group defines electromobility as "commercial vehicles and machines that can utilize an electrical motor to propel or to perform the main purpose of the machine." To make the EX2 prototype fully electric, the combustion engine has been replaced with two lithium ion batteries, totaling 38KWh, which store enough electric energy to operate the machine for eight hours in an intense application, such as digging compact ground. The hydraulic architecture has also been replaced with electric architecture, which incorporates electromechanical linear actuators that help to optimize the transmission chain. Removing the hydraulic system and the combustion engine, as well as reducing the cooling needs, has led to significantly lower noise levels.
"Because the EX2 is fully electrified and there are no mechanical joysticks, it can be controlled remotely from a mobile phone or tablet," says Ahcène. "This increases safety in hazardous working environments. Additionally, the EX2 delivers the same power and force as its conventional counterpart, as well as faster speeds in combined movements. As this type of movement is the most common kind for this machine, productivity is improved. All of this has been achieved without compromising on machine performance, ensuring customer needs would be fulfilled."
Innovating for a sustainable future
"In line with the Volvo Group's vision to be the most desired and successful transport solution provider in the world, Volvo CE is committed to contributing to sustainable development," concludes Patrik Lundblad, Senior Vice President of Technology at Volvo CE. "We are developing technologies connected to electromobility, intelligent machines and total site solutions that will benefit our customers and the environment by contributing to increased machine performance, productivity, efficiency, safety and sustainability. Our future products and services will play an important part in building a sustainable society."