Sennebogen machines at work on super-metro construction sites in Paris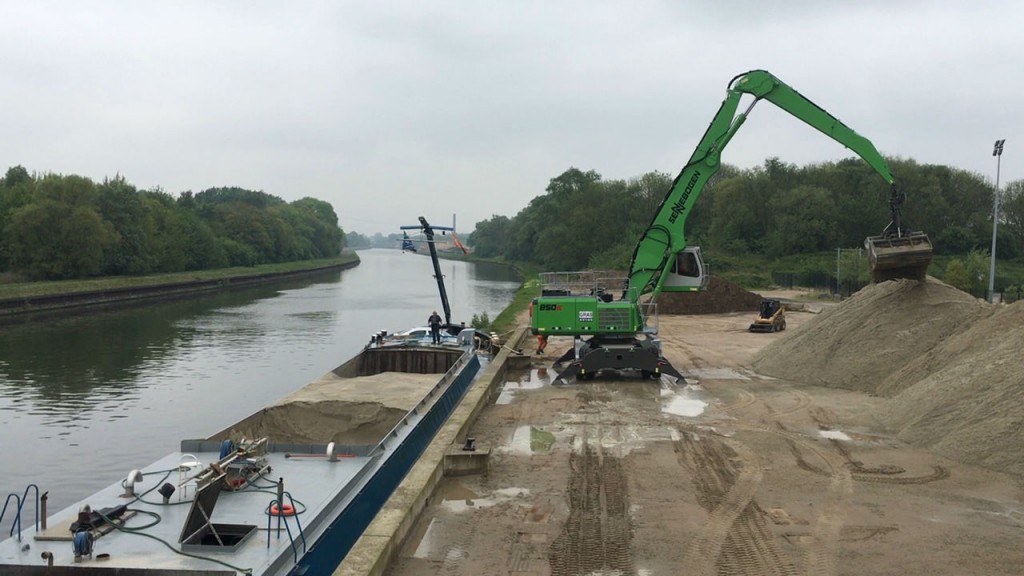 The Grand Rapid Express is a group of six fully automated metro lines in Greater Paris to be completed by 2030. The project is planned to include 72 stations along its 205 km of tracks. Construction work commenced two years ago. The already existing fully automated lines will be upgraded and extended, and four completely new lines will be added. Many Sennebogen cranes and handling machines are already being used at the construction sites.
Currently, a great number of civil engineering projects are being prepared to start within the next few months. Excavation work will then start together with the associated logistics flows to and from the various construction sites. The actual construction phase will start after these preparatory measures have been completed.

"A construction site of this dimension has not been seen since the 1960s," says Philippe Yvin, president of the Societé du Grand Paris who is in charge of the project.
The challenge is to complete the major part of this new public transport network before the Olympic Games in 2024. Specialist machines for underground construction work are required. Bernhard Kraus, director sales Sennebogen Crane Line, says "Sennebogen has been supplying machines for the construction industry around the world for decades. With our current portfolio of cranes and duty cycle cranes, we are able to offer the widest range of solutions for the requirements of special underground construction work."
Duty cycle cranes for special underground construction, soil and gravel excavation in deep shafts.
Service cranes (crawler cranes with lattice boom or telescopic boom) for universal use.
High-performance, highly productive "Green Line" material handlers for all tasks associated with constructions sites and material logistics.
The machines on site are supplied and supported by Sales and Service Partner Sygmat. Together with professional technicians specifically trained in Sennebogen technology, Sygmat also takes care of any service the machines may need.

Joining forces: 673 E-Series and 655 E-Series
A telescopic crane 673 E and a duty cycle crane 655 E are joining forces at the same site to remove soil and gravel and do hoisting work where space is confined. The 673 E is the latest addition to the machine pool of ENCO, a company specialized in the rental of construction equipment. This investment was made to meet the needs of mid-term and long-term construction sites. "There is a growing demand for telescopic crawler cranes in the French market, but there are only few machines," says Thierry Bouvelot, manager at ENCO. "Sennebogen machines have many benefits. They are easy to transport and to set up because they do not require complex assembly on site, as would be the case with lattice boom cranes. They can be adapted to any type of terrain, even to most confined spaces within city centres."
After the diaphragm walls are set up, a lot of soil needs to be removed in order to make space for a large tunnel boring machine. This work can be handled by hydraulic excavators down to a depth of 20 metres, but if depths of 50 or even 55 metres must be reached, a duty cycle crane is the equipment of choice. Lifting cabs are a unique option of Sennebogen duty cycle cranes. These cabs give operators a direct view of their work area throughout the entire cycle, a clear benefit in terms of work safety.
624 HD E-Series: the exclusive and compact alternative
With their two winches, duty cycle cranes are especially well suited for rope-operated attachments, such as the Sennebogen 624 E with double-shell grab.
All along the entire metro line, various shafts are sunk for the tunnel boring machine and also for the maintenance of the railroad infrastructure. As the construction sites are located within the city, some of the shafts need to be integrated into extremely confined spaces. Here, the Sennebogen's compact 624 HD duty cycle crane is an ideal solution. Based on a wheeled or crawler undercarriage, the machine's robust design with the two free-fall winches is perfectly suited to operate mechanical dual rope attachments.

6140 E – for heavy-duty special underground work using hydromills
Construction work for the future line 15 south of the Grand Paris Express commenced at the end of 2017. At this site, Spie Fondations, a subsidiary of the Spie Batignolles group, performs the special underground construction work to build a tunnel more than eight kilometres long. To prepare for this major project and to expand the machinery pool with ever more efficient machines, Spie Fondations decided to purchase two powerful 140-t Sennebogen duty cycle cranes. The range of duty cycle cranes is now complimented by the impressive and powerful Sennebogen 6140 E.

850 E-Series handling sand at the Seine
The family owned company Sarl Gras owns several Sennebogen material handling machines, of which currently one 850 E has been deployed to load and unload barges on the Seine in order to ensure the supply of sand and gravel to the concrete production plants in the city and suburbs of Paris. Once this job is done, the machine will be used to handle 45 million tons of material excavated during the underground work at the Grand Paris Express construction sites. With its state-of-the-art material-handling equipment, the 850 E not only handles tons of material swiftly, it also saves up to 30 percent of operating costs thanks to its innovative Green Hybrid energy recuperation system. The principle is simple: an energy recovery cylinder is mounted on the boom in between the two hoist cylinders to offset the boom weight, thereby significantly reducing energy costs. This additional hydraulic cylinder stores the energy produced when the boom is lowered in compressed gas cylinders placed in the rear of the machine. This accumulated energy is then available for the next stroke. The principle is similar to a spring being compressed and then releasing its energy when it is allowed to expand. Together with the Green Efficiency technology, maximum energy efficiency is achieved.
Maximilian Gras, managing director of Sarl Gras, says "To us, Sennebogen is the best partner when it comes to material handling. We have been using a 850 E Mobile for two years, bought a 835 Mobile in 2017 and a new 850 Mobile this year. We decided on the Sennebogen Green Line material handling machines because they are easy and safe to operate for our operators and because they allow us to push productivity to a new level."
Company info
Related products
Related Articles
As one of the latest models in the R2-Series excavator lineup, the Bobcat® E88 delivers durability, performance and quality for more productivity. Technically speaking, it's a compact machine, but it brings big performance with its redesigned engine and optimized lift performance, plus undercarriage and counterweight improvements. All these enhancements make this excavator one of the highest-performing models in its size class. With impressive over-the-side lift capacity, you can dig with greater confidence over the side of the machine. Put it to the test against similar models from other manufacturers. You'll see that the E88 can outwork the competition.