In-depth report: tracked excavators 10 to 40 metric tonnes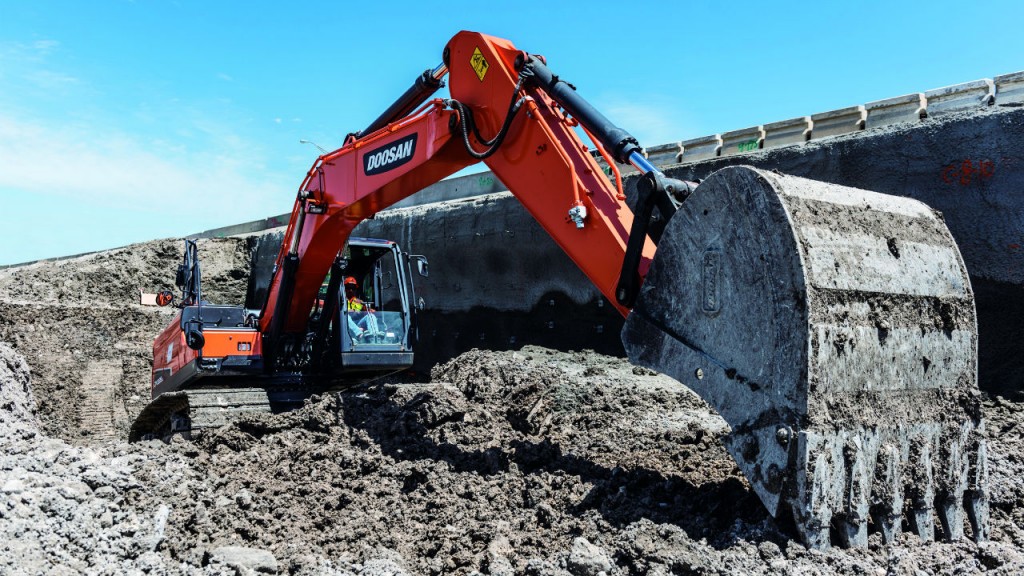 Excavators are the backbone of construction and account for 50 percent of global construction equipment sales and for this in-depth report, Heavy Equipment Guide asked several manufacturers for updates on trends, innovations and buyer preferences for excavators in the 10- to 40-metric-ton range and for advice to buyers.
Trends
In the 10- to 40-metric-ton range of excavators, the two most popular sizes are 35 metric tons followed closely by 21 metric tons, according to Andrew Dargatz, brand marketing manager, Case Construction Equipment. "The 35-metric-ton size is dominated by the rental, non-residential construction and infrastructure markets, while the 21-metric-ton size class is sold mostly into the rental market, the non-residential construction market and then a pretty even mix between infrastructure and residential construction," he says. "Although 21-metric-ton size class is commonly sold in the infrastructure markets, the 35-metric-ton size class is notably the more sought after size machine."

Aaron Kleingartner, marketing manager, Doosan Infracore North America, adds that the popularity of this mid-size excavator group is higher than larger crawler excavators because, in part, the machines in this size are typically more versatile and can be paired with a variety of attachments.

"One of the top trends we are seeing, specifically in the Canadian and North American market, is the increased demand for reduced-tail-swing machines," says David Young, product market manager, Excavators, John Deere Construction & Forestry and Hitachi Construction Machinery. "These machines are becoming much more popular and sought after because of their ability to work in confined areas without moving from the deviated track footprint. We are seeing reduced-tail-swing machines expand their offerings into other size classes within the 10- to 40-metric-ton range because of these reasons."

Dargatz says that Case has noticed this switch to minimum-swing radius is most evident in the 14-metric-ton size class, where they have seen exponential jumps in just the last few months. He explains that this is happening for a couple of reasons. One is that minimum swing radius allows contractors to get in closer to various impediments or work along roadsides without having to close as many lanes of traffic. The other is that manufacturing design has improved to the point where minimum-swing-radius machines provide lifting and cycle times that are comparable to their conventional counterparts.

Technology is a major trend in North America for tracked excavators as it "allows contractors to realize significant efficiency gains, and it improves productivity for even the most inexperienced operators," says Brian Stellbrink, product application specialist, hydraulic excavators, Caterpillar. "Standard technology such as Cat Grade with 2D system, Grade Assist and Payload on our new Next Generation 320 and 323 excavators can increase operating efficiency by up to 45 percent."
"Telematics and the overall industry use of technology is another emerging trend" that John Deere has observed, says Young. "The expanded use and customer demand for technology and telematics is becoming broader and more prevalent because of all of the information it provides fleet managers. At first, telematics was thought of as an additional feature, but now it's an industry norm and becoming an industry must."

Sebastian Witkowski, product marketing manager, Komatsu America Corp., says that they have seen more OEMs introducing factory integrated GNSS. In fact, for several years now the company has been promoting the fact that this system can reduce construction time by up to 63 percent versus conventional stake and survey construction methods.

Customers are also looking for machines with better fuel economy and less impact on the environment, according to David Donneral, specialized machinery sales manager, Kobelco USA, but they don't want to lose performance and production or have to pay an unrealistic premium. He says that a solution for some applications is hybrid power, such as their new 20-ton hybrid machine.

Matthew McLean, product manager, Volvo Construction Equipment, expects that demand for excavators in Canada will continue to grow. "The Canadian market will be impacted by the federal government's plan to invest $180 billion in infrastructure over 12 years. With a focus on public transit, green initiatives, community-building, trade and transportation, and rural and northern communities, there is sure to be a higher demand for excavators in the coming years."

Innovations and benefits
"One of the biggest innovations is machine guidance and machine control in a wider range of machine classes," adds McLean. "Two years ago, machine guidance and control systems were only available from a couple of brands on 20-ton machines. At CONEXPO 2017, most major brands had announcements talking about rolling their systems out on new models."

An example, he says, is Volvo Dig Assist as it allows an operator to easily input job specifications, see the real-time position of the bucket and machine in relation to target grade and depth, and track progress to ensure the job is done right the first time, all the time. With the optional In-Field Design functionality, the operator can draw custom digging profiles directly from the cab. All of these features help operators save time, increase jobsite efficiency and reduce the need for rework.

"Dig Assist has had a big impact in Canada and there is a lot of interest. In fact, half of the orders Volvo has received for Dig Assist have come from Canada," says McLean. Volvo plans to add this system to more class sizes of tracked excavators, as well as to wheeled excavators, this year.

Caterpillar recently made the most significant change in 25 years to their excavator line. They have just introduced a new platform that is built around what Caterpillar is calling "a digital heart" that allows these machines to work efficiently at digital jobsites, says Stellbrink.

"Sensor technology mounted to the boom, stick and bucket of our new Cat 320 and 323 excavators work in concert with standard machine technologies to allow the operator to achieve grade quickly, prevent rework and be confident the truck is properly loaded," he adds. The sensors also allow an electronic fence to be put around a barrier so that the stick doesn't reach beyond a set point, he adds. This improves safety by preventing the stick from hitting obstacles such as buildings or overhead obstructions.

Kobelco has been working closely with Trimble for several years to develop advanced control systems that are factory installed on their excavators. "The system does not use specialized (and potentially expensive) electronic sensor cylinders or mechanically controlled position sensors," says Donneral, "but rather newly developed, state-of-the-art, gyroscopic sensors similar to those used in modern airliners and stability systems on automobiles."

He adds that most manufacturers offer a factory installed telematics system that allows the customer, dealer and manufacturer to receive operating information from the machine in real time, allowing for better decisions to be made, whether it is machine utilization, service issues or recordkeeping. "Since these systems are proprietary to each manufacturer, companies like Trimble are working to bring a universal platform to the market to allow customers one system and one dashboard to monitor their multi-branded fleet. Although this won't allow all of the detailed information that the OEM system may get, it is more than enough to assist them in making business and service decisions."

Komatsu has been busy launching machines with integrated 3D, and training distributor-level experts to help customers maximize its use, reports Witkowski. For those with second-generation machines, refinements continue, such as joystick controls, as well as base machine improvements, including the surround-camera-system, KOMVISION, which offers a birds-eye view around the machine.

Case has recently overhauled its entire line of hydraulic excavators, replacing the C Series with the D Series. The core areas they focused on in the redesign were speed and precision - specifically the ability for the controls to be super responsive and stop the boom and bucket exactly where the operator wants them to stop each time, allowing operators to improve cycle times.

"Each D Series excavator features a new, electronically controlled pump, a larger control valve and multiple sensors," says Dargatz. "This combines with the Case Intelligent Hydraulic System (CHIS) to make the best use of the excavator's hydraulic power and momentum - ultimately increasing speed and performance while simultaneously improving fuel efficiency."

John Deere has been using customer feedback to continue innovating the design of their hydraulic systems, notes Young. "The three-pump system is our focus right now, because of all of the benefits it brings to our customers. It allows operators to have full flow and pressure to the swing function at all times, no matter the terrain or the force of gravity they may be working against. The three-pump hydraulic systems enable operators to not lose torque, speed or efficiency even on the toughest jobs."

One of the newest innovations in Doosan excavators is Smart Power Control (SPC) in the Tier 4-compliant dash-5 models, which helps reduce fuel consumption by as much as seven percent, says Kleingartner. Doosan also provides sideview cameras, which are especially important on jobsites where there are many machines moving and when working in tight spaces, and the DoosanCONNECT telematics system, which dealers and customers use to remotely monitor excavators, track their performance and help minimize machine downtime.
Sometimes the advances seem simple but provide significant gains. For example, Cat's new excavator platform uses multiple electric fans which independently monitor hydraulic oil, radiator and air-to-air aftercooler temperatures to deliver the exact airflow required and lower fuel consumption. Also, the electro-hydraulic system and large hydraulic pump allow the machines to maintain performance at a lower engine rpm, adding to fuel savings.

In addition, Stellbrink comments that Caterpillar's next generation excavators have extended and more synchronized maintenance intervals which enable more work to be completed at up to 15 percent lower maintenance costs compared to the previous 20-ton series. Notably, the hydraulic return filter has a 50 percent longer service life of 3,000 hours, and the new air filter design provides double the capacity for extended service life.

Safety continues to be in the minds of manufacturers and Kobelco has anti-collision devices currently in the works and soon to be released, says Donneral. These devices will notify the operator, sound an alarm and prevent the machine from swinging or tracking when there is an object or person in close proximity that could be hit. All of these items help to ensure the safety of the operator, property and people on the ground.

New hybrid machines in popular size classes improve fuel efficiency and machine response, says Witkowski. "With machines using electric swing motor technology - such as the Komatsu 30-ton HB365 - users can expect up to 20 percent improvement in fuel usage, while maintaining productivity of a standard 30-ton excavator."
While several manufacturers have hybrid machines in other countries the excavators lack performance and so they have not been as popular here in North America, says Donneral. "Kobelco has developed a new 20-ton hybrid machine for the North American market that has the same, or better, performance as a standard 20-ton excavator, while using lithium ion batteries (instead of capacitors) and an electric swing motor to reduce fuel consumption and emissions. There is a minor price difference, but the added performance and fuel savings helps offset this cost."

Buyer preferences
"Buyers are looking to purchase excavators with the right balance of technology and features matched to the work completed," says Stellbrink. "It's no longer all-in or all-out with regard to technology. Customers demand options to get the most work done at the lowest cost." He adds that this is why Caterpillar offers three different 20-ton models - the 320 GC, 320 and 323 - in their newest generation of excavators, so that customers have more model options, more standard scalable technologies and more price points.

Contractors want a simple buying process, according to Dargatz, which is why Case has made more features standard on their latest generation of excavators than previous models. He says that their goal is to "simplify the buying process and give contractors more of what they need."

Dargatz adds that while contractors want to purchase larger machines that can increase production, they also want to stay within their trucking and permitting limits. "This is also why we see such demand for these machines in the rental markets."

Witkowski says that buyers are looking for high productivity machines, more breakout force, faster cycle times and value.

To make the most of new technology, Witkowski adds, Komatsu provides support and training, plus a dedicated business solutions team who serve as free-of-charge consultants for jobsite optimization, fleet recommendations and telematics data analysis. This free service applies for the life of the machine. Witkowski adds that technology that raises efficiency is winning in the marketplace. This includes integrated machine control and telematics that help customers make better business decisions.

With the increase in infrastructure spending, McLean at Volvo says that short-swing excavators have been growing in popularity as they can work in one lane without hindering traffic or causing a road to be completely shut down.

There are three main things that customers look for, says Young at Hitachi. First, customers want to know that you have a machine that is efficient to be competitive in the industry. The second is reliability to maintain uptime. And the third is durability. To sum up, he says: "Customers want to know machines can tackle their toughest jobs, letting them get more done, day in and day out."

Versatility is an attribute that Doosan has noticed buyers want. "Machines in this size class - particularly in the 10- to 25-metric-ton size - are sometimes thought of as being more versatile and used in general construction activities, such as site prep and digging basements or footings," says Kleingartner. "They can be used for everyday digging or lifting tasks, and may be equipped with a quick coupler to quickly and easily change attachments - from a bucket to a hydraulic breaker." An example he gives is the Doosan DX225LC-5 crawler excavator, their most popular model in this size class, as it offers powerful digging and lifting, plus auxiliary hydraulics to provide power to attachments. Reduced-tail-swing excavators, like the DX140LCR-5 and DX235LCR-5, also offer versatility when working next to a barrier or near a bridge underpass, he adds.

"Customers are buying special application machines to do one specific job as efficiently and profitably as possible," according to Donneral at Kobelco. He explains that this is a reason the company is introducing their specialty High Reach and Demolition SK350D and SK400D machines. These models assist in safely and efficiently removing buildings and structures from urban areas and make room for new construction. Another example is the Kobelco ED160, which combines a 14-ton excavator with an HD six-way dozer blade to save the operator from having to bring two machines to a jobsite. The customer can do multiple jobs with one machine and one operator, thus saving time and the costs of trucking while also increasing the utilization of that machine.

Young notes that operator comfort is a key preference for Deere's customers and explains that "the hydraulics aspect of John Deere equipment provides customers with optimal comfort by minimizing fatigue during long operator shifts. This allows operators to be more productive over a long period of time."
Advice for prospective buyers
When it comes to buying a new excavator, there are a number of considerations. We asked the experts to provide suggestions that are important and may be overlooked.

Case
• Features like LED lights and additional cameras improve visibility and help reduce operator strain and fatigue.
• Rubber track pads minimize damage on paved surfaces.
• Get a powerful enough machine to accomplish the work you do now, and the work you may want to do three years from now so that you can grow your business.
• Leverage attachments to expand your services offering.

Caterpillar
• Don't purchase an excavator on price point alone: match performance to the job type; consider hour usage, material density and the type of jobs; and determine if technology will help to increase performance. Selecting a base machine solely on price costs contractors more money in higher operating costs and lower productivity, which impacts the bottom line. Consult with your dealer to discuss specifically what you need from your next excavator, and the representative will match the right model with the right features and technology to maximize production and profit potential.

John Deere & Hitachi
• Prospective buyers should consider the mobility factor of the machine. If it will be relatively stationary, buyers should consider going up a size class to reap the additional benefits from larger machines. On the other hand, if the machine will need to travel to multiple locations, buyers should consider their regional equipment transportation laws and potentially consider going down a size class based off of the regulations in their area.

Doosan
• Do you need a quick coupler to make the machine more versatile? Does the machine come equipped with auxiliary hydraulics to operate a clamp or a tilt bucket?
• How often will the machine be moved? Could a smaller excavator do the same job as a slightly larger model? You should be aware of local weight restrictions and transportation requirements. Can you use an existing truck and trailer? Will you need to hire a company to move the machine from jobsite to jobsite?
• What type of maintenance plan do you want? With telematics programs becoming more prevalent in the construction industry, should you consider transitioning a preventive maintenance plan to a local equipment dealer?

Kobelco
• Purchase your machine with additional hydraulics capacity built in from the start. New working tools are coming out that require some type of additional hydraulics. By using the proper working tools and attachments, owners can greatly increase production and reduce damage that is done when completing a job with the wrong tool.
• Telematics is becoming an industry standard that is there to assist your business if you understand it. Don't be afraid to ask about the technology and learn about it.
• Attend trade shows and research new ways to complete specific jobsite tasks and learn about machinery that can help.

Volvo
• There is a large number of machines to choose from in this size class, so it might be key to know the type of work you will be doing so that you don't buy a larger machine than you actually need for the job. If you know exactly how much power you will need for the jobs you plan to do, you can avoid wasting money on a larger machine than is necessary.

Komatsu
• To maximize machine investment and improve resale value, customers should take advantage of every support service available. Whether fee-based or free-of-charge services, utilize them!
Related Articles
As one of the latest models in the R2-Series excavator lineup, the Bobcat® E88 delivers durability, performance and quality for more productivity. Technically speaking, it's a compact machine, but it brings big performance with its redesigned engine and optimized lift performance, plus undercarriage and counterweight improvements. All these enhancements make this excavator one of the highest-performing models in its size class. With impressive over-the-side lift capacity, you can dig with greater confidence over the side of the machine. Put it to the test against similar models from other manufacturers. You'll see that the E88 can outwork the competition.