Volvo CE unveils new range of Volvo-branded rigid haulers to customers and dealers at Scotland facility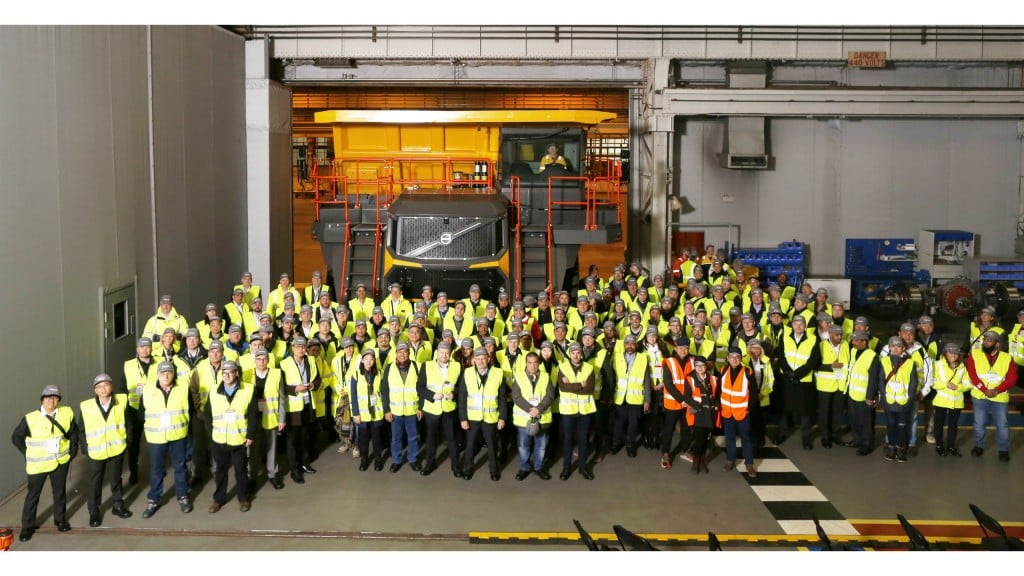 All eyes were on the new range of Volvo-branded rigid haulers this week when Volvo Construction Equipment (Volvo CE) officially launched the new machines in front of customers and dealers at the company's Motherwell facility in Scotland. Guests got their first glimpse of the new machines, which consist of the 45-ton R45D, 60-ton R60D, 72-ton R70D and the flagship 95-tonne R100E. The star of the show was the R100E, a completely new rigid hauler that combines a wealth of market and customer knowledge with proven components, new technologies and a striking new design – all providing a cost-effective and productive solution to fulfill the needs of today's mining and quarrying customers. The new four-model range is initially available in less regulated markets.
With a focus on helping customers achieve production targets faster – and using less fuel in the process, Volvo's new rigid haulers are made for surface mining and quarrying applications where operational costs and safe operations are critical. Uptime and productivity are centred on the range's durable design that promotes high component protection and longer life cycles. Efficient and intelligent, the Volvo haulers boast a competitive power-to-weight ratio, effective gearing and weight distribution that gives the tractive effort to allow the machines to traverse steep slopes in total control.
As well as having the chance to inspect the new machines, guests at the event – which was held April 9 to 11 – also got to the opportunity to test drive the all-new flagship R100E, see how the rigid haulers are designed and made and watch them in action at a nearby quarry.
Voice of the customer
With customer input key to the development of the new range of rigid haulers, the machines have undergone extensive field testing – with very positive results. One such customer is Trollope Mining Services, a contract mining company based in Johannesburg, South Africa.
"The Volvo R100E is an impressive design that offers a good balance between productivity, fuel efficiency, comfort, ease of maintenance and safety," says Sagrys De Villiers, Site Manager at the Manungu Colliery. "We are sure that this truck will be a strong competitor in the rigid truck market in the future."
"The R100E is capable of carrying an extra bucket pass compared to other 100t trucks being used on the site," agrees Workshop Manager Danie van Niekerk. "This means extra productivity for the mine, which is very valuable. Speed and acceleration of the hauler on inclines compares favorably against competitor machines, even when fully loaded and carrying more material."
Combining heritage and innovation
The E-Series R100E is a completely new machine that delivers stability, a long service life, high profitability, durability and comfort. With its high capacity and hauling speeds, new V-shaped body, efficient hydraulics, intelligent monitoring systems and operator environment, Volvo CE demonstrated how the rigid hauler will help customers in the mining and quarrying segments move more material in less time. Moreover, the R100E is also quick and simple to operate and maintain.
Based on the existing and well-proven Terex Trucks TR-Series, development of the D-Series R45D, R60D and R70D Volvo rigid haulers follows an in-depth engineering review, ensuring that the machines meet the standards expected from Volvo products in their target markets and segments. Improvements include greater visibility and safety systems, along with Volvo technical support and branding.
"It was great to invite customers and dealers to the site where the new Volvo-branded rigid haulers are being manufactured," says Thomas Bitter, Senior Vice President of the Marketing and Product Portfolio (MaPP) function at Volvo CE. "We've been working on the new range since Volvo CE acquired Terex Trucks in 2014. The development of these machines has relied heavily on the longstanding rigid hauler expertise of Terex Trucks as well as customer input and the technological strength of the Volvo Group."
"The proven design of the Terex Trucks rigid haulers provided us with a strong DNA on which to develop Volvo CE's innovative entry into this product line," agrees Paul Douglas, Volvo CE's Vice President of Rigid Haulers and Managing Director of Terex Trucks. "The R100E has been designed to meet customer demands for a rigid hauler that delivers high performance and productivity, low total cost of ownership, easy serviceability and good operator comfort. It, along with the rest of the range, builds on Terex Trucks' 84-year heritage and incorporates the customer feedback and market knowledge we have built up over the years."
Company info
Related products
More from Aggregates & Quarries
The all-new CASE TR340B compact track loader — operating at 90 horsepower with a 3,400-pound rated operating capacity — is the most powerful radial-lift CTL in the CASE lineup. Its all-new 8-inch LCD display improves on industry-leading CASE visibility with a new backup camera that is viewable in both forward and reverse operation. The display also showcases critical operating information and "trip" details. All-new electro-hydraulic controls, managed through the display, make it easier than ever for operators to dial CASE CTLs into specific application demands. All new cab controls and joysticks make the new TR340B easy to own and operate.
Industries such as construction, mining, energy, utilities and forestry, face many challenges when it comes to tracking assets and employees. Equipment often has to be transferred between locations, or monitored while it is dormant during off seasons. Lone workers may have to travel long distances or visit multiple sites during the course of their activities. And, all of this is further complicated today with shifting supply chains and economic realities putting further strain on the bottom line.