Cat 24 motor grader is application-matched for medium to large mines running trucks over 180 tonnes payload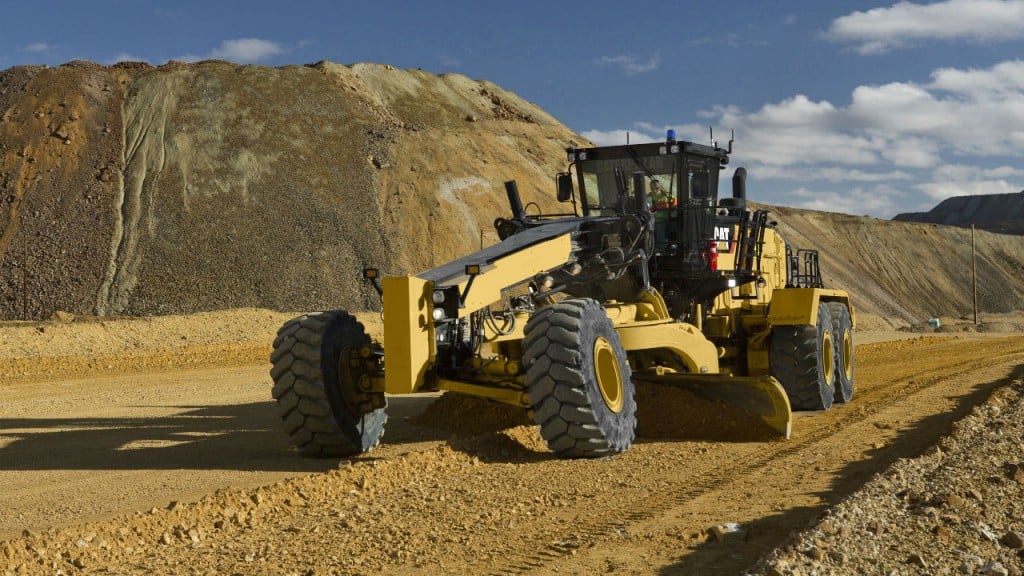 Building on the strong heritage of the M Series motor graders, the new Cat 24 motor grader delivers high-performance construction and maintenance of mine roads to improve mining truck efficiency. The 24 Motor Grader is equipped with a 7.3-metre-wide (24-foot) moldboard and is application-matched for medium to large mines running trucks over 180 tonnes (200 tons) payload. An innovative, modular design means components can be removed and installed quicker and easier, in some cases, up to 70 percent faster when compared to the 24M. Standard Cat GRADE with Cross Slope improves operator productivity and haul road quality, which lowers truck tire wear, decreases rolling resistance and reduces premature tire failure.
The new motor grader features optimized weight balance and 15 percent more low-end torque compared to the Cat 24M. These features improve traction and help maintain consistent ground speed, especially when carrying a large load on the moldboard, working on grade, or turning under load. An 11 percent increase in machine weight provides additional blade down pressure and tractive force to increase blading performance, and Consistent Power-to-the-Ground controls engine power levels to offset cooling fan losses, allowing the motor grader to deliver optimum performance at all times.
Improved serviceability and lower operating costs
The Cat C27 engine with ACERT technology delivers reliable performance and prolongs target rebuild life by 33 percent over the C18 engine. The new 533-mm (21-inch), 6-speed planetary transmission and improved rear axle bevel gear and final drive extend lower powertrain service life by up to 33 percent, substantially lowering service costs.
The Cat 24 features a modular design that reduces downtime associated with the removal and installation of main components. For example, the transmission can now be removed up to 70 percent faster than on the 24M. Maintenance intervals for the transmission, hydraulic filter and engine air filter, as well as service life for the transmission and rear axle fluids have been doubled, which significantly reduce service time and costs. New front axle hose routings and guards protect steering components from external hazards and improve front axle durability and reliability. A standard transmission guard protects the drop box. Gear-slip detection protects the transmission by locking the gear out when slip is monitored.
A standard fluid service center allows for fluid filling and extraction from one convenient, ground level location to simplify maintenance, reduce downtime and lower costs. All machine filters are stacked in a centralized location for improved access.
Safety enhancements
The Cat 24 features 15 strategically located tie-off points to protect service technicians when performing certain service operations. In addition to standard mini-platforms, walkways, grab handles and non-slip steps, an available Working at Heights package offers stable, secure handrails and handholds for enhanced safety when working around the engine.
The machine is Fire Suppression Ready, which allows for easy mounting and accommodation of most fire suppression systems. Additionally, a fire suppression system is available from the factory as an option.
The standard rearview camera improves visibility behind the machine, while forward and side machine visibility is enhanced through optional front cameras. Inside the cab, a new standard seatbelt indicator provides visual and audible alerts when the seatbelt is unfastened, and the system reports the event to the office.
A set of two 4x4 LED lights inside the engine compartment enhances visibility for technicians during machine servicing.
Performance and comfort
The Cat C27 ACERT engine powering the new 24 motor grader offers a net power range from 399 to 518 kW (535 to 694 hp) and provides a 15 percent low-end torque improvement over the 24M. Two configurations are available to satisfy most global emission standards – U.S. EPA Tier 4 Final/EU Stage IV for stringent emission standards, and Tier 2/Stage II for less regulated countries – both offering full power performance at maximum altitudes of 3,048 metres (10,000 feet) and 4,572 metres (15,000 feet) respectively.
The automatic power shift transmission uses the Cat Advanced Electronic Control Strategy (APECS) for smooth shifting, extended component life and improved operator comfort. Two electro-hydraulic joysticks reduce hand and wrist movements by up to 78 percent over conventional lever controls, further improving operator comfort and productivity. The new touchscreen information display and keypad replace most of the three-position switches of the 24M design, providing an enhanced operator interface for more efficient control.
Technology
The new Cat 24 motor grader includes the latest technologies to protect the machine from potential operating or maintenance issues including engine underspeed/overspeed, transmission slip detect, articulation eStop, implements lockout and fluid monitoring. Prior to starting, the machine performs a diagnostic of the coolant, engine and hydraulic oil levels and gives the ok-to-start. While operating, the machine automatically monitors and alerts the operator of critically low fluid levels.
The Cat 24 is MineStar ready, and the machine comes standard with Cat VIMS and Product Link Elite, which delivers advanced machine operation reporting through VisionLink.
Company info
Related products
Related Articles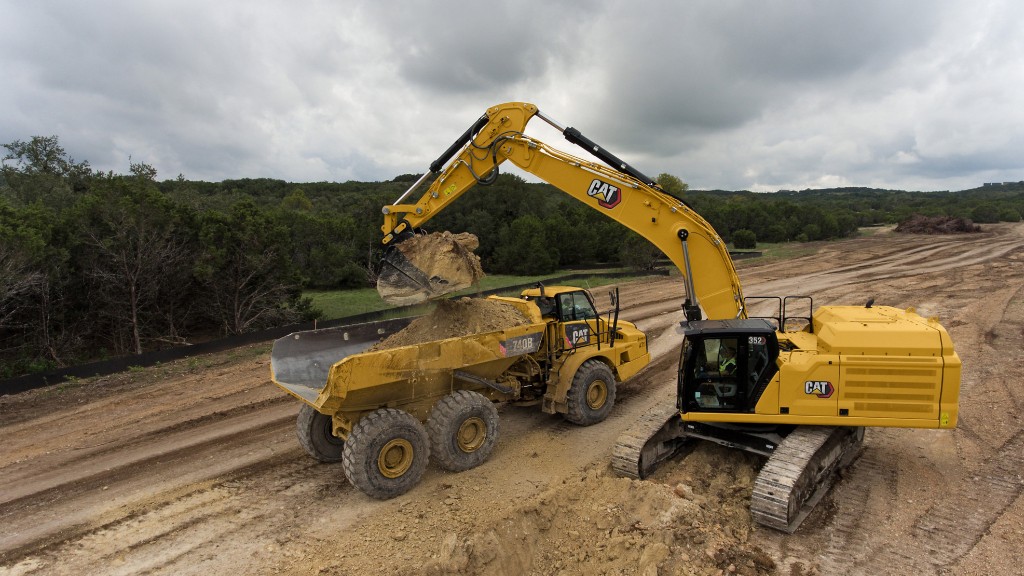 More power and stability help Caterpillar 352 work well with larger attachments