Caterpillar production-class Tandem Vibratory Rollers offer versatile vibratory options including oscillation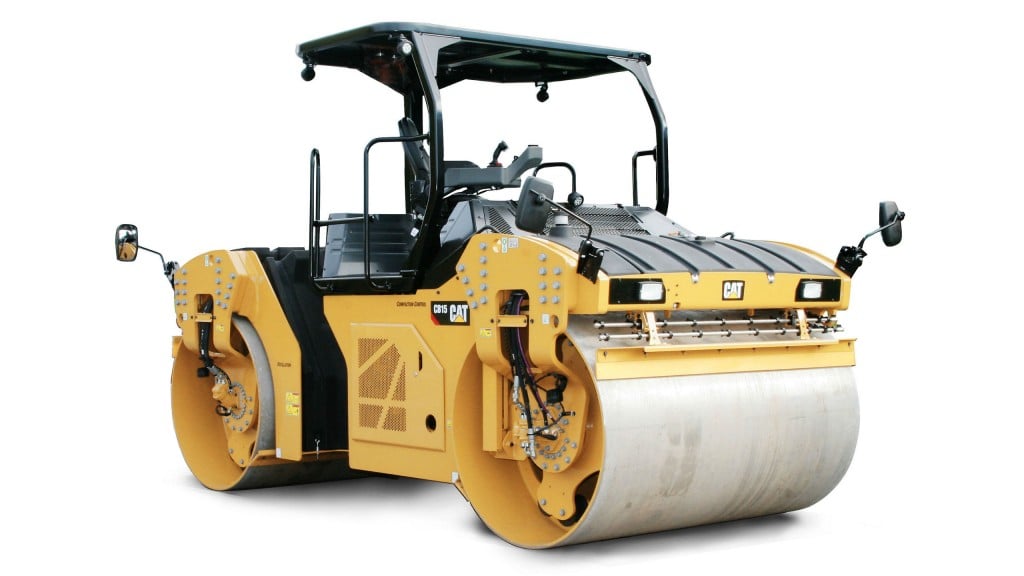 Caterpillar Inc. has added new production-class Tandem Vibratory Rollers to their paving products family. The new models are the CB13, CB15 and CB16. New nomenclature corresponds to the 13-, 15- and 16-ton weight classes they reside in. Furthermore, these models can be equipped with an oscillatory vibration system for excellent application versatility, and offer refinements to the operator controls, water spray system, service access and lighting packages.
Many technological enhancements are provided through the Cat Compaction Control option. Pass-Count and Temperature Mapping systems combine infrared temperature sensors with GPS mapping to keep the operator informed of current mat temperatures, machine position, pass-count and pass coverage. This intuitive system greatly enhances nighttime rolling pattern performance, and records information for future process analysis and quality control documentation. When combined with drum edge and drum surface lighting, Cat Compaction Control helps extend the workday and increase daily production by optimizing jobsite awareness in low-light conditions.
"Machine to Machine" communication is another technological enhancement that improves jobsite efficiency. The system helps keep rolling patterns in sync by sharing mapped data such as CMV, temperature mapping, coverage area, and pass-count maps between the displays of multiple machines.
Keeping operators productive
Working in unfavorable conditions is typical in the paving business, but the operating station helps keep operators comfortable and productive.
Visibility and comfort are enhanced by the 360º seat positioning option that enables the operator to always face the direction of travel. Handwheel steering technology eliminates the front steering console, enabling the operator to easily monitor water spray performance. A simplified 8-button control panel provides efficient control and performance.
Versatile vibratory systems
These compactors offer a variety of vibratory options including Oscillatory Vibration, Dual Amplitude, Dual Frequency, Versa Vibe, and Five Amplitude systems. The Versa Vibe system creates a 2-in-1 machine with four amplitudes and two frequencies. This versatile system provides two settings for lighter hitting and higher working speeds on thin lifts; and two settings for heavier hitting, and slower speeds, on thick lifts or those with challenging mixes. The five-amplitude system offers the widest range of amplitudes with a single frequency, while the two amplitude, two frequency system offers simple thin lift, thick lift compaction with the flip of a switch. These industry proven vibratory systems are now complimented by the combination of vertical vibration in the front drum and Oscillatory vibration in the rear drum.
Oscillatory vibration design
The design combines Caterpillar's high-performance vertical vibration on the front drum with oscillation technology on the rear drum. The front drum with vertical vibration is available in two-amplitude, five-amplitude, or Versa-Vibe systems that provide initial compaction, while the rear drum with oscillation continues the excellent performance for optimal smoothness and density.
The oscillatory system utilizes the proven pod-style eccentric weight technology developed by Caterpillar and has a two-year/2000-hour service interval helping contractors maximize uptime and limit routine maintenance costs. A durable power-transmission employs a unique belt-drive system delivering two times the load capacity of timing belt systems for more reliable operation. In addition, the standard drum and optional hardened drum shells offer exceptional long-term life on a variety of mix designs and delivers outstanding mat texture, density, and smoothness.
Smooth, maneuverable
These models feature a newly designed centre-articulating hitch with 6 degrees of oscillation that ensures mat contact and a smoother ride over uneven surfaces. An offset hitch option extends coverage up to 170 mm (6 inches) and simplifies control next to obstacles such as curbs and gutters. It delivers excellent performance on longitudinal joints by pinching the edge with the lead drum and sealing the joint with the trailing drum.
The Cat C4.4 engine rated at 106 kW (142 hp) comes standard with Eco-mode and automatic speed control, leading to uniform compaction, fuel savings, and reduced sound levels to both operators and surrounding jobsite personnel.
Company info
Related products
More from Roadbuilding
The all-new CASE TR340B compact track loader — operating at 90 horsepower with a 3,400-pound rated operating capacity — is the most powerful radial-lift CTL in the CASE lineup. Its all-new 8-inch LCD display improves on industry-leading CASE visibility with a new backup camera that is viewable in both forward and reverse operation. The display also showcases critical operating information and "trip" details. All-new electro-hydraulic controls, managed through the display, make it easier than ever for operators to dial CASE CTLs into specific application demands. All new cab controls and joysticks make the new TR340B easy to own and operate.
Industries such as construction, mining, energy, utilities and forestry, face many challenges when it comes to tracking assets and employees. Equipment often has to be transferred between locations, or monitored while it is dormant during off seasons. Lone workers may have to travel long distances or visit multiple sites during the course of their activities. And, all of this is further complicated today with shifting supply chains and economic realities putting further strain on the bottom line.