Serious Labs launches virtual reality training simulator for scissor and boom lifts at IPAF Summit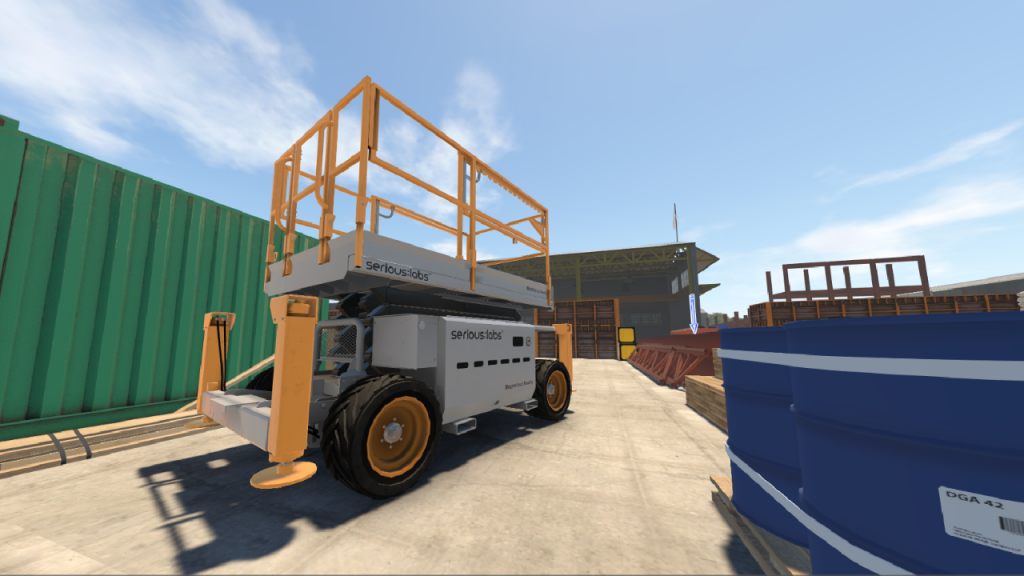 Before a crowd of access industry and safety experts attending the IPAF Summit/IAPAs in Miami, Edmonton-based Serious Labs, a provider of virtual reality (VR) solutions for training and operations of heavy equipment such as cranes and aerial boom lifts, launched its new Aerial Virtual Reality Training Simulator. The simulator combines Serious Labs' new scissor lift modules with its boom lift modules to provide a comprehensive aerial operator training solution for the rental industry.
"The labour force is changing," said Jim Colvin, CEO, Serious Labs. "Millennials are entering the workforce and they prefer to learn in a different way. Immersive VR simulations provide the perfect learning medium where these new operators can explore realistic jobsite environments and safely test the limits of equipment in dangerous situations. Simulators were previously only available in industries such as aviation, but they are ideal for the construction industry where safety and competency are paramount."
The new scissor lift modules consist of 18 training scenarios on slab and diesel rough-terrain scissor lifts. There are also 16 articulating boom lift scenarios. The simulations progressively become more challenging, isolating tasks around driving, lifting, platform positioning and operating. Each module will take the novice approximately one hour and fifteen minutes to complete; a seasoned professional about 45 minutes. Metrics provide feedback about the operator's performance, showing weakness and strengths.
The scissor lift scenarios were co-developed by Nationwide Platforms in the United Kingdom, a division of Loxam Group, one of the largest equipment rental companies in the world. Operations Director Peter Douglas, a safety expert and aerial industry veteran of 28 years, spent almost a year test marketing Serious Labs' simulator with Nationwide Platform customers in the U.K. His feedback helped Serious Labs' designers ensure critical operating training skills were captured.
"People get very excited about VR," said Douglas. "And then when they jump on it, it's so real. You feel everything – driving, steering, moving. It's incredible. We are really excited we can use this technology to improve safety and training. It's at the heart of everything we do."
The simulator kit includes Serious Labs' motion base, connecting what the operator sees with sensory feedback. "Because the motion base makes you feel just like you are moving on an aerial, the operator can become fully emerged in the virtual world of a jobsite," said Wade Carson, director of business development, Serious Labs. "This feeling is what provides the critical capability of suspended disbelief allowing the user to become engaged in the training. It also eliminates the nausea which is felt in other VR products that are on the market today."
Skyjack provided guidance on the development of the scenarios, including key feedback on the representative scissor lift models, sensory feeling and realism. "One of the real benefits of VR training is the ability to safely put the operator in risky situations so that they can develop the necessary skills, without the risk of physical harm. This gives the trainee proper respect for the equipment," said Ian McGregor, director of product safety, Skyjack.
"Serious Labs has done a great job creating the scenarios and simulating very real situations. You can look down and have the sensation of being at height, you load the equipment on a truck and you feel the bumps, etc. Overall, this is a great way to improve an operator's skills while they are on the pathway to become a qualified operator," said McGregor.
The simulator requires an internet connection and functions on a cloud-based delivery system and operates on a basic 15 amp outlet. The simulator kit includes a converter for international countries. The physical footprint is 2 feet 8 inches x 2 feet 8 inches, with full setup measuring 4 x 8 feet. The kit includes a VR headset, a safety cage, scissor lift controls, and oculus touch controls which automatically calibrate the headset for each operator.
The simulator allows the operator to meet IPAF and ANSI training requirements in a dynamic environment, outside of the actual equipment. The training scenarios map 1:1 on assessment for certification validation while tracking the movement of best practices.
"We are so fortunate to have the expert assistance of Nationwide Platforms, Skyjack and IPAF in the development of this product. Safety training needs to be a collaborative effort for it to be the absolute best it can be," said Colvin. "The aerial equipment industry is truly unified by one common goal: to get people home from work safely."
The Aerial VR Simulator will be available globally in April for subscription, lease or rental.