Ritchie Bros. to sell more than 1,900 equipment items and trucks in unreserved auction in Montreal, QC on December 5-6, 2012
Unreserved public auction features a 2010 Gencor 400 TPH 460-volt portable asphalt plant, as well as a large selection of late-model Caterpillar construction equipment used in the Route 1 Gateway Project in New Brunswick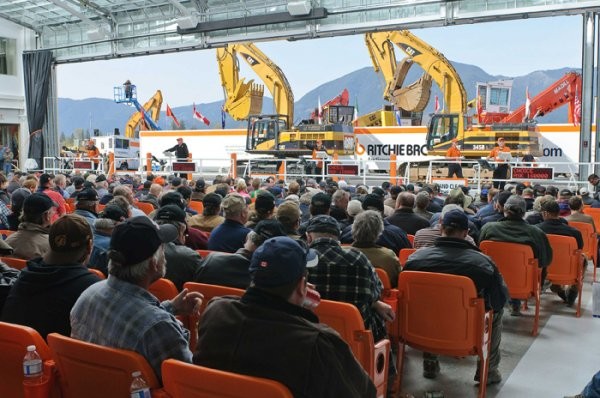 Ritchie Bros. Auctioneers will sell more than 1,900 heavy equipment items and trucks at an unreserved public auction in Montreal, QC on December 5-6, 2012. Equipment highlights include a 2010 Gencor 400 TPH 460-volt portable asphalt plant as well as a large selection of late-model Caterpillar hydraulic excavators, crawler tractors, wheel loaders, motor graders and articulated dump trucks – many of which were used in the Route 1 Gateway Project in New Brunswick. All equipment will be sold to the highest bidders without minimum bids or reserve prices. Bids in the auction can be made in person at the auction site (1373 Rue Briere, Mont Saint Hilaire, QC), online in real time at www.rbauction.com or by proxy.
"Our Montreal auction on December 5th and 6th features a huge selection of late-model construction equipment and an asphalt plant we've never sold before at any Ritchie Bros. auction – it's a unique buying opportunity," said Jessy Cantin, Regional Sales Manager, Ritchie Bros. Auctioneers. "As with every item we sell, this 2010 Gencor portable asphalt plant will be sold without minimum bids or reserve prices – it will go to the highest bidder on auction day, regardless of price. Detailed equipment information for the plant, including blueprints, close to 50 photos and a video are all available on our website. Because the plant is so large, it will remain at its current location in Beauharnois, QC and can be inspected there – on auction day we will sell the plant by photo."
Equipment items and trucks will be sold in the two-day Montreal auction for more than 300 sellers. One of the sellers is Les Pavages Chenail Inc., a Saint-Remi, QC-based contractor who will be selling 40 items in the auction, including the 2010 Gencor 400 TPH 460-volt portable asphalt plant. The Gencor plant will actually be sold as three separate lots – a 2010 Gencor 400 TPH 460-volt portable asphalt plant, a 2010 Gencor 35,000 gallon portable oil/gas hot oil heater and two 2010 Gencor 200-ton portable deluxe asphalt silos.
"We purchased the Gencor plant new, specifically for work on a paving project on Highway 30 near Montreal," said Emmanuel Chenail, President of Les Pavages Chenail Inc. "We recently completed the project and approached Ritchie Bros. because it's not every day that a plant like this goes up for sale. We knew we needed to get as many eyes on it from around the world and Ritchie Bros. offers the best global advertising in the equipment auction business. Along with this plant we will also be selling a selection of late model asphalt pavers, wheel loaders, hydraulic excavators and more – all have been well-maintained and are ready to be put to work."
Other equipment highlights in the Montreal, QC auction include:
• 17 late-model Caterpillar 345DL hydraulic excavators
• 12 2010 Caterpillar 740 6x6 articulated dump trucks
• eight 2010 Caterpillar 324DL hydraulic excavators
• seven late-model Caterpillar D8T crawler tractors
• four 2010 Caterpillar D6T XL crawler tractors
• two 2010 Caterpillar 938H wheel loaders
• two 2010 Caterpillar D10T crawler tractors
• a 2011 Caterpillar 16M VHP motor grader
The auction is open to the public and registration to bid is free. For more information, visit www.rbauction.com or contact the auction site at 450-464-2888.
Auction details:
• Auction location: Ritchie Bros.' Montreal auction site at 1373 Rue Briere, Mont Saint Hilaire, QC, J3H 6E9
• Date & Time: Wednesday, December 5 & Thursday, December 6, 2012, starting at 8 a.m. each day
• Site phone: 450-464-2888
• Every auction is open to the public; registration to bid is free; a refundable bid deposit may be required
• How to register and bid:
- In person at the auction site
- Online at rbauction.com - register in advance and bid online in real time on auction day; a refundable bid deposit may be required; first-time online bidders should register several days in advance of the auction
- By proxy - phone the auction site to place a proxy bid