Hy-Brid Lifts' Self-Propelled Scissor Lifts Offer Lightweight, High-Capacity Alternative to Ladders and Taller Lifts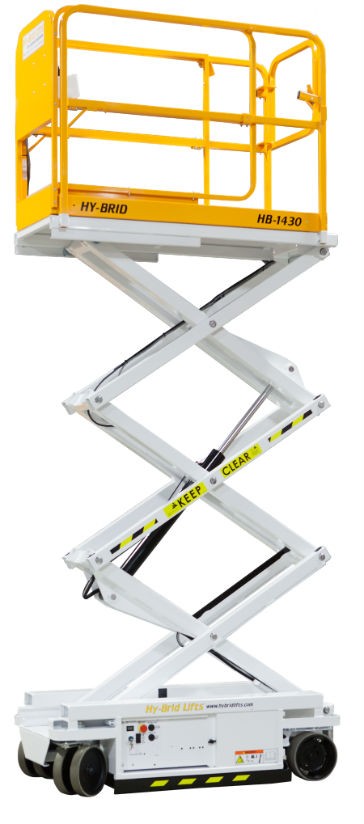 Custom Equipment's Hy-Brid Lifts self-propelled low-level scissor lifts give contractors lightweight, high-capacity alternatives to mast lifts and taller scissor lifts. Custom Equipment designed the units to enhance productivity. They are compact yet their platforms provide ample space for tools and supplies, minimizing trips up and down to reload, while low wheel loads allow users to maneuver onto delicate flooring with minimal risk of damage.
The all-purpose, heavy-duty lifts feature working heights as high as 16, 18 and 20 feet, respectively, and offer high capacities. The HB-1030 can hold as much as 750 pounds, while the HB-1230 has a platform capacity of 550 pounds and the HB-1430 holds 670 pounds. The lifts can accommodate two people at a time and provide a substantial working area. Platforms on the HB-1030 and HB-1430 are 25 inches wide by 60 inches long and the HB-1230 platform is 25 inches wide by 53 inches long. Each model features a 250-pound capacity, 30-inch-long slide-out extension for even greater working space.
Custom Equipment designed the lifts with tool holders that allow users to easily, efficiently and safely transport materials from the ground to the ceiling. Each self-propelled model also includes a tool tray, which keeps tools at an easy-to-reach ergonomic height, eliminating the need to bend down and pick up tools. In addition, a USB port built into the upper controls gives users the convenience to charge devices, such as phones and tablets, on the go. This combination of features enhances productivity and communication. Custom Equipment uses state-of-the-art technology to test designs before building all of its lifts, which allows the company to use the optimal grade of steel. Because the steel is stronger, less material is required so the lifts weigh less than taller lifts and mast units.
In addition, the Hy-Brid scissor lifts feature dual front wheels, which distribute the machines' weight to achieve low wheel loads. Also, because they are lightweight, contractors can use the lifts on delicate flooring, including tile, laminate, raised floors and mezzanines, with much lower potential for damage. Users also can get onto poured concrete several days sooner than with heavier competitive models.
The Hy-Brid self-propelled scissor lifts feature counter-rotating wheels, which reduce friction, allowing users to maneuver over tile or carpeting without leaving marks or causing tears. The lifts feature electric drive and steering rather than hydraulic drive and steering like other lifts. This results in just two hydraulic connection points, which are completely self-contained to minimize the potential for leaks. This ensures a clean system for operating indoors in both finished and unfinished environments, and it minimizes floor damage and safety hazards.
Custom Equipment designed its lifts to provide safe, easy access to the platform with entry heights as low as 20 inches, one of the lowest available. This not only reduces the fatigue and knee strain associated with climbing on and off the lift, but it also nearly eliminates potential falls, which can occur when operators are loading and unloading heavy tools and supplies. The enhanced safety results in lower workers' compensation claims and a healthier bottom line.
Hy-Brid Lifts also feature access gates that swing completely open to allow users to step up and onto the platforms without having to lift bars or remove chains. The full-swing gate and low entry height allow contractors to easily place materials, such as electrical bobbins, HVAC materials and toolboxes, on the platform.
In addition to enhanced safety as compared to other lifts, the Hy-Brid low-level scissor lifts provide safer, more efficient alternatives to ladders and other manual methods commonly used to perform work. Unlike ladders, low-level lifts virtually eliminate the potential of falling, providing a safe environment for operators to maneuver tools and materials.
A proportional drive and lift system on the Hy-Brid HB-1230 gives users superior control. Operators can adjust how fast the lift travels and the rate at which they raise or lower the platform, which can minimize damage when maneuvering close to walls or objects.
Hy-Brid Lifts' hydraulics move platforms up and down, while two 12-volt, deep-cycle batteries power the electrical drive and steering systems — a feature available exclusively on the Hy-Brid self-propelled scissor lifts. Since the system is electric rather than hydraulic, it draws fewer amps and requires less overall power. This, combined with lightweight construction, allows the units' battery power to last as much as two times longer than competitive lifts, or as long as 10-16 hours.
Custom Equipment also minimizes maintenance on the lifts with absorbent glass mat batteries, which are optional on the HB-1030 and HB-1430 and come standard on the HB-1230. Unlike traditional batteries, the AGM units never require users to add water, so they are virtually maintenance free. The self-propelled lifts feature robust scissor stacks with oversized, 1.25-inch pins to enhance stability and reduce scissor sway associated with the smaller pins found on other units. The scissor stacks also offer more stability than the traditional post design of mast lifts.
Company info
Related products
Related Articles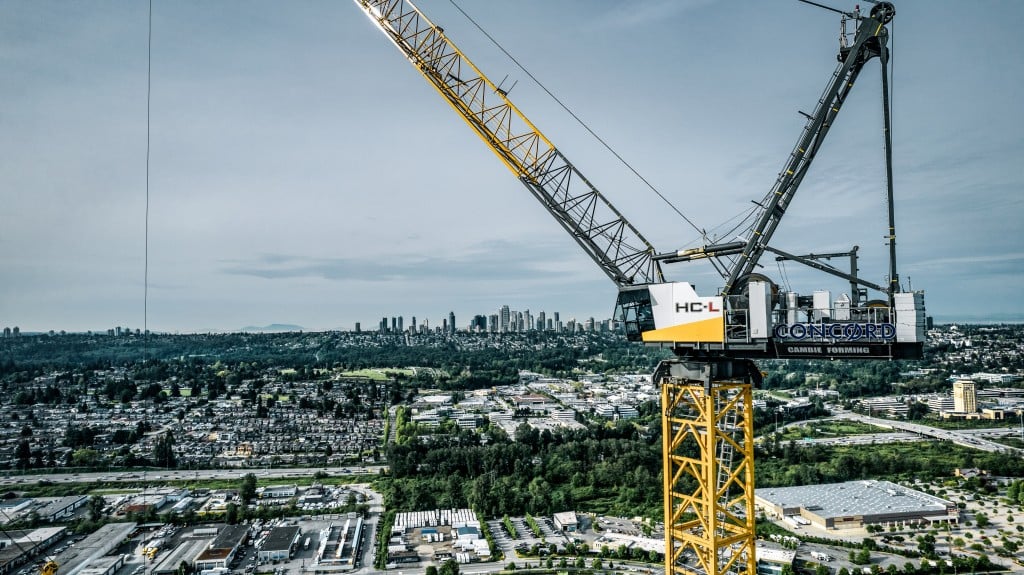 Cambie Forming to build 56-storey Burnaby residential building using newly bought Liebherr tower crane