Closer Look: Caterpillar launches next generation excavators
The most significant change to Cat excavator program in 25 years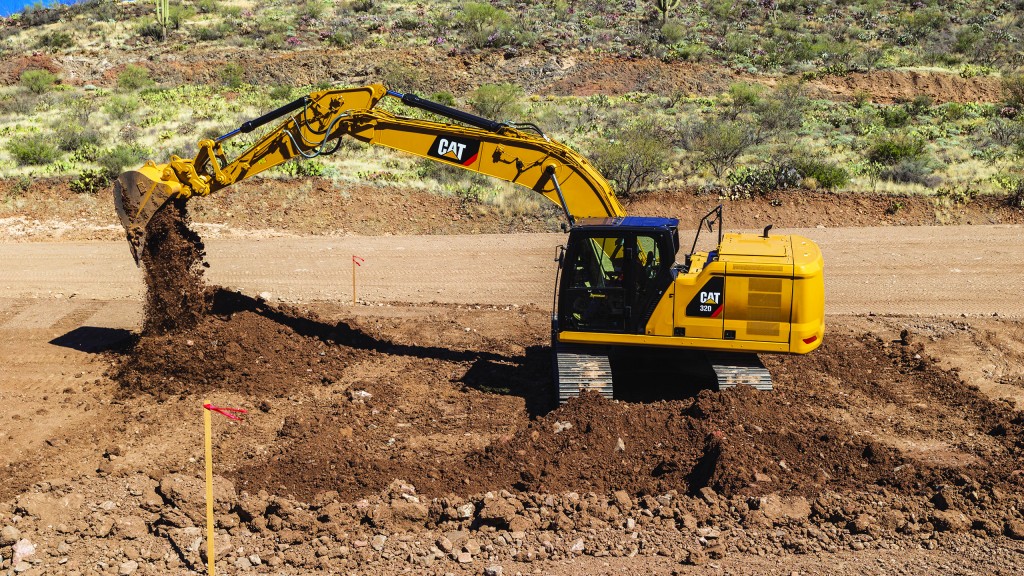 Caterpillar's Next Generation excavators are the first major redesign of this product - a flagship line for the company - in 25 years. Over the years, there have been things added, removed and improved on the excavators, but this launch of the 20-ton size-class models marks the first major overhaul to their hydraulic excavator line in a quarter century.
As they developed the new design, Caterpillar looked at four key customer themes to guide them in the development. They wanted to match performance to the jobsite, lower owning and operating costs, make operators more productive, and integrate the excavators into the digital jobsite.

They achieved these goals and the results are dramatic. They lowered maintenance costs by 15 percent, reduced fuel consumption compared to the F series hydraulic excavators by 25 percent, and increased operator efficiency by 45 percent for those maximizing the use of semi-autonomous and other features.

How did they achieve this? With a state-of-the-art "digital heart" in all three new models, and all new excavators going forward will have the same core feature.

Zach Kauk, Vice President, Excavator Division, explained the digital heart and its importance at the Fall 2017 launch of the Next Gen models. "For the first time ever in the industry, we are standardizing across our entire hydraulic excavator product line an electro-hydraulic control valve, an electronically controlled pump and electronically controlled engine to all work in harmony to drive lower operating costs [and] higher efficiency across a broader range of applications than we have ever been able to do before. And no one else in the industry has done that. We are the first."

Three new models
The three new Next Gen models - the 320 GC, 320 and 323 - have a common DNA, as Cat explains it, but each also has a unique combination of purpose-built features to match customers' productivity and cost targets. This was determined through studies of monthly fuel use and operating hours, resulting in three clusters that define machine use and customer needs for the new models.

The 320 GC has basic features which provide the lowest machine cost per hour and the lowest fuel consumption of the three models. It is designed for low- to medium-duty applications, such as utility and general site work.

The new 320 and 323 excavators have the industry's highest level of standard factory-equipped technology, according to Caterpillar. Both models are equipped with integrated Cat Connect Technology, which increases operating efficiency by up to 45 percent over traditional grading operations.

The 320 model is built for medium- to heavy-duty applications, while the premium Cat 323 can handle all applications and conditions, has the most power and lift capacity in the line, and delivers maximum productivity at the lowest cost.

Technology boosts efficiency
There are various types of technology in these machines, as shown in the table, that boost efficiency. Cat Grade 2D provides slope and depth indication to reach grade faster, and to cut and fill to exact specifications without overcutting. In addition, it provides a safer work environment as there is no grade checker. Cat Grade 2D Advanced provides the same benefits, plus adds in-field design capabilities through a touchscreen monitor. Cat Grade 3D uses satellite positioning to provide complex grade, slope and depth indication. The standard 2D system can be upgraded to Cat Grade with Advanced 2D or to Cat Grade with 3D.

For accurate cuts with less effort, Cat Grade with Assist automatically prevents overcutting of a target grade design by using automated boom, stick and bucket movements. An operator simply sets the slope and activates single-lever digging.

Repetitive swing movements are made easier with Swing Assist which automatically stops swing motion of the machine at a pre-set point.

Cat Payload provides on-the-go weighing to meet precise targets, preventing over or under loading. Plus, automated tracking in real time helps manage production and lower costs.

Excavator movement can cause safety issues so Cat offers 2D E-Fence which automatically constrains machine motion to set boundaries, E-Ceiling which limits overhead working height to avoid power lines, bridges or overhead structure, and E-Wall which prevents swinging into live traffic or structures by limiting swing.

Finally, Cat LINK hardware and software connect jobsites to the office, providing customers with machine-critical operating information.

Big fuel saving
These Next Generation machines consume 20 to 25 percent less fuel than the previous corresponding models. To achieve this, Cat uses a new Smart mode that automatically matches engine and hydraulic power to digging conditions, optimizing both fuel consumption and performance. Also, engine speed is automatically lowered when there is no hydraulic demand, further reducing fuel usage.

A new cooling system and new hydraulic system also help improve performance. The cooling system employs multiple electric fans, which independently monitor hydraulic oil, radiator and air-to-air aftercooler temperatures to deliver the exact airflow required. For the hydraulics, a new main control valve that eliminates the need for pilot lines, reduces pressure losses and lowers fuel consumption. Fewer hydraulic lines on the excavators result in 20 percent less oil required, lowering long-term operating costs.

Reduced maintenance costs
Cat has lowered maintenance costs by up to 15 percent over the previous series with extended and more synchronized maintenance intervals. The new Cat hydraulic return filter has a higher dirt capacity, resulting in a 3,000-hour service life, a 50 percent increase. A new air filter with integrated pre-cleaner and primary and secondary filters extends service life to 1,000 hours, a 100 percent increase over previous designs, while a new fuel tank cap filter has an extended service life of 2,000 hours. The three fuel system filters have a 500-hour service interval.

Creating a great operator work space
To get the most out of an excavator, an operator needs a well designed, comfortable cab with all the necessary controls within reach and easy to use. Cat's Next Generation excavator cabs meet these needs.

The new excavators come equipped with features like keyless push-button start, a large standard eight-inch (203-mm) touchscreen monitor, jog dial keys for control, sound suppression, and new advanced viscous mounts that reduce cab vibration by up to 50 percent over previous models.

Programmable joystick buttons for response and pattern allow the operator to dial in productivity settings for their specific operating needs.

The new cab is more spacious, has a low-profile design and features large front, rear and side windows for better visibility. There is also an optional 360-degree visibility system that combines images from multiple machine-mounted cameras to improve the operator's sightlines in all directions.

The operator will also be comfortable in the cab as the automatic climate control system maintains even cab temperature, regardless of outside temperatures.

The future
Over the last couple of years, Cat has noticed an accelerated change in the digital jobsite as customers are starting to see the real benefits of technology, and as the technology has grown and evolved. Today, the customers who are most successful are adopting geo-spatial and other technologies and Cat sees that accelerating rapidly all over the world in the next couple of years. In next five years, for the most part, many customers will have a difficult time being successful without adopting these technologies.

The Next Gen 320 GC, 320 and 323 excavators are ready for the future and Caterpillar plans to use this platform across their whole excavator line. While they focused in the past on building high-end premium machines, they will now be offering a broader range of models that allows customers to select the one that best serves their needs, whether it is low-, medium- or heavy-duty work. A great strategy for the next 25 years.
Company info
Related products
Related Articles
As one of the latest models in the R2-Series excavator lineup, the Bobcat® E88 delivers durability, performance and quality for more productivity. Technically speaking, it's a compact machine, but it brings big performance with its redesigned engine and optimized lift performance, plus undercarriage and counterweight improvements. All these enhancements make this excavator one of the highest-performing models in its size class. With impressive over-the-side lift capacity, you can dig with greater confidence over the side of the machine. Put it to the test against similar models from other manufacturers. You'll see that the E88 can outwork the competition.