Mercedes Benz brings Sprinter van into the digital age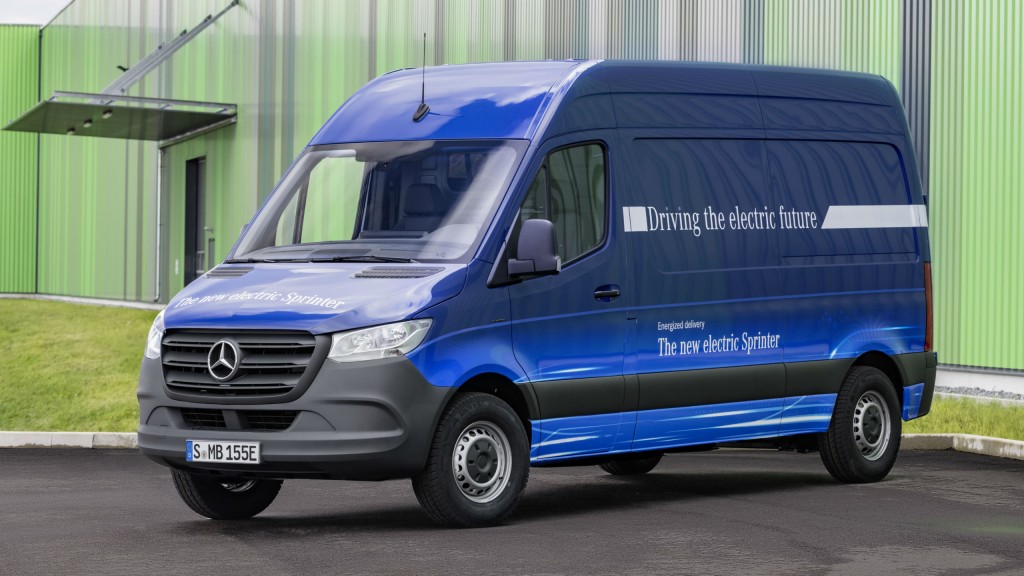 As the first fully connected integral system solution, the third generation of the Sprinter cargo van from Mercedes Benz demonstrates the development of the division from purely a vehicle manufacturer into a provider of complete transport and mobility solutions. With new connectivity services, electric drive and individual hardware solutions for the cargo space, the large van will make customers' business in a connected world significantly more efficient.
Dr. Dieter Zetsche, Chairman of the Board of Management of Daimler AG and Head of Mercedes Benz Cars, Wilfried Porth, Member of the Board of Management for Human Resources and Director of Labor Relations & Mercedes Benz Vans of Daimler AG, and Volker Mornhinweg, Head of Mercedes Benz Vans, presented the new flagship van of the brand bearing the three pointed star to approximately 250 international journalists at a logistics center in Duisburg docks.
"More than 20 years ago, the Sprinter established the segment that bears its name today. Since then, it has set new benchmarks for large vans through innovation time and again. No wonder it's one of the bestsellers in Daimler's portfolio.
"We are investing some €2.5 billion around the globe in the new Sprinter's development, its worldwide production network, and sales and after-sales," Zetsche added.
The current model of the Sprinter has been on the market since 2006. The new Sprinter is available for order now and will be launched in the European market starting in June 2018. The other markets will follow gradually.
"As a world van, the Sprinter is on the roads in over 130 countries and has now been sold more than 3.4 million times. It has also fully lived up to its reputation as a bestseller in its last year of the current model: In total, we sold about 200,500 Sprinter vans worldwide in 2017 - more than ever before," Mornhinweg said. "Our new Sprinter is the first van of a new type - a fully connected integral system solution. We have made it even better with regard to its traditional strengths and have supplemented it with intelligent products and services. This makes the Sprinter an integral part of the value chain. So we are unlocking a new dimension in terms of efficiency, flexibility, connectivity and profitability for our customers. And we are doing it precisely tailored to each particular industry."
Social and economic developments, especially urbanization and the growth of online retailing, are rapidly changing the needs of van customers. Growing transportation needs will have to be met even faster and more efficiently in the future and, above all, in an environmentally friendly way. Mercedes-Benz Vans is responding to these new requirements in many ways. For example, the service sector is one of the comparatively traditional industries where pressure to change has now also arrived. Connectivity solutions in particular are creating opportunities for optimization or are even positively influencing the business case. One example in this regard is so-called "in-van delivery," which allows service providers to restock the vehicle overnight with parts ordered directly from within the vehicle.
The new Sprinter offers customers in a diverse range of industries more specific possible applications than ever before. It comes in more than 1,700 variants - depending on body type, drive system, cab design, body length, payload, cargo-space height and equipment versions. The variety of seats offered ranges from two individual seats in the cab of a commercially used vehicle to up to 20 seats for 19 passengers plus driver. Maximum cargo volume is 17 cubic meters, with payloads of up to 5.5 metric tons.
In addition to the systematic further development of its highly efficient diesel engines, Mercedes-Benz Vans will in the future also offer locally emission-free electric drive in all segments and will push forward with the electrification of the commercial fleet.
A start has been made with the eVito, which has been available for order since November 2017 with deliveries starting in the second half of 2018. The eVito will be followed by the eSprinter in 2019. In dialogue between customers and the experts of Mercedes-Benz Vans, operator concepts are individually tailored to industry requirements, fleet size, driving profile to the architectural conditions for establishing a proprietary charging infrastructure on a company's premises, thus creating a comprehensive ecosystem.
In addition, basic electric vehicles can be precisely adapted to the particular intended purpose in terms of range or payload. With regard to operating costs, the electric vans are on par with comparable models powered by a diesel engine. The electric models are primarily designed for operations in city centers.
Related Articles
As one of the latest models in the R2-Series excavator lineup, the Bobcat® E88 delivers durability, performance and quality for more productivity. Technically speaking, it's a compact machine, but it brings big performance with its redesigned engine and optimized lift performance, plus undercarriage and counterweight improvements. All these enhancements make this excavator one of the highest-performing models in its size class. With impressive over-the-side lift capacity, you can dig with greater confidence over the side of the machine. Put it to the test against similar models from other manufacturers. You'll see that the E88 can outwork the competition.