Putzmeister debuts 39Z-Meter truck-mounted concrete boom pump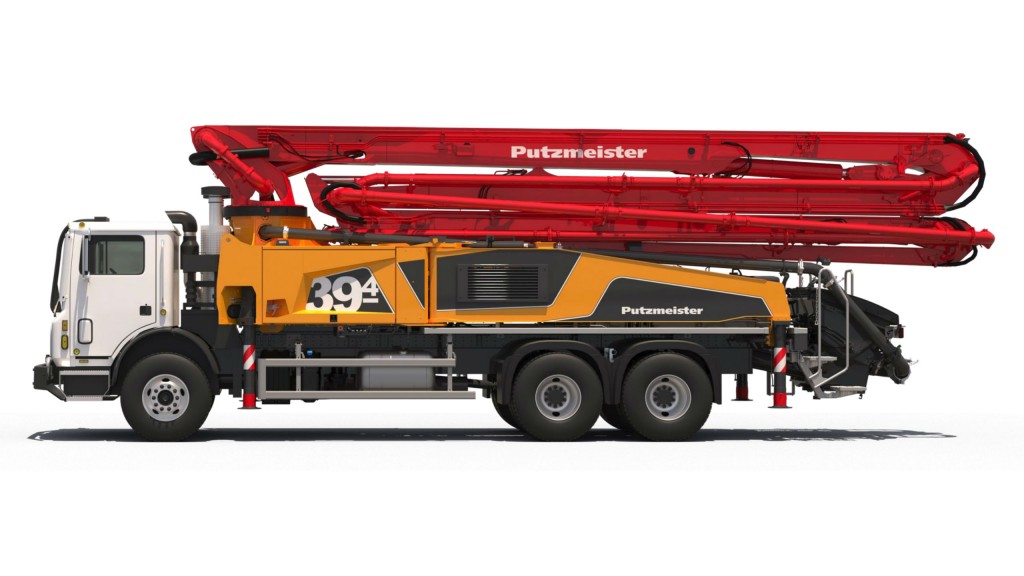 Putzmeister will introduce the 39Z-Meter Multi Truck-Mounted Concrete Boom Pump, a brand-new design with three-in-one pumping capabilities. The unit comes equipped with a newly designed four-section Multi-Z boom and robust pedestal, a BSA-grade pump cell for high-pressure applications, and a placing boom that can either be permanent or detachable.
"This is our jack-of-all-trades," said Dave Wright, Putzmeister Truck-Mounted Concrete Pump Product Manager. "It can be configured to meet any need, from typical and high-rise pumping applications to frost law and special weight considerations."
Designed for this unit is the .13 HPD pump cell, another recent Putzmeister innovation. Reinforced with 2,500 lbs (1134kg) of steel, and featuring rod-side outputs of 180 yards3/hr (138 m3/hr), the cell is designed to withstand extreme conditions as it performs in high-pressure and long-distance pumping applications.
Putzmeister created the pump as a result of user feedback throughout the industry.
"The development of the 39Z demonstrates our ability to react to our customers' needs," said Bill Dwyer, Putzmeister Vice President of Sales & Marketing. "They wanted a versatile, high-performing, cost-saving machine and we delivered."
Rather than purchasing three separate pieces of equipment, customers will benefit from the value of a single, customizable machine. Meanwhile, weight guidelines will be easer to meet; the unit is lighter than the comparable 38Z, and the detachable boom gives it added flexibility. Additionally, the Ergonic 2.0 Control System is now standard. Unveiled in January 2017, the control system offers a more user-friendly experience with a more intuitive design and improved remote monitoring.
Safety has also been thoroughly addressed with the addition of an integrated work platform to safely access the detachable boom. Connecting and disconnecting the placing boom is a simple and straightforward process.
Putzmeister developed the 39Z as part of a larger initiative to strengthen the 30-meter class. Other pumps in the line received boom and pedestal updates, lighter footprints, optimized outrigger designs and various other performance improvements. All new machines in the class are fitted with third generation Putzmeister free-flow hydraulics, which users of the 38Z-5-Meter pump will be familiar with.
Related Articles
Searching for the best-performing excavator? Your search ends here. We tested the Volvo EC350E and EC380E against a leading competitor in three different tests: trenching, truck loading and lifting capacity at reach. The results show a 20% difference in cost-per-ton, a 15% difference in tons-per-hour and a 12% difference in both operating costs and lifting capacity. See the results and put an end to your search for the best excavator.