Innovative VÖGELE technology in Offset PowerFeeders pays off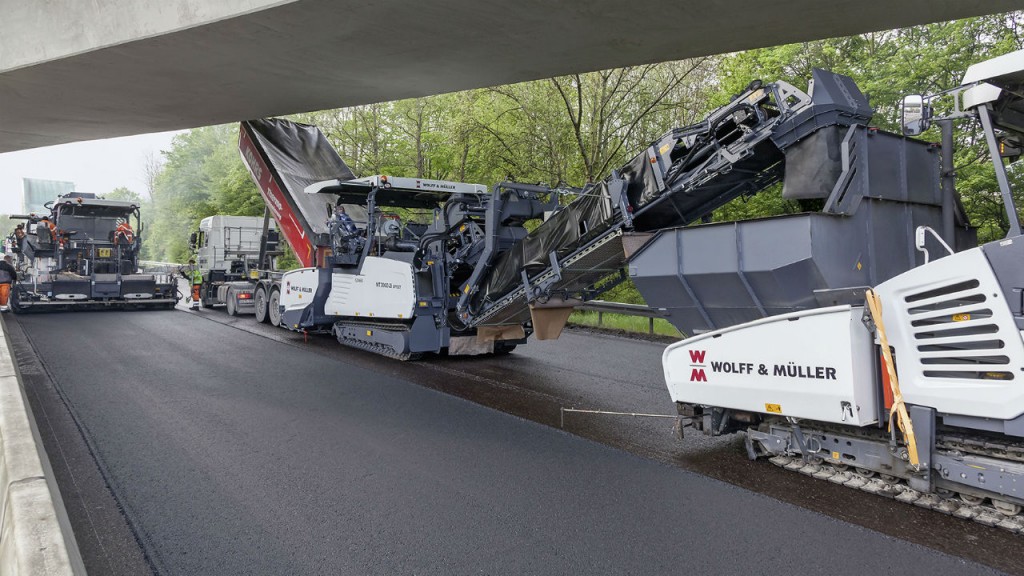 Decoupled material transfer from the feed vehicle to the road paver is one of the major drivers in road construction. After all, this process is a critical factor with a considerable impact on the quality of asphalt paving projects. Material feeders are consequently gaining ground around the world - also because the machines simultaneously enhance productivity. The advanced MT 3000-2i Offset PowerFeeder, for instance, has a conveying capacity of 4,000 t per work shift. Equipped with a pivoting conveyor for transferring the mix - as indicated by the Offset in the name - the VÖGELE machines are particularly flexible in use.
Just how flexibly this innovation enables paving teams to meet the requirements of major projects is demonstrated by a job site at the Weinsberg, Germany intersection between the A6 and A81 motorways, a route which carries 100,000 vehicles every day. The VÖGELE PowerFeeders supported the 3 SUPER pavers rehabilitating the carriageways at the Weinsberg motorway intersection. The advanced machines ensured a consistently high flow of mix for a continuous paving process.
When rehabilitating the carriageways of the A6 motorway, the aim was to make the paving process continuous, i.e. to avoid any interruptions to paving. Thanks to a huge total storage capacity of 45t and a peak conveying capacity of 1,200t/h, the 2 new MT 3000-2i Offset PowerFeeders met requirements in full - and still had some capacity to spare. When material feeders are used, the transfer of material is decoupled, which means that the trucks dump the mix into the receiving hopper of the feeder.
This prevents trucks from passing jolts to the paver, which could have a detrimental effect on the paving result. In this way, the non-contacting transfer of mix improves the pavement quality. A safe and reliable transfer of mix is another hallmark of VÖGELE machines: collisions are prevented by the automatic distance control with anti-collision protection. These are benefits that only VÖGELE machine technology offers. These attributes clinched it for the contractor, Wolff & Müller.
"On motorway job sites, a lot of feed vehicles have to unload paving material within a very short space of time. And such a critical process can't be rushed. Our new VÖGELE PowerFeeders provided valuable support with this, right from the first metre," explained Lars-Peter Schwarzer, Asphalt Construction Manager for Wolff & Müller. With the MT 3000-2i Offset PowerFeeder, 25t of mix can be transferred in the space of just 60 seconds. The material slides down into the material feeder's large receiving hopper in which conical augers transverse to the direction of travel ensure that the material is withdrawn evenly. Together with the trough-shaped conveyor, this counteracts mechanical and thermal segregation.
Company info
Related products