Asphalt compactor line continues to expand with DD110C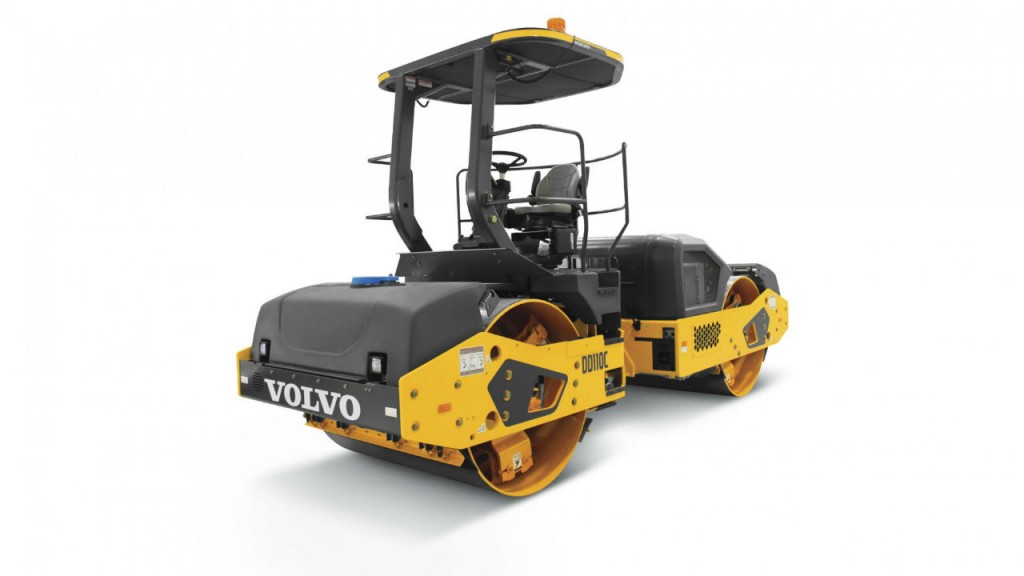 The DD110C is the latest in a series of recent double drum asphalt compactor introductions from Volvo — offering the latest in advanced technologies that have the potential to drastically improve job quality, productivity and machine uptime.
With a 66-inch drum width and 24,350-pound operating weight, the DD110C rounds out the highway-class double drum compactor series from Volvo, which also includes the recently introduced DD120C (79-inch) and DD140C (84-inch) models. As with the two larger C-Series models, the DD110C is available with a host of industry-unique technologies that improve productivity and uptime, including Compact Assist with Density Direct, the industry's only Intelligent Compaction (IC) system that displays real-time density calculations; ActiveCare Direct, a unique 24/7/365 machine monitoring and utilization reporting service offered directly from Volvo; and a range of other industry-unique offerings such as an 8-amplitude drum and Lifetime Frame and Structure Warranty.
"The DD110C is right in the 10-ton-class sweet spot, making it well-equipped for any medium- to large-scale paving job — from commercial to heavy highway," said Bill Laing, compaction product manager at Volvo Construction Equipment. "The addition of the DD110C really rounds out our entire asphalt compaction lineup, which we've expanded to include six new models in just the last year. Between our proprietary technology advancements and unique support offerings, our full compaction lineup has never been stronger."
Powered by a 148-horsepower Volvo D4 Tier 4 Final engine, the DD110C is designed to deliver high-quality compaction in record time. With a high frequency system delivering 3,800 vibrations per minute (vpm), the DD110C can keep up with a paver traveling at 60 feet per minute while still maintaining appropriate impact spacing. For easy visual reference, the machine's redesigned, intuitive on-board display features an Impact Spacing Meter, which allows the operator to control speed and maintain the correct impact spacing for consistent smoothness.
The DD110C also combines high centrifugal force, heavy static weight and variable amplitude. Featuring an optional 8-amplitude drum, the DD110C can be fine-tuned for a variety of operations. For thin lift applications, lower amplitude prevents over-compaction. For thicker lifts, higher settings ensure compaction occurs deep within the material in as few passes as possible, improving productivity. Large diameter drums ensure a smooth, high quality mat finish. The drum eccentrics can also be set to continuously rotate in the direction its traveling, preventing any pushing or shoving of the material.
Real-time density
Available as an option on all C-Series compactors, Compact Assist is Volvo's proprietary Intelligent Compaction system. The integrated system is available in two packages: Compact Assist and Compact Assist with Density Direct. The technology works in conjunction with Volvo Co-Pilot — an easy-to-use, 10-inch touchscreen display.
In addition to temperature mapping and pass mapping, Compact Assist with Density Direct provides real-time visibility into the density data that ultimately determines the results of the compaction process, helping to eliminate guesswork and avoiding under- or over-compaction. Rather than waiting until a nuclear gauge or core sample reveals single location density results, operators can react quickly while the mat is still workable.
To further boost productivity, the DD110C features an automatic, variable-interval water spraying system with dual spray bars, dual water tanks, dual water pumps and triple filtration. In water burst mode, the dual spray bars are activated at full flow for ten seconds, or two drum rotations, which prevents material pick-up. The asphalt compactor also features a new water flow-rate calibration process, enabling the operator to set the minimum flow according to requirements.
As with all the C-Series compactors, the DD110C offers impressive unobstructed visibility, giving it among the most commanding operator environments in the industry.
The ROPS/FOPS-certified platform, forward-view, adjustable seat and 180-degree rotating console provide superb visibility of the jobsite, as well as unobstructed sightlines of the drum edges. This view ensures maximum safety and rolling precision. Ergonomically positioned controls, ample space, and noise and vibration insulation allow the operator to stay alert and focused, optimizing safety and productivity.
The swing-up hood of the DD110C provides easy access to the engine and hydraulic components. Moreover, a single key offers access to all service doors. Passive regeneration occurs automatically without any input from the operator, and parked regeneration is carried out by technicians as part of the routine 500-hour service.
Company info
Related products
Related Articles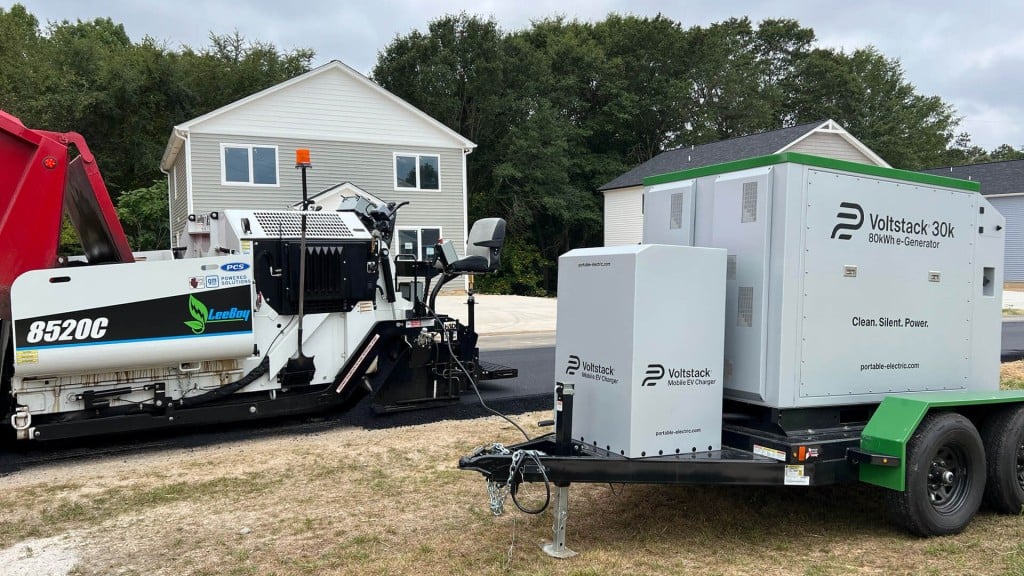 How LeeBoy and Portable Electric are advancing electrification in asphalt paving