Reconditioned equipment: the right option for your fleet?
Factors to consider when deciding if this is the right solution for you and, if not, what other options you have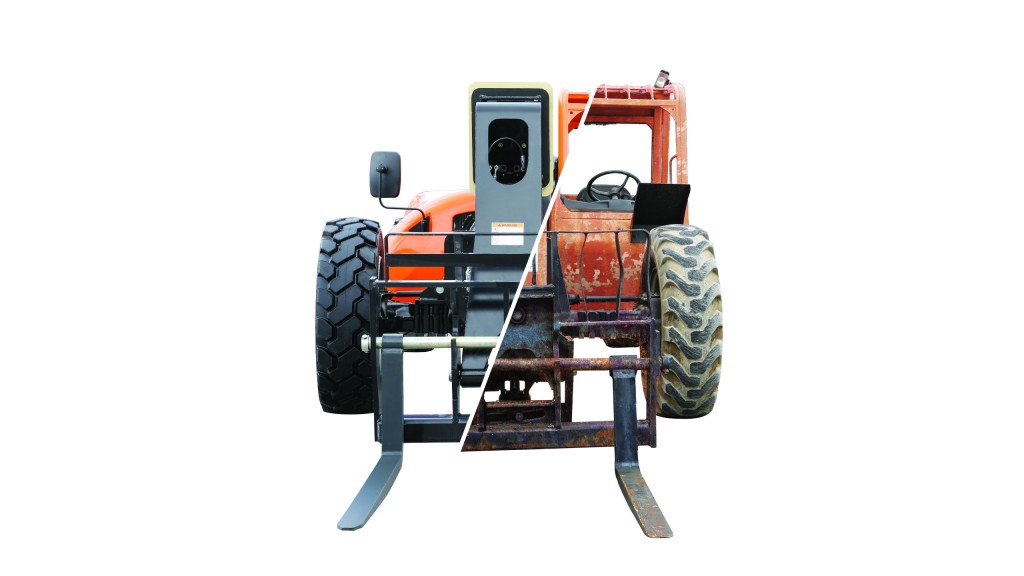 Growing a fleet of telehandlers and aerial work platforms (AWPs) or simply maintaining an existing fleet to meet demand requires financial resources. When resources are limited, reconditioned equipment might be the way to go - either purchasing reconditioned equipment or arranging for a vendor to recondition equipment in your fleet. Both scenarios come with benefits beyond affordably expanding your fleet.

The primary benefit of purchasing a piece of reconditioned equipment is cost savings. In many cases the price tag on a reconditioned machine is significantly less than that of a new machine. Looking at it another way, you can sometimes buy two pieces of reconditioned equipment for the same amount of money you would spend on one new machine.
Similarly, reconditioning a piece of equipment is far less expensive than purchasing new. Not only can you end up with equipment that is "like new" at far less cost, but you also extend the useful life of your initial investment, breathing new life into a machine and, in the process, improve the reliability and availability of your fleet.
Before deciding if reconditioned equipment is right for you, it is important to consider these six factors:

1. The definition of reconditioned varies, because the reconditioning process varies from one provider to another.
Reconditioned equipment is used equipment that has undergone steps to offset the effects of wear and tear. Unlike most used equipment, reconditioned equipment is refurbished to improve its condition. However, the degree to which a machine is reconditioned depends on two things: the vendor that is performing the process and the standards and guidelines they follow.
2. Understand the scope of work that was or will be performed.
Like the definition of reconditioned, the scope of work varies - everything from simply painting and installing new tires on a unit to subjecting the machine to a factory reconditioning program that results in a "like new" piece of equipment.
The best factory reconditioning programs include a rigorous process that performs a complete teardown of the machine and looks at four major systems: electrical, hydraulic, drivetrain and structural components. Boom structures should be completely disassembled and engines should be removed and rebuilt or replaced.

A comprehensive reconditioning program also evaluates an extensive list of other components - such as batteries, cable, chains, alarms, filters, hoses, cylinders, transmissions, axles and brakes - and adjusts or replaces them. Replacing them with original equipment manufacturer (OEM) parts ensures the components are factory-approved. The seat and seat belts should also be restored or replaced, along with the steering wheel and horn button, wear pads, chains, sheaves, fork bars and forks, pins and bushings, mirrors, mufflers and exhaust pipes, bellows and knobs on controllers, tires, and fibreglass hoods.

The provider should also perform an oil analysis and cooling system flush and fill. Additionally, the machine should be blasted to remove old paint before recoating and re-assembling.

Finally, in a comprehensive reconditioning program, the provider tests the machine to the OEM's standards to ensure the equipment meets the same quality standards as when the unit was originally built.

3. Not every machine is a candidate for reconditioning.
A good reconditioning program involves two levels of inspections, which can help determine whether reconditioning makes financial sense. The first begins with a thorough inspection of the frame and all readily visible components. A second inspection after teardown completes the view to all needed repairs, including structural damage and other problems that are above and beyond what is considered routine for the reconditioning process and will increase the associated costs.

Reconditioning older machines can represent increased costs if replacement parts are limited or difficult to find. In this case, it may make more financial sense to dispose of the asset and consider replacing it with a new, used or reconditioned machine. Even a certified used piece of equipment might be newer than the old asset and could cost considerably less than a new piece of equipment.

Additionally, consideration should be given to the machine's potential usage. If a machine will not be used to the degree that makes it affordable to undergo reconditioning, a less expensive alternative should be pursued.

4. Carefully consider the provider as you shop for reconditioned equipment or a company that will provide reconditioning services.
Begin your search by asking for a detailed description of the scope of work the provider performs. What items in the four major systems are typically replaced, rebuilt or repaired? What systems or components are not replaced? Are machine parts rebuilt by an OEM or to OEM standards? Finally, what percentage of a machine is replaced?

It is also a good idea to visit the provider's facility. In addition to determining whether it is a brand-certified reconditioning centre, find out if the facility is dedicated to reconditioning. Ask whether work is performed in a single bay or in a production line that closely resembles lines in a manufacturing facility. Also, are staff fully trained in the reconditioning process? Just because technicians are certified for annual inspections does not mean they are equipped to perform tasks in the reconditioning process.

Finally, consider the experience of the provider - how long have they reconditioned equipment, how many machines have they reconditioned, and how frequently do they recondition equipment? It is also a good idea to ask for and check several references to be sure they will attest to the quality of the provider's work.

5. Make sure your expectations align with the reconditioning provider.
Be certain to clearly articulate your expectations and confirm the provider is able to meet them. For example, find out if the provider stands behind its work by offering a warranty.

In some cases, providers will allow their customers to customize the reconditioning process based on budgets. Keep in mind, however, that some providers require a machine go through the entire reconditioning process to qualify for a warranty.

Find out if the provider offers after-sales/reconditioning support. It is also good to understand the life expectancy of the reconditioned equipment. Is it advertised as "like new," and will it have the same life expectancy as a new piece of equipment?

Finally, know what you can expect in terms of time involved in the reconditioning process. The schedule varies from one provider to another. At JLG, for example, the machine is delivered to the reconditioning facility 7 to 10 days before the reconditioning process begins. At this point, the machine is inspected and a report is sent to the customer. The process itself takes 10 to 14 days, which means that a customer will be without an asset and its associated revenue for no more than 30 days.

6. Alternatives to reconditioning exist.
If it does not make financial sense to recondition a piece of equipment, alternatives to buying new do exist. Consider purchasing used "as is" or certified pre-owned equipment. The scope of work performed on certified pre-owned equipment may not be as extensive as the reconditioning process, but some OEMs offer 125-point boom inspections, 80-point telehandler inspections, two-year parts and labour warranties, and annual inspections.

If carefully researched, the decision to recondition equipment in a fleet or purchase reconditioned equipment can be one that yields important benefits. As a fleet owner you will experience significant savings compared to purchasing new equipment - while affordably growing your fleet and improving its reliability. You can also anticipate reduced maintenance costs and increased longevity from older machines and have an updated, attractive fleet that will appeal to your customers.
Related Articles
As one of the latest models in the R2-Series excavator lineup, the Bobcat® E88 delivers durability, performance and quality for more productivity. Technically speaking, it's a compact machine, but it brings big performance with its redesigned engine and optimized lift performance, plus undercarriage and counterweight improvements. All these enhancements make this excavator one of the highest-performing models in its size class. With impressive over-the-side lift capacity, you can dig with greater confidence over the side of the machine. Put it to the test against similar models from other manufacturers. You'll see that the E88 can outwork the competition.