Wacker Neuson: 5O years and growing in Canada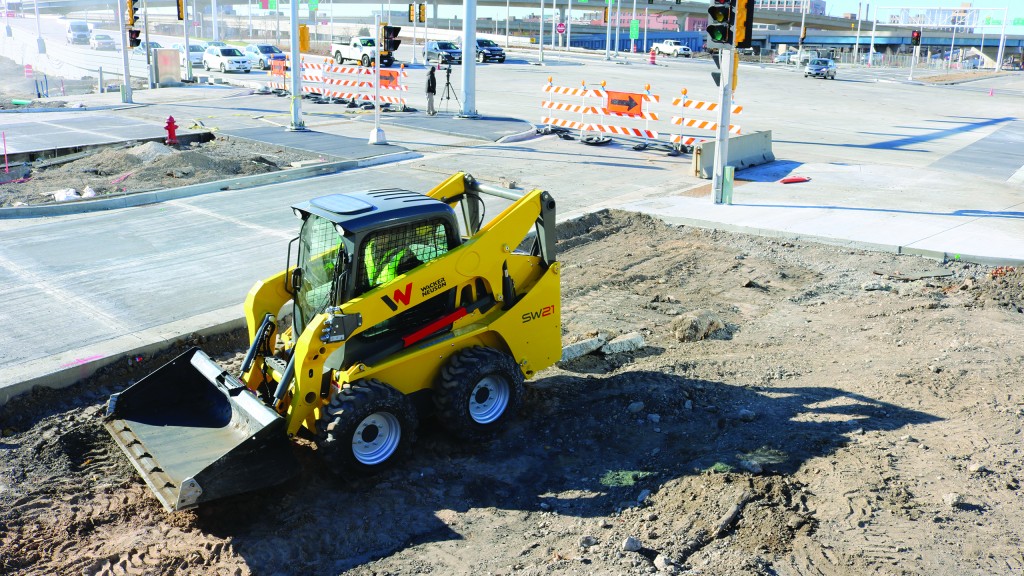 Fifty years ago, Wacker Construction Equipment opened their first Canadian affiliate in Mississauga, Ontario, and introduced their portfolio of soil compaction and concrete consolidation products, including soil rammers, vibratory plate compactors, reversing plate compactors, concrete vibrators, concrete breakers and walk-behind rollers into the Canadian market. Some of these products, in particular the reversing plate compactor that has since largely replaced the use of traditional walk-behind rollers in this country, were virtually unknown in Canada prior to Wacker's arrival.
Shipping offices were established in Calgary in 1978 and in Montreal in 1982, ensuring that Wacker could efficiently supply three key Canadian markets: Ontario, Quebec and Western Canada. Atlantic provinces were supplied primarily by the Montreal office in conjunction with Mississauga; the Montreal office was closed in 2001 and Mississauga now serves all of Eastern Canada.

Wacker Construction Equipment's initial focus upon moving into Canada was on distributing soil compaction and concrete consolidation equipment through the Canadian rental industry and distribution for retail sales. Following upon the success of their compaction and concrete equipment, Wacker Construction Equipment added dewatering and trash pumps, along with portable gasoline generators, to their portfolio before adding larger diesel generators - primarily targeting the oil and gas industry, as well as construction - to their product offerings in the early 2000s.

Since 1967, the company has gone through mergers and branched into multiple product categories, introducing several key innovations for compact equipment in soil compaction, mobile power generation and earthmoving. Wacker purchased Ground Heaters' product portfolio in 2006. In 2007, Germany-based Wacker merged with Austria-based Neuson Kramer, consolidating as Wacker Neuson, which went public in 2008.

Green technology
Troy Murphy, Managing Director of Wacker Canada, said that innovation can only happen when a company knows its customers, and Wacker Neuson is proud of its flexibility to respond to local markets and customer needs. From a product development standpoint, Murphy said that investment in personnel and systems to put people into the field who are not sales related is essential to developing new products for the market.

"We're trying to understand what drives their business, what the hurdles are of existing machinery, and then develop product accordingly. We've always been open to the idea that end users often come up with the best ideas for product development."

For example, Wacker Neuson invented the rammer and has continued its legacy of compaction innovation with the introduction of the battery-powered AS50e, the first emissions-free rammer. The AS50e is quieter than engine-driven rammers, and weighs 154.5 pounds with a percussion rate of 680 blows per minute. The battery is separate from the rammer and easy to replace without additional tools.

According to Murphy, dealers are excited by green technology and the lack of emissions, especially for their customers with stringent jobsite restrictions. The biggest uptake of the AS50e has been for indoor work and locations where producing reduced or no emissions is essential, such as hospitals, schools, small or confined spaces, and basements.

At CONEXPO-CON/AGG 2017, Wacker Neuson highlighted their emissions-free earthmoving equipment, including the 803 Dual Power, a one-ton, emissions-free mini excavator. This mini excavator will run off a diesel engine, or can be connected to an electro-hydraulic pump for emissions-free operation. Also on the show floor was the concept electric wheel loader, offering a preview of a versatile piece of equipment for the emissions-free jobsite of the future.

Murphy said that in the last year, for the first time, he has seen dealers ask specifically for these types of innovative, environmentally friendly products. One of the draws of green technology is bringing down total cost of ownership for the end user.

"Almost every dealer ... in Canada is interested in looking at least one [AS50e battery-powered rammer]," Murphy said. "They see this as an emerging technology that can probably command a premium in the market because of the greenness of it and the lack of emissions."

It's to that end that Wacker is continuing to evolve more staple equipment to meet these new demands.

Skid-steer and compact track loaders
While pushing the boundaries of technology, the company has also been branching out into new product categories in recent years. The introduction of skid-steer and compact track loaders has been a significant move for Wacker Neuson in North America. Murphy said that the initial uptake has been very good, particularly in the rental sector. The company took a cautious approach to the initial rollout, producing limited numbers of the machines to start.

At CONEXPO 2017, Wacker Neuson introduced a new line of medium-frame skid-steer and compact track loaders in radial and vertical lift configurations. The rated operating capacity of these loaders ranges from 1,600 to 3,100 pounds. Wacker has received positive feedback from the field, particularly regarding the cab and the easy access for service and maintenance. The company said that when operators jump in the cab, they appreciate how much space there is for entry and exit.

Telematics becoming more affordable for smaller equipment
As of mid-2017, Wacker Neuson is rolling out proprietary telematics for compact equipment. While such systems have mostly been used on large equipment, Murphy is seeing uptake among both larger end user customers and in the rental market, and the technology has been migrating toward smaller equipment. There are two key advantages to having telematics on smaller equipment. The first is the ability to track the location of the asset - a benefit for theft protection. The second is for tracking key performance indicators, such as oil life interval, hours run and average fuel consumption.

"Customers are starting to track those things so they can more efficiently maintain their fleet, and deploy service personnel before the machine goes down," Murphy said. The driver for adoption of telematics on compact equipment is the cost. As the cost comes down and the sophistication goes up, telematics becomes more appealing - even on less expensive capital items.

However, widespread adoption of telematics in Canada has been a challenge, Murphy noted. While Wacker Neuson launched their telematics system in the U.S. four years ago, the lack of industry standards remained a barrier to adoption as different manufacturers have their own proprietary software, which posed a challenge for tracking mixed fleets. The adoption of new ISO standards in 2016 has since allowed for easier mixed-fleet tracking.

Murphy credits some of Wacker Neuson's greatest successes over the last ten years to the construction industry's recent acceleration in willingness to adopt new technologies.

The construction equipment industry has changed significantly since Wacker first established its Mississauga affiliate in 1967. In the decades since their first line of compaction equipment was introduced into Canada, construction equipment has evolved to do more than just get the job done well. Beyond expecting quality results, today's customers look for more features, whether it be an environmentally friendly technology, or the ability to maximize efficiency and return on investment by collecting and analyzing data.
"We're striving to continue to evolve old, existing products - like rammers, which are a 150-year-old technology - and to the extent that we're successful at that, we're gaining share," Murphy said.

"We've always prided ourselves, even as we've grown into a larger company, at being flexible and responsive to the needs of local markets."
Company info
Related products
Related Articles
As one of the latest models in the R2-Series excavator lineup, the Bobcat® E88 delivers durability, performance and quality for more productivity. Technically speaking, it's a compact machine, but it brings big performance with its redesigned engine and optimized lift performance, plus undercarriage and counterweight improvements. All these enhancements make this excavator one of the highest-performing models in its size class. With impressive over-the-side lift capacity, you can dig with greater confidence over the side of the machine. Put it to the test against similar models from other manufacturers. You'll see that the E88 can outwork the competition.