Terrafirma - on solid ground after 50 years in the business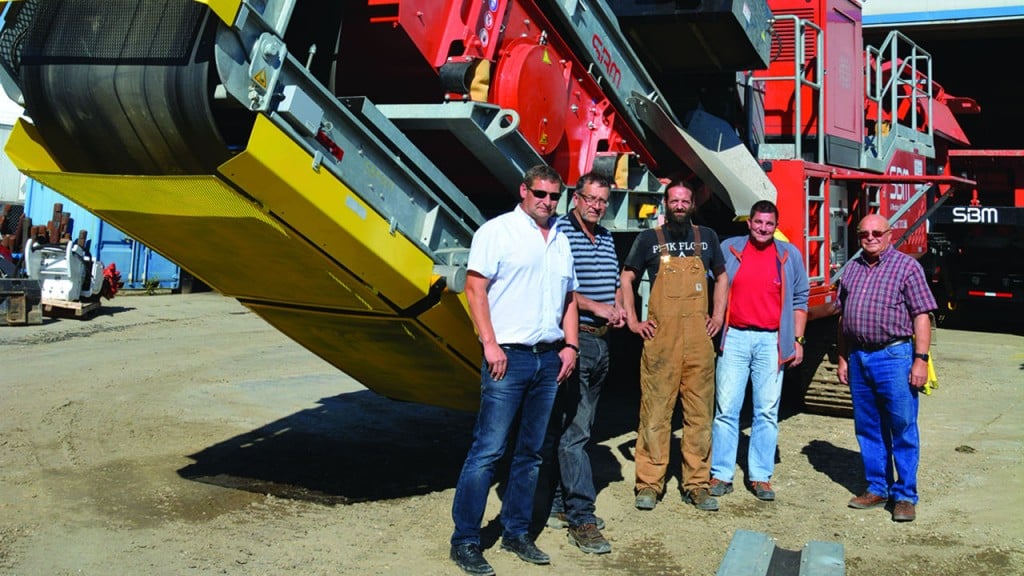 Terrafirma Equipment Sales & Rentals was started by Erich Janke and Sid Mason in 1967, originally incorporated as Terrafirma Enterprises.
"The first wheel loader we bought was a Case W24, an insurance job from a forestry company in Golden, B.C.," said Janke. "We rebuilt it, rented it and then sold it. We bought some more wheel loaders, fixed them up, sold them, bought some more equipment and started renting it. Things just started to grow from there."

Terrafirma, now headquartered in Edmonton, carries equipment from over a dozen major equipment manufacturers in their rental fleet, including Case, Cat and Link-Belt, and is a dealer for Rotar North America, RK Magnetics, Atlas Copco and Allied Construction Products. They are also a dealer for Austrian-made SBM MFL crushing plants, both mobile and stationary units, concrete mixing plants and concrete recycling plants, as well as Lintec asphalt mixing plants.

Janke said he's seen a great deal of change in 50 years. For example, today Terrafirma buys new equipment, rents it and sells it. In the beginning, the equipment they bought for rental and sale was used and then rebuilt.

"Manufacturers now understand how lucrative the rental business can be, and they are 'keyed' into supplying companies like ourselves with new equipment for rental," Janke said.

He added that their success over 50 years is rooted in many things. One philosophy that has been central to a profitable and rewarding half-century in the heavy-duty equipment rental and sales business, he put simply: "We always like to pick the best." Terrafirma decided about 30 years ago to focus on carrying only the "latest and greatest" equipment and technology - whether it be attachments, excavators, crushing plants or other equipment.

"The way I look at it is, you have two different types of contractors. You've got the ones that are looking for a 10-year-old machine and want the best price. The other kind is the contractor that wants the leading edge of technology. They know where to come for equipment, and we don't have to sell them on anything. The movers and the shakers out there, the engineers, the top contractors, they have everything researched when they come to us."

Technology, safety and the environment
Over 50 years, Janke has seen many significant changes in the technology behind the machines they carry, as well as advances in safety features on all equipment and much improved environmental friendliness of engines and drives. He points to their line of mobile and stationary crushing plants, manufactured by SBM-MFL out of Austria - a relatively new technology specialization for Terrafirma.

"All our crushers from SBM MFL are 100 percent diesel-electric," said Janke. "Fuel efficiency is a big thing. The industry is changing. By the end of 2017 all construction equipment must be equipped with Tier 4 diesel engines. You can't import a crushing machine that's not Tier 4."

Safety has changed as well. Janke said all excavator cabs now include FOPS and ROPS. "In the old days, you had to build a third-post ROPS around an excavator. Today, that's all built into the cabs."

He added that new machines also have two- or three-inch seatbelts and better lighting, steps, handrails and guarding located in the right spots, as well as railings around the top to prevent falls, and side-view and rear-view cameras.

Janke noted also that the technology behind efficiency on the latest mobile and stationary crushing plants has advanced greatly.

"On the latest diesel-electric Tier 4 crushing plants from SBM MFL, the computer regulates how fast the feeder is going to feed the crusher based on the load of the crushing chamber electric motor. That, in turn, electronically speeds up or slows down the discharge belts. So these crushers are working to maximum efficiency, 100 percent of the time."

Terrafirma, SBM and the contractor also now have the ability to monitor equipment electronically.

"We can look in to see if all the systems are operating at peak efficiency," he said. "If there is a problem, the factory in Austria can troubleshoot directly, and they can help with what we have to do in order to get the machine going again."

Good quality, good luck and good people
One thing that manufacturers respect about Terrafirma, according to Janke, is that they are a company that is not looking primarily at price, but more so at quality.

"If you buy something that's good, the customers who know what's good are going to come to you," said Janke. "The secret is, if you've got a good product, it sells itself. Discriminating buyers buy for quality, not price."

He said it's also important for Terrafirma to service what they sell. "Our equipment availability is kept at a maximum because of the parts we keep in inventory, and our attitude towards parts turnover: less focus on inventory turns, and more on stocking what may be needed by our customers."

He added that there are two other elements that come into the picture.

"Good luck and good people," he said. "In successful business, there's good luck involved. And I think we've had lots of good luck. We have also been fortunate to have really good people work for us - people who do their job well, take pride in what they do and make our customers feel valued.

"When our customers think about efficiency of the equipment they buy, availability and safety, that's what makes them successful. And I think that reflects why we are successful." HEG
Related Articles
As one of the latest models in the R2-Series excavator lineup, the Bobcat® E88 delivers durability, performance and quality for more productivity. Technically speaking, it's a compact machine, but it brings big performance with its redesigned engine and optimized lift performance, plus undercarriage and counterweight improvements. All these enhancements make this excavator one of the highest-performing models in its size class. With impressive over-the-side lift capacity, you can dig with greater confidence over the side of the machine. Put it to the test against similar models from other manufacturers. You'll see that the E88 can outwork the competition.