SANY America names Équipements FDS Inc. crane and port equipment dealer for Quebec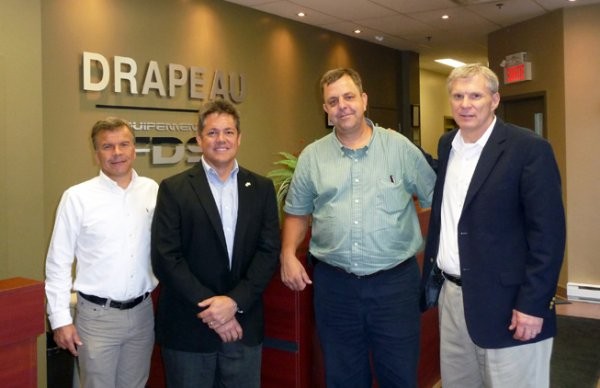 Équipements FDS Inc. of Terrebonne, Quebec, will be the SANY America dealer for crawler cranes, rough-terrain cranes, reach stackers and empty-container handlers in Quebec.
"FDS will be a strong dealer for us, our second in Canada," said Kyle Nape, vice president of global sales & marketing for SANY America. "They have decades of equipment experience and provide outstanding customer service. That's a great fit for SANY, which continues its move to provide first-class hoisting and cargo-handling solutions across North America."
Équipements FDS Inc. was founded in 2005 on the north shore of Montreal, providing sales and service of articulated and telescoping material-handling cranes – equipment used for unloading of construction materials and placement of materials at heights up to 110 feet (33.5 m). Équipements FDS also sells and services concrete mixer trucks and telescoping lift trucks. It is a subsidiary of F. Drapeau Inc., a Quebec dealer with more than 30 years of experience.
"Équipements FDS has created value for customers throughout the years with high quality, parts and service support," said Sylvain Drapeau, FDS vice president. "We are pleased to contribute to the development of SANY in the Quebec market."
SANY America's crane lineup includes six models of crawler cranes with lift capacities from 110 to 550 U.S. tons (100-500 tonnes), and four models of rough-terrain cranes with lift capacities from 40 to 85 U.S. tons (36-77 tonnes). SANY America's port reach stacker has maximum lift of nearly 50 U.S. tons (45 tonnes) and maximum hoisting height of 49 feet 7 inches (15.1 m). SANY empty-container handlers have maximum lift of nearly 10 U.S. tons (9 tonnes) and maximum hoisting height of 70 feet 2 inches (21.4 m).
Équipements FDS is the second SANY America crane dealer in Canada, and the second Canadian dealer for SANY port equipment. SANY America now has market coverage in Ontario, Quebec and the Atlantic and Maritime provinces of Canada.