Dynamic Systems launches new site with software applications for contractors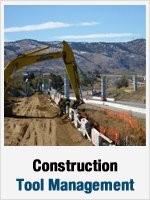 Dynamic Systems is pleased to announce the launch of its redesigned web site www.a-barcode.com. The site lists an expanded software, solutions, equipment, labels and services area. Applications include: ID Badge Systems, Tool Management, Time and Attendance, and Inventory Management.
The ID Badge area discusses how much theft occurs from job sites that are not monitored by using employee badges. Unauthorized people enter job sites during the day and walk off with equipment and tools as though they employees.
Equipment Tracking Software discusses Herzog Construction and their solution to managing their tools. Herzog had problems with missing tools and now barcode items as small as screwdrivers.
Time & Attendance Software points out the problem of keeping track of employee's hours accurately and the incidence of employee turnover. Accounting Now has accurate employee payroll data.
Inventory Management is one of the critical components that can affect a contractor's bottom line. Stockroom can track materials leaving the warehouse to assure that they are used on the job and any items left over are returned.
"These software solutions share a common database that is integrated so contractors can start with one and as their needs change add additional programs," stated Bill Allen, Process Control Specialist.
"We are extremely pleased with the development and upgrade of a-barcode.com and feel that the new site navigation and expanded searches for solutions and applications will show visitors the many uses and depth of The Checkmate Barcode Software," stated Alison Falco, President of Dynamic Systems