Total Connectivity on the Job Site
EBC Inc. see's huge advantages in using VisionLink to manage 250 machines from different manufacturers on 30 or more jobsites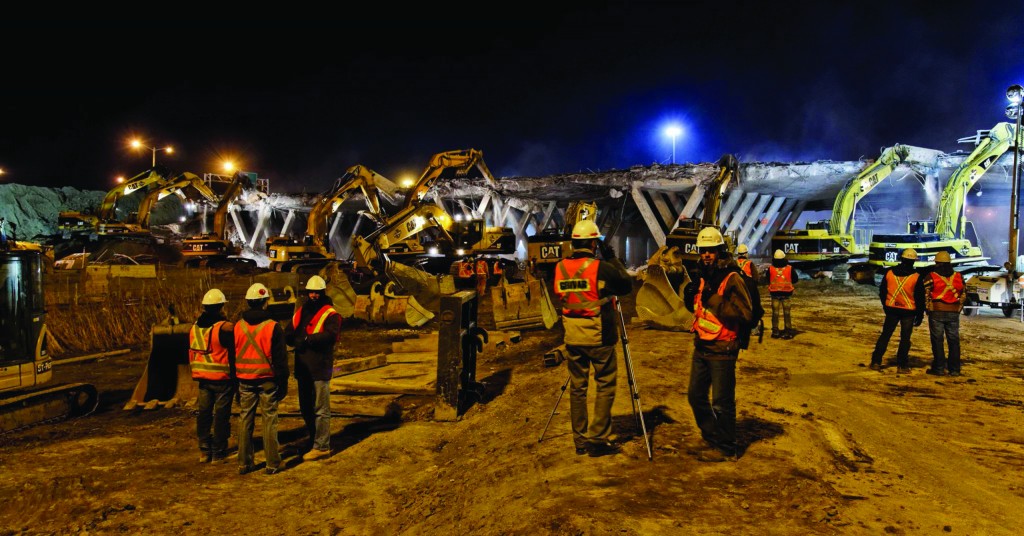 It's not easy to manage a fleet of heavy and support equipment that stretches across many large jobsites across Canada. With hundreds of pieces of equipment and employees involved, tracking where units are, what servicing is needed, and so many more variables can be a monumental challenge.
For Quebec City-based EBC Inc., one of Canada's largest construction firms, a close partnership with their local Caterpillar dealer helped shape a strong solution that takes advantage of the latest technology to provide productivity and efficiency improvements across the board.

EBC and Hewitt Equipment Limited have taken advantage of advances in connectivity and communications, as well as the Cat Connect suite of products, to shape the way that EBC does business, whether it's in the company's earthmoving, mining or building businesses.

When it comes to size and location of work, EBC covers it all - the company has approximately 1,500 employees within Quebec and across Canada, and handles work in many sectors, large and small. Its crews do everything from bridge building to dams to mine site work, and they need a vast array of equipment to do that job.

Keeping track of where all that equipment is located could be a full-time job. When EBC started looking at technology to do that job, those challenges came to the forefront.

"At the beginning, when we were trying to locate all our equipment, it was hard... because we had such a vast territory to work in," explained Guy Bernard, EBC senior maintenance planner. "When we started using technology, we started with what was actually installed by the different manufacturers. We saw that there was a big gain for the company, making use of that information and those platforms."

Moving towards expanding the use of telematics and technology is often a difficult sell, Bernard noted, and for EBC in its early days that was no different.

"A lot of the time, people will look at technology and feel afraid because it ... seems hard to learn. But, when you come into it, it's easy - you realize that there is a friendly, user-friendly platform," he said. "One big part is selling that internally; you need to have ambassadors."

Construction contractors like EBC have taken advantage of such tools as grade control on their machines for some time. Bernard said that was a challenge for adoption as well, until the users got a first-hand look at how the systems benefited them on the ground.

"When you start using grade control, you can see the result but the foreman doesn't see that. He's not in the shovel or the grader," Bernard noted. "With technology, you don't see it at first, you see the model, you see the cost implementations, and you have the different tasks but you may not see the benefits right away."

In the case of EBC, when technological advancements were introduced it came from the top; the company's leadership was enthusiastic about taking advantage of new opportunities and potential savings from machine control and telematics solutions. But it takes a team to implement those kinds of tools effectively.

EBC was looking for ways to track the use of its equipment at the many jobsites it handles. It can, at any one time, be working on 30 or more sites across six time zones across Canada, and needed a system that could handle that kind of coverage. The company tried several different solutions, but eventually took advantage of a strong relationship with Cat dealer Hewitt Equipment, a leader in telematics development in Canada.

VisionLink works across multiple brands of equipment
EBC was introduced to VisionLink, an easy-to-use interface for Cat's Product Link telematics solution. It is a fleet management tool that can handle a wide range of important tasks that allow owners to keep track of their equipment and its condition, even across a vast area. It's also capable of working across multiple equipment manufacturers, which - when a fleet includes more than 300 machines - is very important.

VisionLink's developer, VirtualSite Solutions, is a joint venture between Caterpillar and Trimble. It offers several applications that provide operators various views of their fleet information.

For EBC, a large part of the telematics need is focused on geofencing, or keeping an eye on where a machine is supposed to be at any one time and ensuring it's in the right spot.

"Each time we have a new project, we use the tool to be sure that we have the correct location, and we can track the equipment if it goes in and out of that site," Bernard said. "VisionLink is really easy to use and easy to get reports from. Plus, having the ability to use it on all manufacturers' equipment makes a big difference."

As the dealer partner, Hewitt Equipment Limited has helped to ensure VisionLink is usable across the EBC fleet. They are able to use advanced programming interfaces, or APIs, to ensure the platform is the same, no matter the make of the equipment in question.

"When a request comes in from EBC saying 'Hey, I want one platform,' it goes to Hewitt to make it all work in the background... for EBC to have a seamless experience," said Jean-Pierre Joncas, Hewitt Account Manager. "They don't have to deal with the API and the technical jargon that goes on in the background."

On the jobsite, VisionLink makes it easy to collect a variety of data for each machine that allows both EBC's head office and Hewitt to analyze the health of the fleet remotely. Basic data such as number of hours worked, location, fuel consumption and utilization are collected and tracked from afar, making it easier for the staff on each jobsite to do their job - without worrying about gathering information from the machines they are working with.

"One of the greatest advantages is... before using this technology we were relying on the site to send the hour updates and fuel use, and now all that comes to the office on a daily basis," said Philippe Naud, Road Mechanic Foreman for EBC. "We can then push that to the next step and send back reports to the site to tell them how efficient they are in utilizing the machines and fuel. Now, the site can focus on what they do the best and operate the machines, and they can focus on properly maintaining all the equipment to make sure they get the best out of it."

Hewitt has proven to be a good partner for EBC, in large part thanks to the company's dedication to telematics and monitoring - a dedication that has been in place for a decade or more.

"Our Chairman and Chief Executive Officer, Jim Hewitt, had the vision ten years ago that he needed to focus on technology and make sure that we were ready for that boom that would come in the next few years," said Pierre-Olivier Lamy, Manager, Technology-Enabled Solutions. "He invested a lot of money - we built a state-of-the-art control room, brought some people in... he invested before there was a lot of demand, and made sure everyone was ready for that new era."

That foresight and investment adds numerous benefits to the relationship, including the ability to monitor machine condition through VisionLink reports and make use of predictive analysis to ensure those machines are always ready to roll when needed.

"All of EBC's machines are on condition-monitoring contracts; with our team here, we follow the health of the equipment... They have all the right information at the right moment, they don't have to look at all of the data," said Lamy.

Through predictive analysis, Hewitt can advise EBC on when there are potential issues or necessary service jobs to be done on their machines. That allows the company to schedule service for hours when that machine isn't scheduled to be on the job earning revenue.

250 machines connected - from excavators to light towers
All of those benefits have led to some 250 machines being connected in EBC's fleet - from excavators to light towers. Moving forward, Hewitt and EBC are looking at other ways to leverage telematics and machine monitoring, with hopes of bringing even more benefits both in efficiency and areas such as safety.

For example, VisionLink has the ability to incorporate safety alerts that, according to Lamy, can benefit operators and other site workers alike.

"For example, there are seatbelt alerts - if the operator is operating without a seatbelt, VisionLink has the ability to send an alert that gives the supervisor a notice that there is an un safe behaviour," he said. "Then there's Grade Control - usually you'd have someone in the trench saying 'cut lower' or 'cut higher.' With Grade Control, it's all done in the cab and you can take that guy out of harm's way."

Movement in machine control is towards bringing productivity, connectivity and the 3-D modelling together, ensuring the best of all worlds can be experienced by customers like EBC.

"My dream is that the field foreman can be in his office, looking at the actual productivity of the machines by looking at his screen," said Naud.
Related Articles
As one of the latest models in the R2-Series excavator lineup, the Bobcat® E88 delivers durability, performance and quality for more productivity. Technically speaking, it's a compact machine, but it brings big performance with its redesigned engine and optimized lift performance, plus undercarriage and counterweight improvements. All these enhancements make this excavator one of the highest-performing models in its size class. With impressive over-the-side lift capacity, you can dig with greater confidence over the side of the machine. Put it to the test against similar models from other manufacturers. You'll see that the E88 can outwork the competition.