Contractor relies on powerful Case CX350D excavator for work on "The Rock"
Cadillac Heavy Equipment Services in Newfoundland finds their new CASE CX350D ideal for breaking through rugged shale, while offering a deft touch for precision and fine grading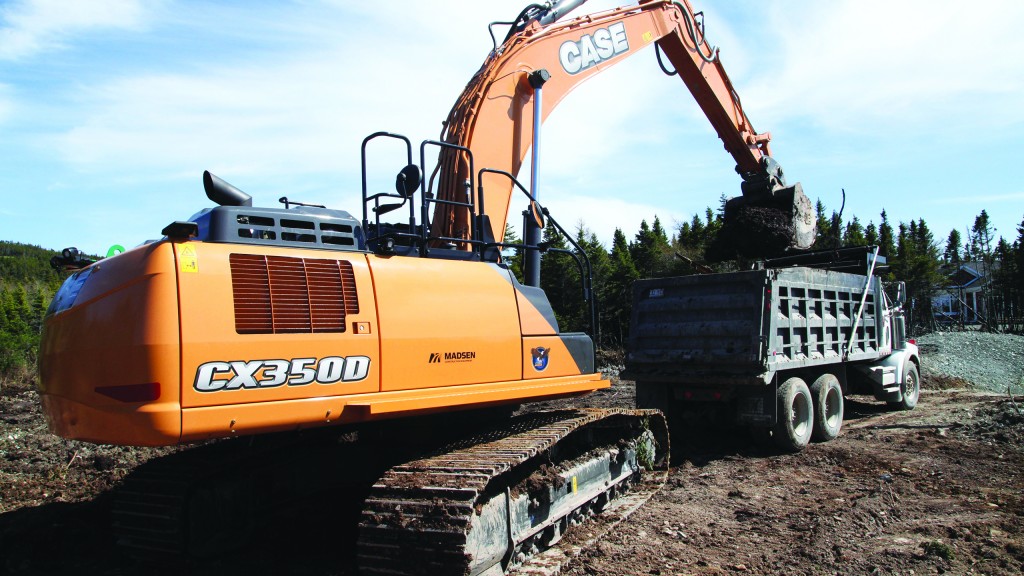 Living on an island province nicknamed "The Rock" doesn't conjure up images of easy digging. It also drives heavy earthmoving contractors in Newfoundland to consider larger equipment to tackle work that may be accomplished by smaller machines in simpler environments.
"As soon as you get on the other side of the OM (organic matter), you're going to find rock or cliff in some areas," says Andrew Duffett, owner, Cadillac Heavy Equipment Services, based in Mount Pearl, Newfoundland. "Where someone might be using a 200-size machine in Alberta or somewhere in the prairies, we need a 350 just to be able to get down through the rock," he adds, referring to the Case CX210D at 48,973 pounds and 160 hp, compared to the CX350D at 82,483 pounds and 268 hp.

Benefits of fleet update program
The company takes a proactive approach to equipment purchases and life cycle management due to their relatively short operating season, the harsh conditions (both geological and meteorological), and regular advances in equipment technology that help them chip away at the bottom line.

Duffet says they have tried to put themselves on a program to update their fleet every three or four years and put operators in newer machines. "It keeps the maintenance low, keeps morale high, and the newer machinery is just getting faster and better every year."

While their last excavator is only three or four years old, their newest one is "still leaps and bounds over that," Duffet says. "If we can get more production, it's worthwhile to always update the fleet."

The company updated their flagship excavator this year to a Case CX350D, supplied by their dealer, Madsen Construction Equipment. The CX350D provides Cadillac with what they are looking for in a new excavator: the latest technology that leverages hydraulic power and performance with new levels of speed, responsiveness and fuel efficiency.

Excavator fits the job
The excavator was put to work recently on a project just outside of St. John's, the provincial capital, where the company was charged with expanding a subdivision for further development by clearing land and excavating for a new section of road to replace the existing cul-de-sac.

Operator Dion Reid describes how the new excavator fits the job. "The topsoil is pretty boggy and pretty wet, but underneath this here you get into shale rock - very compact, hard soils. The machine has no problem digging through it. We have had other machines in the past that just didn't have the power to get through it. Pretty much the same weight class as this one, but with new technology, this one has no problem."

Reid is a skilled operator who worked on megaprojects throughout Canada before coming home to Newfoundland. Despite the challenging conditions of the soil underfoot, Reid is able to achieve much of the site's work in a single machine. The excavator features smooth and responsive controls that allow him to be very precise in his movements - so much so that he often doesn't need another machine to come in to do the fine work.
"We're just grubbing it off for now," Reid says. "Then we're going to get down to the good ground and sub-grade it to get ready for road gravels. We'll excavate our ditches and we're done. This [excavator] will do all the work - right down to spreading the class B to maybe even spreading the class A. It's a very nice machine when it comes down to fine grading. I like the fine controls, especially since we do a lot of water and sewer jobs - placing pipes and manholes. If you've got an inch [of tolerance], she can do that. It's amazing."

The combination of speed and precision is made possible in large part by the Case Intelligent Hydraulic System (CIHS) consisting of four integrated control systems that work together to make the best use of the machine's hydraulic power and momentum. It actively manages hydraulic power throughout lift/dump and dig/curl movements to maximize speed and efficiency. It also reduces fuel consumption by minimizing unnecessary flow.

"The boom and the bucket really work well together," says Reid. "Everything is in sync, whether it comes to moving the bucket, the stick, or the swing. Everything is just smooth and fast."

Duffett also noticed the added speed of the machine, made possible by a new electronically controlled pump, larger control valve and multiple new sensors.
"It's a lot faster than the last machine we had," Duffett says.

"It's all about the bottom line," he emphasizes. "We're all doing this to try and find those extra couple percent on the bottom line. Speed, no matter how you cut it, and precision [improves] that bottom line.

"As we're talking about new machinery, and we're talking about breakdowns, that's why we rejuvenate the fleet. The less breakdowns you have, the better service you have, that all [improves] the bottom line. Newer, faster machines, more precise machines, that's what it's all about."

And if something does happen, the company knows that it has a dealer ready to stand behind the machine with Steve Tucker and the team at Madsen Construction Equipment.
The factory warranty and the planned maintenance contract allow Cadillac to own and operate the excavator knowing that the carrying costs for it over its first three years of service life will be fixed (as it relates to parts and service).

"Case has been great to us," says Duffett. "That's all we buy." He runs about 15 to 20 units of Case equipment at all times. "It's because of that service. The equipment is good, [but] a piece of equipment is only as good as the service that you got coming behind it."
Company info
Related products