Only ambitious carbon reduction goals will effect change, say experts at Construction Climate Challenge conference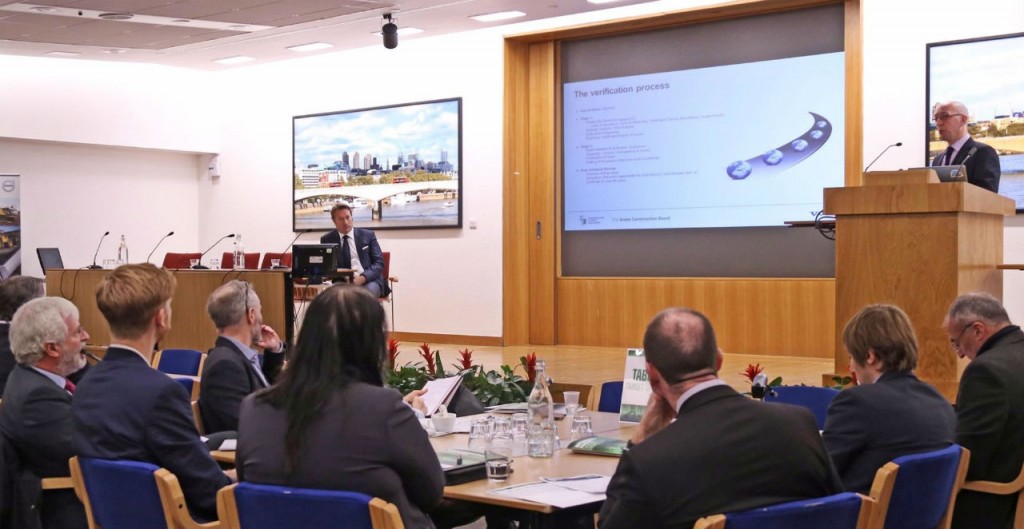 Industry heavyweights warned guests at a London Construction Climate Challenge conference this week, hosted by Volvo Construction Equipment, that only big targets will trigger the innovation needed to make a meaningful difference in cutting carbon in infrastructure and construction projects.

An audience of contractors, clients, academics and sustainability professionals were told how setting brave targets and involving the entire supply chain is necessary to deliver the innovative processes, tools and behavioral changes needed to substantially reduce embedded and operational carbon in infrastructure projects. The event, held at the UK Government's 1VS Conference Center in London's Westminster, was a one-day summit to promote the UK's new PAS (Publicly Available Specification) 2080 standard - the world's first framework for reducing whole life carbon in infrastructure. Commissioned by the government's Construction Leadership Council and the Green Construction Board, it offers guidance and consistency on how to employ material, energy and labor efficiencies to reduce both capital and operational carbon and costs.
BUILD NOTHING, BUILD LESS, BUILD CLEVER, BUILD EFFICIENTLY
Keynote speaker Chris Newsome, Director of Asset Management at Anglian Water and chairman of the Green Construction Board Infrastructure Working Group, was one of the first to lead his company through the implementation of PAS2080. He told the audience: "We started with a demand on ourselves and our suppliers to reduce carbon. We had a belief that 80% of our schemes, or more, would be low carbon and low cost. We made a commitment as a collective and there is no U-turn on this one."
One of Anglian Water's actions was to use recyclable plastic as an alternative to reinforced concrete, a material that used to contribute 80% of their embodied carbon. In one project they worked on reversing the water flow in existing pipelines, instead of building new pipelines, which cut out 16,000 tonnes of carbon and saved £32 million.
It is hoped that the cost-saving impetus behind PAS2080 will act as a blueprint for implementing the standard on a more global level. Terri Wills, CEO of World Green Building Council, says: "Standards like these are so important right now as they set a definition and trajectory for us to work towards. Spurring leaders to adopt PAS2080 will filter down through the rest of the industry and the supply chain and force a positive collaboration. Forty percent of our global greenhouse gases are from the construction and building sectors so our focus needs to be on decarbonizing our sites by 2050."
She adds that in places like China, where the equivalent of Rome is built every three weeks, it's more important than ever that cities, developers, and suppliers all work together with a common goal.
BIG PROJECTS HAVE TO SHOW LEADERSHIP
The UK scheme has inspired high profile infrastructure projects to unlock innovation and drive forward a real culture shift in a bid to reduce carbon. The experts behind the building of HS2, the new high-speed rail network linking Britain's major cities which is currently Europe's largest infrastructure project, say they have an obligation to reduce their carbon impact and are insisting that all their Tier 1 contractors are PAS2080 accredited within 12 months of contract award. Mark Fenton, Climate Change Specialist for the project says: "A lot of carbon is stuck in small projects like house extensions but it is the bigger projects that have to lead and influence the rest of the industry."
The Volvo Group is also paving the way for a lower carbon future. Fully electric buses, with zero tailpipe emissions, are now operating in a number of European cities including Hamburg, Luxembourg and Gothenburg and were showcased alongside other innovations, such as the world's first all-electric compact excavator prototype, at The Volvo Group Innovation Summit held in London and Brussels earlier this year and in Beijing this week. Adrian Felton, City Mobility Manager for Volvo Bus, told the conference: "When we start to link infrastructure to efficient vehicles we can implement real environmental change."
Company info