BIM's reach into extending into civil construction
Building Information Modelling is not only for building construction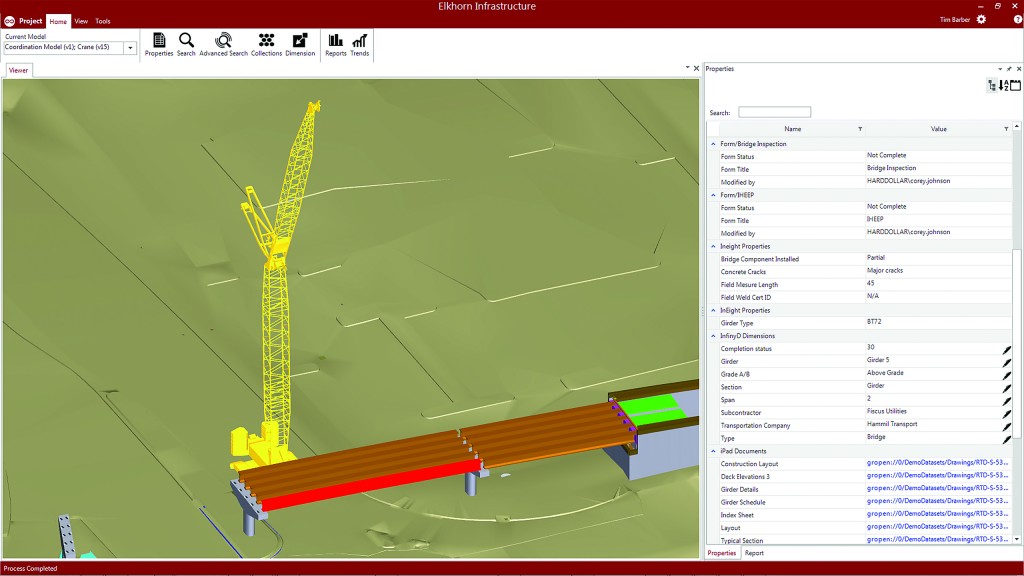 On today's construction sites, the use of technology is constantly spreading. There are any number of different systems that come into play during the design and build process, from 3-D drawing programs to machine control.

The interconnecting nature of these various tools can be intimidating for contractors who may not be as familiar with computers and software as they are with construction, but their development has been integral in creating faster, easier and more profitable approaches to construction.

As the use of that technology continues to become more integrated in the industry, an overarching approach has developed - the concept of Building Information Modelling, or BIM. Sometimes also known as Business Information Management, BIM is more than a computer program - it is an overall way to approach the use of various technology tools to make life easier and improve the bottom line for construction contractors of all sizes.

While BIM has been around for some time now, it is still often misunderstood, and the ways in which it can be used to the benefit of contractors can still be a bit of a mystery. According to experts in the field, it is not as challenging as it might first appear.

Defining BIM
Putting a definition to the concept of BIM isn't exactly easy, according to Andy Kayhanfar, vice president of product management with software developer InEight.

"BIM is honestly a challenge to define because its definition and its success is really in the eye of the beholder," Kayhanfar said. "It has been exploding into new areas - there has been evolution into the infrastructure space, specifically around bridge information modelling, civil information, project information modelling and asset information modelling."

The concept of BIM originated in the 1970s, but it wasn't until the 1990s that it began to pick up steam as a construction management approach. When CAD programs began to build in popularity and encouraged the use of 3-D modelling of buildings among architects and design companies, the need to convey those designs to builders began to drive development of new methods for communication and collaboration.

"Back in the early 1990s we saw the onset of BIM and what can now be defined as four levels of BIM," Kayhanfar said. "The 1990s was the introduction of computer-aided drafting, and really that was a meaningful approach to production of engineering drawings and became the first step in BIM."

Around 2000, partial collaboration began to appear and 3-D shapes started to take a larger role alongside 2-D linework. Today, we have reached level two BIM - full collaboration all through the workflow, Kayhanfar said. Level three will add full integration - interoperability, integration and information, Kayhanfar continued. Level four is commonly considered to include a wider range of stakeholders, while also looping in such considerations as overall wellbeing and social aspects of projects - what's commonly known as Open BIM.

"There are some popular BIM workflows out there like clash detection, which resolves conflicts in the office rather than out in the field where it's going to cost you money, or 4-D - the integration of a model and a schedule, which gained popularity as a great way to communicate the schedule," he explained. "Not every project will use every workflow, but... they're using the workflows that are very meaningful to them."

Communication improvements
On many jobs, there is a disconnect that takes place between the design step and the actual on-the-ground work done by contractors. Designers produce the drawings and pass them along, and it's up to the contractors to move forward from there. There is little back-and-forth that can be engaged in at that point. That's where BIM can be helpful, Kayhanfar said.

"The value of effective communication on your project and with your stakeholders mitigates a substantial amount of risk for you," he said.

Kayhanfar, who worked for seven years with one of North America's largest contractors, said that lack of communication can cause serious problems on the jobsite.

"I participated in several quality incident reviews... if you look back at root cause analysis of quality incidents on construction jobs, you're going to find probably 90 percent of them have a gap in communication somewhere," he described. "That's what BIM can deliver to a project - that communication piece."

A more efficient communications approach to the entire workflow on a job is attractive to contractors, owners and operators alike, Kayhanfar noted.

Integrating technology
BIM, like estimating or other aspects of the contracting industry, is at its heart a business practice that can be done more easily thanks to technology.

"Estimating is enabled by technology platforms, and the same relationship occurs in the BIM space. BIM is a construction business process that is enabled by technology - it is not the technology itself," Kayhanfar said.

Many contractors are already using parts of the BIM space, though they may not be aware of that connection. Machine control is a very practical use of BIM in the construction space.

"I have visited plenty of clients that are effectively receiving the design model and breaking it down for use in their surveying and grading operations, and to drive the machinery," Kayhanfar said. "It's a very practical use in the infrastructure space. As we move towards level three of BIM, there will be more of a data integration perspective - the meaningful data that's derived from your schedules, your enterprise resource planning, your project controls. An introduction of a common data environment at that level of control is the future of BIM."

While many large operations are capable of purchasing and using the entire spectrum of BIM software, smaller companies may find that cost-prohibitive. That doesn't mean these smaller outfits can't pick up on the BIM trend, though.

"I would advise them to understand what they're trying to achieve - what problem do they have or what key performance indicator are they trying to communicate with their stakeholders," Kayhanfar advised. "Use the model and the information in it as an exchange to achieve those outcomes, to get the visual results and close that gap on communication. When you focus on simplicity and know what you want to achieve, you will find your BIM workflow is much more successful."

Options for BIM systems
There are a number of companies that provide software and solutions in the BIM space, combining modelling, scheduling and communication in various ways.

InEight's product portfolio incorporates the Project Suite and Model Suite.

"Project Suite is a cloud-hosted platform of applications serving a construction project in the areas of cost management, field execution and project administration. This is really connecting those business processes, information and analytics on how projects are estimated, how budgets are managed and how productivity and progress is measured," Kayhanfar said. "The Model Suite is a platform focused on delivering the value of BIM to the industry - what we've called project information modelling... we realized that we have a combination between these two that can really help deliver advanced project controls, improve communication and help teams visualize success."

Bentley Systems has been in the BIM space for some time, and offers the BIM Review collection of applications to coordinate exchange of 3-D models and project documents across various professionals. Bentley BIM Review Visa provides users access to Bentley Navigator and OpenRoads Navigator, as well as Bentley's Navigator Mobile, ProjectWise Edge, and ProjectWise WorkSite mobile applications to support BIM review workflows in the office, site and field. With BIM Review Visa, organizations can set a subscription level that matches anticipated usage and are billed only for what they use.

Construction teams using Bentley's projects can collaborate with the office to gain insight into project planning and execution details, and quickly resolve issues found in the field. Operational professionals gain visibility into an asset's information with complete 3-D visual context, leading to improved safety and speeding inspections and maintenance.

Autodesk also has a package of products in the BIM sector. The BIM 360 offerings cover everything from planning to handover across the life cycle of a project, with each separate application providing its own benefits. For example, one Autodesk case study describes how a contractor using BIM 360 Field was able to reduce the time frame of such projects as utility pipeline construction by days while maintaining safety practices and other key aspects of the company's processes. Improved communication across all aspects of the project teams helps in developing approaches to work that cut down inefficiencies and improve the overall results for contractors, designers and owners.

There are many BIM products on the market today; it's recommended that contractors check with their project partners for more advice and suggestions on how to move forward with adopting the process.

Getting started
In the end, BIM comes down to what individual contractors want to achieve. It can be as small or as great as each company wants to go - but starting is the important part.

"The key to success is maintaining an unwavering focus on the goal or primary outcome - don't get distracted by the cool things that don't add value to your operation or improve your ability to communicate," Kayhanfar said. "It's one of those things you need to start small, and start now."