Cribbing products now include smaller blocks and pad sizes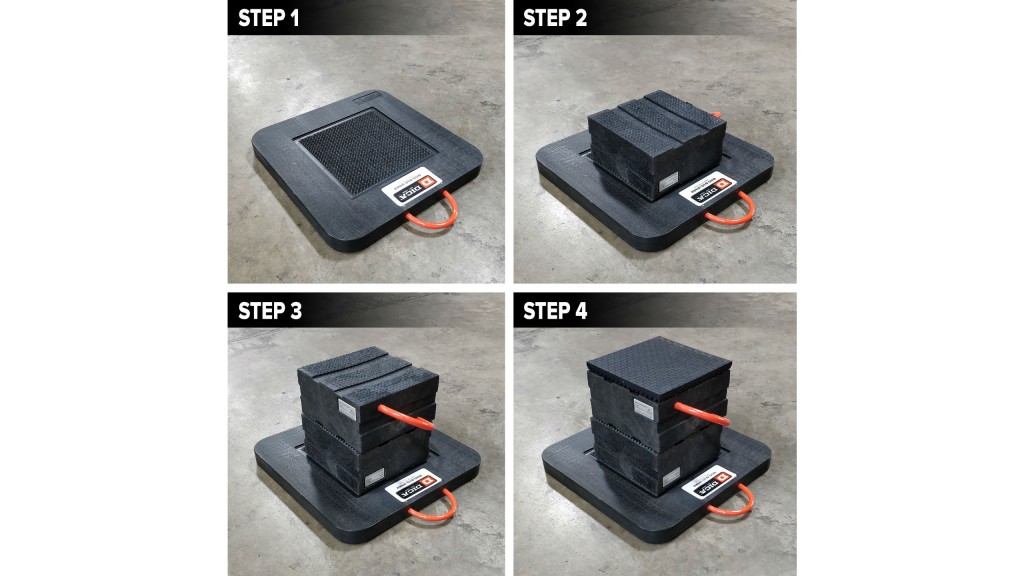 DICA's new ProStack Cribbing products have been expanded to include smaller Medium Duty interlocking blocks and pad sizes. The reduced size is specifically designed for aerial bucket trucks and digger derricks where additional cribbing height is needed to support and stabilize the equipment in un-level environments.
Like the original Heavy Duty ProStack Cribbing, the smaller Medium Duty size has an engineered interlocking design that safely provides additional height under outrigger floats for increased cribbing height.
Both Medium and Heavy Duty ProStack Cribbing set-ups are made up of three basic parts; a base SafetyTech Outrigger Pad, ProStack Interlocking Cribbing Blocks and a ProStack, high friction top Grip Pad. The base SafetyTech Outrigger Pad is manufactured with an interlocking pyramid surface. Operators then stack layers of ProStack Cribbing Blocks, to the desired height. Lastly, a ProStack Grip Pad is placed on top of the stack to provide a high friction surface for the outrigger foot, and to protect the pyramid surface on the cribbing blocks.
The new Medium Duty ProStack Cribbing is 6" thick 12"x12" which is half the size and weight of the Heavy Duty 6" thick 12"x24" cribbing blocks. The Medium Duty blocks weigh just 27 pounds each, and are intended to be used with 24" SafetyTech Outrigger Pads.
"ProStack Cribbing performance is predictable and reliable unlike most other solutions commonly employed in the field. The engineered material is strong, impervious to environmental conditions, and all components are ergonomically designed to be user-friendly. By interlocking together, ProStack Cribbing creates a more secure set-up under the stabilizer or outrigger foot. This increases safety in situations where the ground is not level." said Kris Koberg, CEO.
Related Articles
Searching for the best-performing excavator? Your search ends here. We tested the Volvo EC350E and EC380E against a leading competitor in three different tests: trenching, truck loading and lifting capacity at reach. The results show a 20% difference in cost-per-ton, a 15% difference in tons-per-hour and a 12% difference in both operating costs and lifting capacity. See the results and put an end to your search for the best excavator.