Grove GMK4090 features modern, compact design emphasizing roadability and maneuverability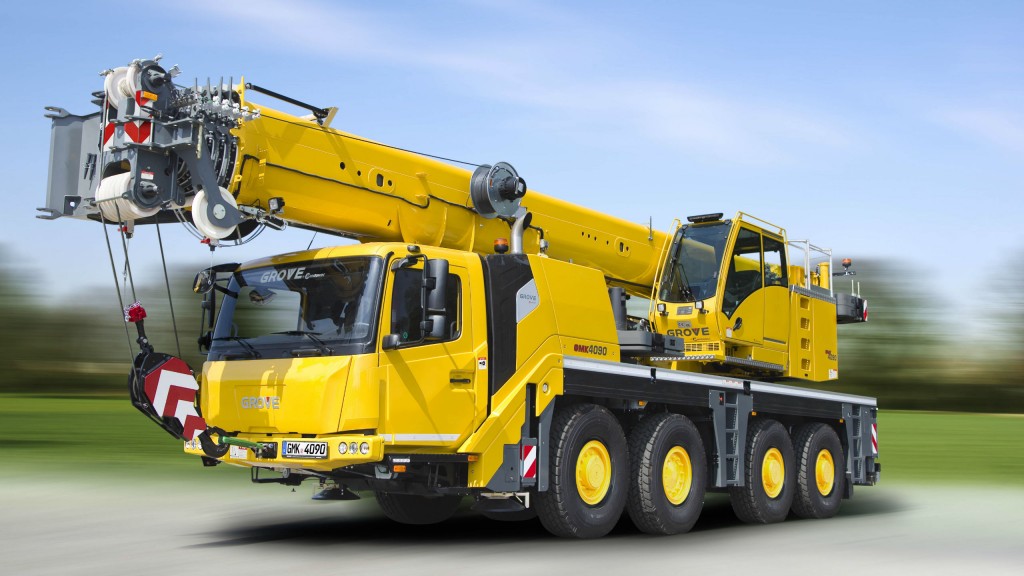 Manitowoc has introduced a new all-terrain crane, the best-in-class Grove GMK4090. The new taxi crane features a modern, compact design that puts emphasis on roadability and maneuverability.
The new crane comes in response to customer demand for lightweight, flexible taxi cranes in the 90 t (100 USt) capacity class. It represents a generational upgrade over the previous GMK4080-1/GMK4100B, a popular all-terrain crane in Europe due to its versatility in applications, especially with rental companies.
Manitowoc has also introduced the GMK4080-2, a similar crane with 80 t (90 USt) capacity. The GMK4090 will be released globally, whereas the GMK4080-2 won't be available in North America.
Andreas Cremer, global product director of Grove all-terrain cranes, said the GMK4090 and the GMK4080-2 models are essentially the same crane, but the GMK4080-2 carries less counterweight, to match the load chart of its predecessor, the GMK4080-1/GMK4100B.
"The GMK4090 has been designed with flexibility and maneuverability as main focuses," he said. "With its best-in-class taxi load chart and compact footprints, this crane will be ideal for a variety of jobs, such as general construction and plant maintenance work. Various counterweight options also give it versatility in roading, which can increase efficiency and return on investment for many owners."
The GMK4090 offers a 51 m (167 ft), six-section MEGAFORM boom that utilizes Grove's TWIN-LOCK pinning system. Boosting its overall reach is a 9/15 m (49 ft) bi-fold swing-away jib that can be extended with a 6 m (20 ft) boom extension for a total jib length of 21 m (69 ft).
The new taxi model also offers excellent roadability and travel features. The GMK4090 can travel with a maximum 18.3 t (20.2 USt) counterweight, and within 12 t (13 USt)/axle it can transport up to 9.1 t (10 USt) to the job site without the need for an additional transport truck. The result is a taxi crane with a strong capacity that can keep transport costs low.
The crane features compact dimensions, with a narrow 2.55 m (8.37 ft) width, so it can easily access and maneuver within the tightest of job sites. It has a minimum tailswing of only 3.53 m (11.58 ft), so it stays within the maximum outrigger width. The GMK4090 also offers the new MAXbase feature as an option — this variable outrigger setting gives the crane more setup flexibility on the job site, especially when erecting it on irregular job site grounds, and also more capacity when compared with the 360° standard load chart.
The new crane also features Manitowoc's Crane Control System (CCS), an easy-to-use operating interface that has now been standardized across the company's crane offerings and is featured on every new model.
"We spoke to many customers when designing this new crane to fully understand their needs and desires for cranes in this class," Cremer explained. "When seeking to replace the very popular GMK4080-1/GMK4100B, we had to ensure that the GMK4090 would be extremely versatile in travel, set up and lifting options. This is The Manitowoc Way in action, and the result is a new crane that should help crane owners increase efficiency and utilization in their fleets."
Company info
Related products