Demag launches City class crane to fit tight job sites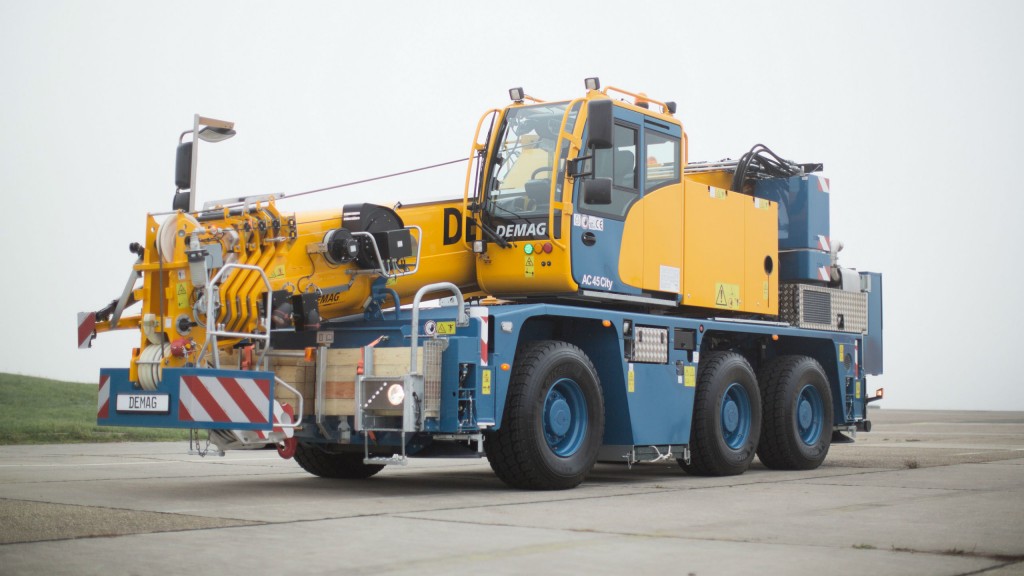 When Demag showcased its AC 25 City in 1996, heads turned everywhere in the industry: It was more compact than any other mobile crane before it, and yet it featured powerful performance characteristics and only needed one single cab for both traveling and crane work. The industry quickly realized that the new crane was simply unbeatable inside narrow buildings and in urban environments. The resulting customer interest was so big that Demag launched the AC 40 City only one year later, with this new machine not only becoming the most successful model of this class with over 1,000 units sold, but also being awarded the "Crane of the Year" title.
Now, with its AC 45 City crane, Terex Cranes is debuting the latest model of the series - all under the storied name of Demag, which in 2016 was brought back along with its rich tradition.
"That means that we really have to deliver on two fronts. After all, the Demag City class stands not only for quality, but also for innovative technology," says Frank Schröder, Director Product Management All Terrain Cranes, about the expectations of the company's customer base. This is why the new Demag AC 45 City is not just able to do everything its legendary forerunners were already able to do: It is able to do it much better.
Where other cranes literally hit their limits, the new Demag AC 45 City crane delivers, Terex Cranes says. And the manufacturer can prove it: For starters, the new 3-axle unit redefines compactness in the 45-tonne lifting capacity class with a total length of only 8.68 meters, a width of 2.55 meters, and an overall height of just 3.16 meters. And the fact that its height can be reduced to less than 3.00 meters makes it unbeatable when space is at a premium, as is the case indoors. There, the new AC 45 City can also take full advantage of another plus factor in its design: Since the base section of its fully hydraulic main boom is also particularly compact with its length of 7.80 meters, the AC 45 City is also able to work in buildings with a relatively low clearance while still keeping its boom at a steep angle. This advantage comes in handy, for example, when assembling overhead cranes, as the AC 45 City crane can lift heavy loads at a small radius. In addition, its fully hydraulic 31.2-meter main boom means it can get ready to start working much faster than comparable cranes with booms that need to be set up with pins.
This means that the Demag AC 45 City is perfect for a wide variety of jobs. Another advantage is its vast configuration flexibility, which makes it possible to customize the crane perfectly for the requirements at hand - for instance, with the 1.3-meter-long runner for loads of up to 25 tonnes or with the three-sheave hook block, which allows for six-part reeving. And with offsettable main boom extensions of 7.10 or 13 meters, the system length can be increased to an impressive 44.20 meters. In addition, the Demag AC 45 City also comes with features such as an axle load indicator, a hook height indicator, cruise control, and cameras for load, hook and hoist monitoring and for backing up. Remote radio control and storage boxes are included as well.
Without a doubt, one of the absolute engineering highlights of the new Demag crane is the innovative IC-1 Plus control system. The system calculates the crane's lifting capacity for every boom position as a function of the superstructure's slewing angle, and in real time to boot. This means that the lifting capacity for a specific radius is no longer limited to the lowest value for a pre-calculated 360° lifting capacity, as used to be the case. Instead, the crane can always take full advantage of the maximum available lifting capacity.
This advantage is particularly useful when it comes to lifts in which the outriggers are extended in an asymmetrical configuration, as it enables the Demag AC 45 City crane to take care of jobs that would normally be the exclusive job of larger cranes. In addition to the real time calculation for lifting capacities dependent on slew angle, the IC-1 Plus control system also has a "smart" feature to calculate and show the working range of the real time lifting capacity within +/-30° slew angle. Moreover, the control system features an automatic counterweight detection function that the crane operator needs to confirm.
Together with the IC-1 Plus control system, the new Demag crane is additionally able to work with any outrigger configuration with continuously variable adjustments, meaning that the AC 45 City can be adjusted for all space conditions and load requirements. On top of this, and for the first time ever, the crane offers the possibility of working with the IC-1 Plus control system both when using the runner and when telescoping under load.
The AC 45 City also makes a compelling case when it comes to its setup, as it features an automatic leveling system that enables the crane to balance itself with computer assistance when the outriggers are extended.
The new AC 45 City crane is also characterized by the fact that it is designed to stay in the 12 t axle load limit, as the 3-axle unit does not weigh more than 34 tonnes even when outfitted with its full equipment. That way, the crane can get to work without the need for any additional transport vehicles. And when using a reduced counterweight, the crane even falls below the ten-tonne limit, meaning that it still can perform a broad range of lifts, as lifting capacities remain strong. And since it only weighs around 26 tonnes when not carrying any counterweight, a permanent permit can be obtained if need be.
Last, but not least, the drivetrain with six forward gears and one reverse gear leaves nothing to be desired: The 260-kW MTU motor meets Euromot 4 requirements and, together with the crane operation start/stop function, ensures cost-effective and environmentally friendly operation. This is just one of the many reasons why the Demag AC 45 City is perfectly positioned to continue expanding on the success of its predecessors.
Company info
Related products