New series of telescopic booms designed for heavy-lifting applications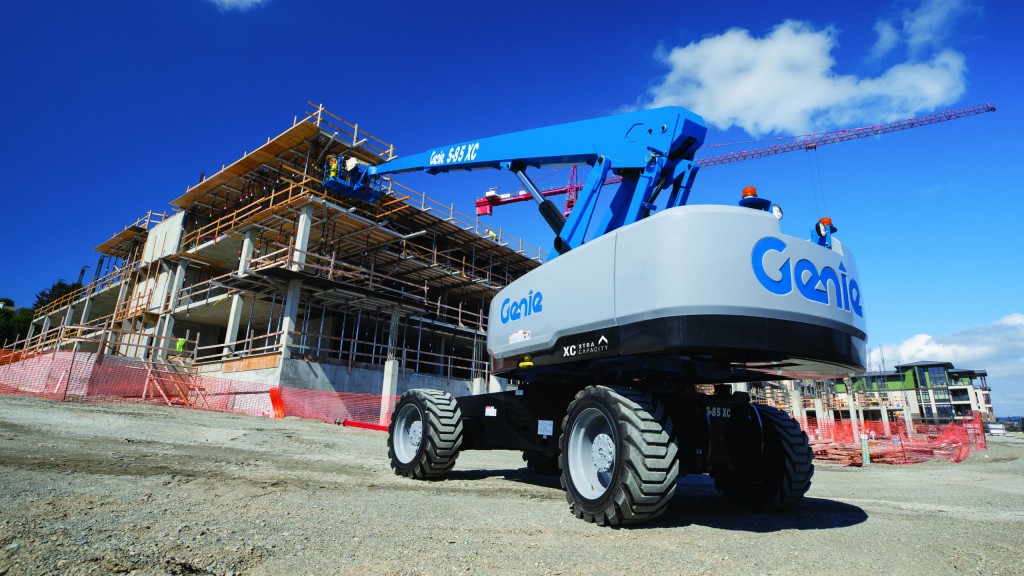 With the ability to perform a wider range of heavier lift tasks on construction and industrial jobsites, Genie telescopic S-60 XC, S-65 XC, S-80 XC and S-85 XC booms now offer a dual lift capacity of 660-lb (300 kg) unrestricted and 1,000-lb (454 kg) restricted. And, the Genie Xtra Capacity (XC) feature gives customers the ability to work with up to three people onboard while still leaving room for tools and jobsite materials.
"The XC nomenclature lets customers know that the new Genie S-60 XC, S-65 XC, S-80 XC and S-85 XC models comply with the overload restriction guidelines in the new ANSI A92 and CSA B354 industry standards in North America, as well as European EN280 and Australian AS 1418.10 standards," says Zach Gilmor, Genie Product Manager, Terex AWP. "And thanks to updates in the design and technology of these new booms, these Genie XC models can carry more load — 660-lb (300 kg) unrestricted and 1,000-lb (454 kg) restricted capacity — than their predecessors. Genie XC booms are designed to perform."
New to this generation of telescopic booms, these four new Genie XC models feature automatic envelope control. This is the ability to automatically retract as the booms reach their operating envelope, allowing for simple platform positioning and an enhanced operator's experience. And, they are equipped with a load sense cell that continuously checks the weight in the platform and limits the operating envelope to match the load chart, all while boasting the ability to do zero load field calibrations.
The Genie S-60 XC, S-65 XC, S-80 XC and S-85 XC booms also boast an expanded working zone thanks to a new chassis tilt sensor incorporated into the machines' function. This unique chassis tilt sensing technology gives operators access to different ranges of motion based on the chassis angle. And, it is engineered to automatically cut-out certain lift and drive functions of the machines when the tilt activation setting is reached. "Equipped with this new technology, these four new Genie XC booms will not only carry more load than ever before but will also be able to maximize access hard-to-reach work areas on challenging jobsites," adds Gilmor.
The four new Genie XC models also feature the new Genie Lift Power generator solution. This system includes a dedicated hydraulic circuit, a right-sized breaker and no pressure switch to reliably run the unit, and allows for the power to lift and drive during operation. The Genie Lift Power system is available in three options — 3 kW, 7 kW and 12 kW — to provide reliable power solutions for customers worldwide.
All Genie XC booms, including these four new models, have been updated with a CAN-based control system, which incorporates the familiar Genie SmartLink control system features on these popular booms. Operators will find the control layout on these booms to be consistent and intuitive, making the operation of the booms easy and straightforward.
Company info
Related products